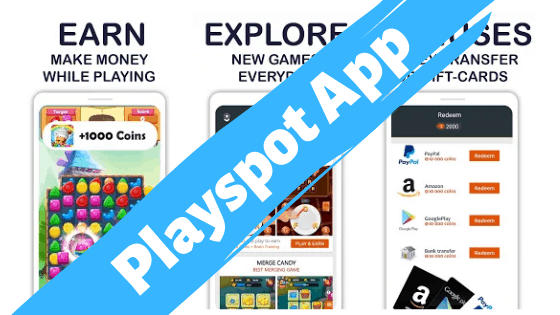 Welcome to my Playspot App review, another App that I recently checked out and downloaded via the Google Play store.
Actually, I only joined it because it was recommended on another App I was playing at the time, called Lucky Go.
They actually offered a certain amount of tokens to sign up with this other App and this is a pretty common way to get extra coins/tokens & points on reward apps.
I was offered $5 worth of coins to sign up with Playspot, but unfortunately their payout threshold is $20/£20…..
So, a long way to go to get to that!
So, What Is Playspott App About & How Do You Join?
Playspot is legit app where you can earn rewards for completing certain tasks and playing games.
in fact, their tag line is, "make money from playing games."
But are you really "making money," just from playing games? What does this mean?
What this really means is that you can earn virtual coins by downloading certain apps and playing games to a certain level.
Eventually you can exchange these points for rewards, like gift cards – but it will usually take a long time.
Then you will have to reach a payout threshold before you're eligible to cash out at all.
In the case of Playspot, the payout threshold is high at $20/£20.
However, you can get the $5 worth of points for signing up, if you sign up via Lucky Go, like I did.
I imagine the offer will pop up just like it did for me, after playing a couple of games.
Want to make money from cashback, offers, playing games & more? This is one of my recommendations.
My First Impressions Of Playspot: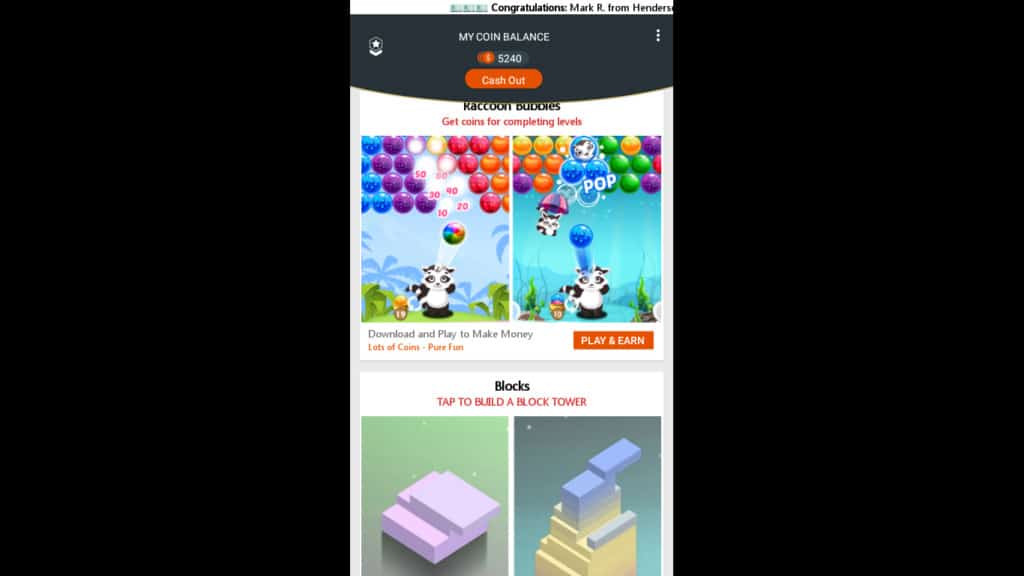 My first impressions were not so great!
Unlike Lucky Go, which has a really easy to navigate and attractive dashboard, there wasn't much here.
There was a main homepage feed, where you could scroll down and check out various games and apps you could download and play for coins.
But I found several things frustrating.
There were hardly any instructions that I could see.
One App said I needed to download it and complete all simple levels to earn amount.
But when I went into the App, I didn't see what these "simple," levels were.
Another App said you would earn coins for every level completed….. But it didn't say how MANY coins!
Surely I should choose an App to download based on HOW MUCH it is going to pay me for the time I put into it!?!
Another thing I didn't like, was just a lack of information or guidance.
There was nothing showing where things were, or how to get started and the graphics were dull and uninteresting.
All in all, it just felt a bit empty and nothing about it made me want to hang around.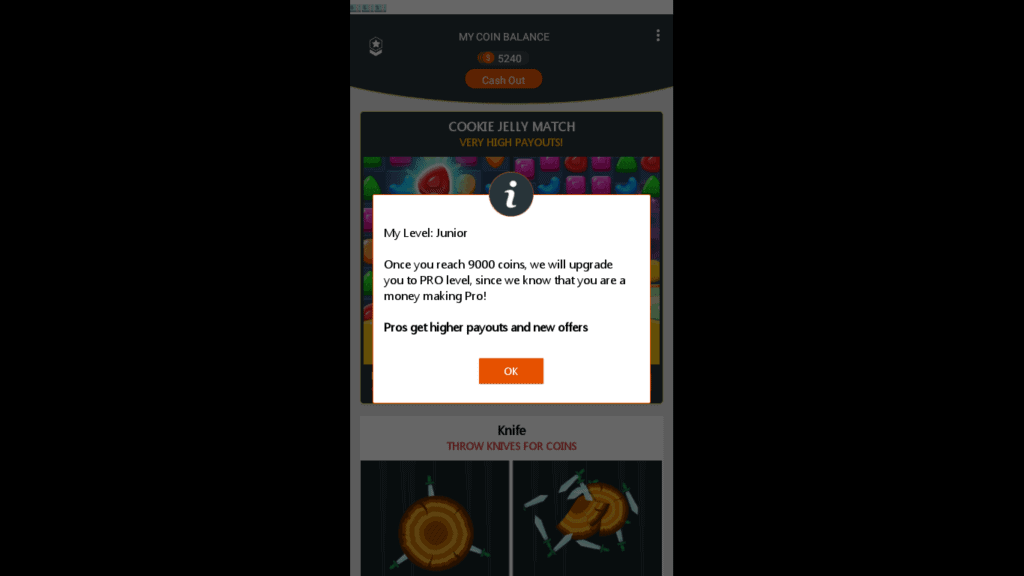 Different Levels – Different Rewards?
Before you reach 9000 coins, you are ranked as a junior.
After you reach 9000 coins, you are then levelled up to "PRO," and this means you're able to earn more coins and new games appear.
Although, it doesn't explain HOW much more you can really earn. I'm not far off 9000 coins, so I guess I will find out.
How Else Can You Earn?
Connect your account via Facebook, (earn 200 coins).
Watch videos, (just means to watch an Ad – earn 200 coins).
Complete paid/trial offers – things like downloading more Apps, joining certain websites and doing trial offers for coins ranging from around 200 coins, to 13K+ coins.
You can earn the most coins by doing offers, but some of these may require you to make a deposit, or give your credit card details.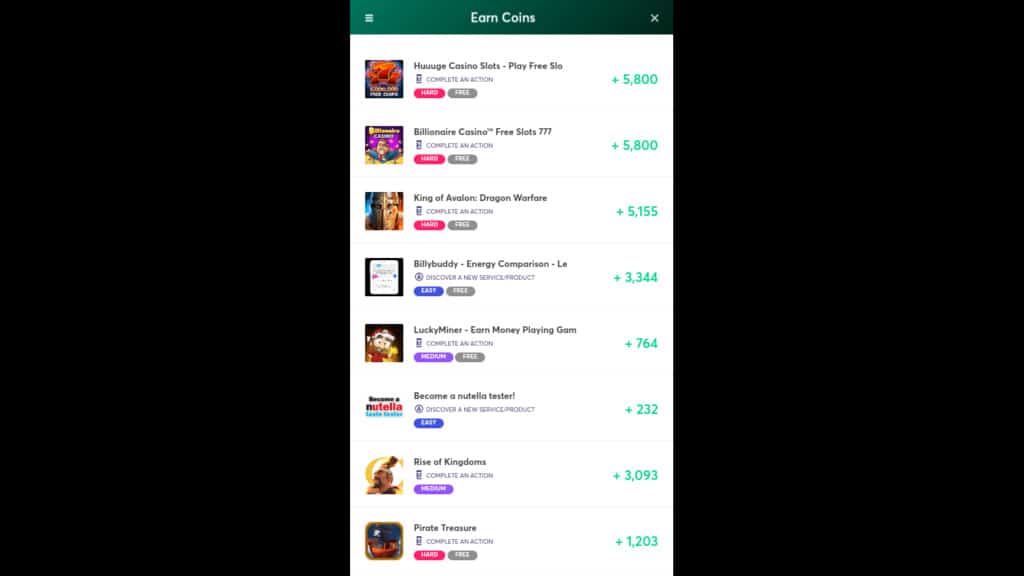 With trial offers, you need to be careful to cancel it before you're charged and need to carefully read the T&Cs to know when this is.
If you're a forgetful person, I wouldn't bother with trial offers!
That's pretty much the gist of what is on offer…
I need around another 14000 coins right now to cashout and although I'm not loving this, I may just stick with it until I can cash out!
If I get there, I will post about it here.
What Do Other People Say About Playspot?
Well, considering what I felt about this App and my own experience, I was surprised to see such a high ranking.
Over 200k votes and a 4.3 star ranking overall!
The review below suggests that actually making coins from downloading games and playing them is incredibly slow.
He suggests doing the offers, as that's how you make the most money.

The guy below realised quickly too, that the best way to make money is to not just do the games – do the paid offers.
As many of the paid offers ALSO involve you downloading a game and playing it, but in this instance you will get more points than just playing the game on the main dashboard.
The man in the review below managed to cash out a $50 gift card, which is a good achievement.

Is Playspot Worth It? Will I Keep PlaySpot Installed?
I don't think this is the most exciting App I've ever seen – but I do feel inclined to try and stick with it, until I can cash out.
Having looked at the options, I think looking at doing some offers is the way to go.
I will avoid the paid offers, (even though they pay the most in coins) and go for some of the freebie ones, such as where you need to download Apps.
After that, I will probably move on to something with a bit more going for it!
Want To Make Money Long-Term? Apps Won't Help!
One of the main reasons that people look for these type of Apps in the first place, is because they're looking for a way to make a little extra money on the side, doing something that they enjoy.
Something that is easy and will pass the time.
Generally, something low effort that can fit into their lives.
The problem is, they often don't realise initially the amount of time they will have to spend on these apps just to make the minimum threshold.
Which could be as low as $10 or $20 in some cases — so, the rewards don't end being worth the time and energy invested.
Several years back I started to look into things I could start doing, that may generate me some income over time.
I didn't mind putting in plenty of work right now for free, if it could pay off for me in the future!
I tried to generate different streams of income – some which I talk about over here.
However, right now, I still make the most online via affiliate marketing and paid advertising and this comes down to having a website or blog!
If you'd like to learn how to do the same, there is some free training here that explains how it works.
That just about concludes my Playspot review for today — so, what's your experience been like with Playspot, or any other Apps?
I'd love to hear from you! Let me know in the comments :).