In my Crisclix review, I'll just keep it simple here.  I will answer a few simple quesitons  such as  – what is crisclix, how much money can you earn, is crisclix a scam or a legit way to make money online?
You can then decide out whether this is something you want to be involved in.  So, let's just dig in.
Product: Crisclix (www.crisclix.com)
Price: Free to join
Income potential: peanuts!?
Overall Rating: 10/100
Review in brief: I can't stand PTC (Pay-to-Click) sites, as far as pocket money opportunities go, they're really one of the lowest forms of making money online. There are so many of them about and who is the one laughing all the way to the bank?  Let me tell you, It won't be you!
>> Tired of PTC sites? Check out this program!

---
So, What Is Crisclix?
Crisclix is essentially a PTC site, (which means PAY TO CLICK) with a small amount of ways to make money online.
The key way you make money on this site, is by clicking on adds and earning next to nothing for it in the process.
What does PTC really mean?  
Well: business owners pay Crisclix to show their Ads on their website, they're paying for people to click on their Ads and view them.
So, the money these business or website owners put in, is some of the money you'll be earning to check these Ads out and click on them.
But of course, the reality is that Crisclix will be taking the majority of the cash.
How much money can you make With crisclix?
When I say that the money you can make with these sites is small, I mean – it is minuscule.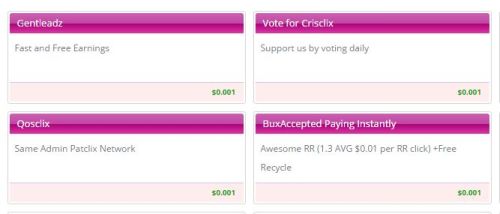 As you can see from the image above, for clicking these Ads you make $0.001…
You can actually PAY to upgrade and make either $0.02 or $0.04 per click, which seems like sheer madness to me.
I also wonder why these businesses pay these sites to feature them in the first place… people on these sites are just clicking to make money, they have zero interest in the Ads.
So, the chance of people actually purchasing something as a result of clicking on the ad is very slim – a majority of people will not even know what the Ad is about.
It's just click after click after click for them – so, it's a really bad way to get traffic to your site and especially traffic that converts into sales.
You also have a slim chance of winning money….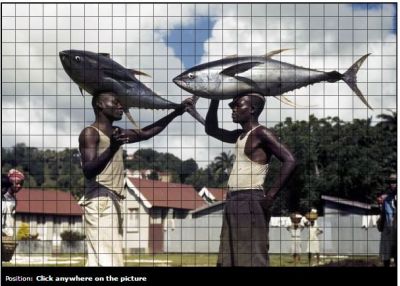 They also have these grids, (see above) where you have a slim chance of winning $2000 in prize money at random.
You click on random squares and hope for the best.
You get a certain amount of clicks depending on whether you're a free or paid member, (20 clicks for free members per day).
Whether anyone actually wins any money in reality, I'd love to know…. (if you're a real person that have won 2k with crislix, let me know!).
Alternative Ways To Make Money With Crisclix….
Crisclix offers:
Many websites offer you "paid offers," as an extra way to make money.
This is when you sign up to a product or service of some kind for a small sum.
The difference with Crisclix offers is – that the sites they want you to sign up for are other PTC sites.
The other difference is, they only pay you between $0.05 and $0.10 to sign up – and this is vastly lower than many other sites that provide paid offers.
For example, both swagbucks and cashcrate have paid offer sections that will pay more than this for pretty much any offer they have.
Completing Small tasks:
Crisclix also has a section where you're meant to be able to earn by completing certain small taks.
This may include searching, taking a survey or performing some sort of action.
I checked out all of these out however and there was nothing available to me at that time.
Referrals vs Rented Referrals?
As with many of these programs, you can also make money by recruiting others and earning a commission when they earn.
You can use a link that you share around where ever you like, if anyone signs up using this link – you can make money.
The shady part comes in when they claim that you can also pay to get rented referrals!
I always raise my eyes when I see this, because the common thought is that rented referrals are nothing but bots.
Think about it, they claim to have thousands upon thousands of these potential "referrals," ready and waiting.
Where are these thousands of referrals coming from to happily click on your ads for you for peanuts….and what do they get paid anyway?
I'd love to know!
CrisClix optional paid plans:
While signing up to Clisclix is free, you can actually pay to have some additional features.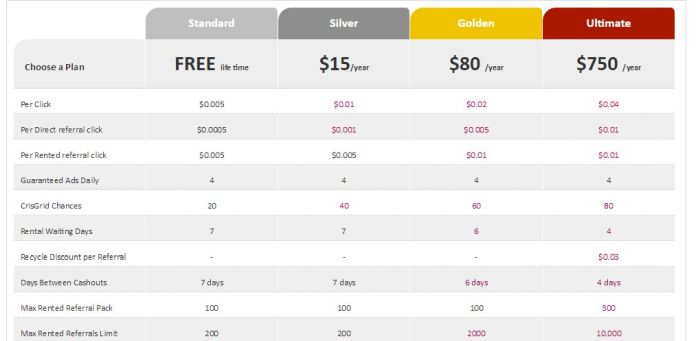 Yes, you can actually pay up to $750 per YEAR to access their ultimate membership, (no, I do not recommend that you do).
What do you get for this?  Well, a number of minor "perks" including…
your click rate going up to $0.04 – (yep, whoopie doo right?).
Getting 80 chances on the crisclix grid, (good luck).
Up to 10,000 rented referrals…. (yes, you read that right, up to 10k ready and willing  robots  referrals just waiting to click for you!)
And a few other equally pointless things besides…
Crisclix Review Conclusion:  Is Crisclix A Scam?
I'm not going to say Crisclix is a scam because, (despite the questionable referral aspect) they are transparent about what you're going to earn.
You can quite clearly see how much you're going to make per click, they are't promising that you're going to make more there than you actually are.
BUT what I will say is, Crisclix, (and a majority of other PTC sites that I've seen) have had many complaints against them for not paying out.
So, not only will you earn next to nothing on this site, but there could be a chance you could have trouble withdrawing as well!
The benefits of joining, (erm – are there any?) are vastly outweighed by the negative in my opinion.
Ultimately, I see this site as one colossal waste of your time – and potentially your money too if you upgrade.
So, What Now?
PTC sites are (normally) a terrible way to make money online.
The only way they can become profitable in any real sense is by having a tonne of referrals and a decent referral program in place.
However, to be successful referring people, you'd need to be getting in real referrals – not potential robots, to do the work.
For a more legit PTC site, with a reasonable referral program, there is a better option… Click here to read about Clixsense.
However, If you're hoping to make any sort of reasonable side income online, (or even a full time one), joining PTC sites is not the way to do it.
Yes, PTC sites take very little effort to do.  Sure, you just click ads – that much is true.
But you could be spending that time building up your knowledge and your skill set so that you can, (one day) make decent money online and not peanuts.
The top way I recommend making money online in the long term initially involves learning about affiliate marketing – and anyone can do it.
>> click here for the best place to learn!
I hope my Crisclix review had enlightened you a little about PTC sites.
Have you had any experience of this site yourself?  Let me know in the comments below!
Additionally, I'll be happy to answer any questions you may have about this site, or any other site that claims to help you make money online!
All the best…