Clixsense was recommended to me quite some time ago – but at the time, I took a look and just didn't take to it at all.
I'd been joining a bunch of survey sites at the time, but with Clixsense I couldn't seem to qualify for anything!
And clicking Ads for fractions of a cent seemed insane.
However, after seeing it crop up time after time, I thought I'd take more of a look into it.
So, is Clixsense legit, or is it just another scam?
Update 2018:  Clixsense has recently updated their platform and removed the PTC ads.  It could be worth a look.
Clixsense Review In Brief
Website: Clixsense
Cost: Free to join. Premium membership $17 annually.
Overall Rating: Legit, but probably not worth your time.
Clixsense Mini Review:  Clixsense is one of very few high rated PTC sites and is legit – but to make real money with it, you need to be able to get referrals! Otherwise, you are mainly earning fractions of a cent per action – which is just nuts!  
All survey related or PTC sites should be FREE, a basic membership at Clixsense is no different and if you want to check it out, you can sign up here.
What Is Clixsense About?
Primarily Clixsense is known as a PTC site, (pay-to-click) but also incorporates other ways you can make money online – such as online surveys or watching adverts.
In this sense, it relates more to one of the "all rounders," like Swagbucks or PrizeRebel because it doesn't rely solely on one or two ways to make money, there is a variety.
Ways You Can Earn With Clixsense:
Clicking on the clixgrid, (You click on a grid for a chance to win $10 and other smaller prizes)
Clicking on Ads, (PTC)
Offers – anything from signing up to a free trial to downloading an app.
Online surveys
Micro tasks – little micro jobs.
Referring others to join Clixsense.
The most popular ways for making money on Clixsense will be PTC, surveys and paid offers.
I will take a look at some of the key ways you may be making money with Clixsense and how profitable these may be.
Related:  My Top 10 USA Survey Sites OR Top 10 UK!
The Trouble With PTC…
If you're familiar with my reviews, I don't like PTC sites in general.  You earn next to nothing for clicking ads, which is a terrible way to make money online.
When I say you earn next to nothing, I really mean it….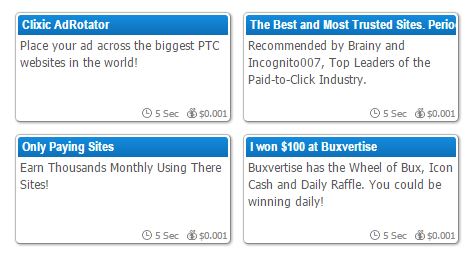 Check this out… do you see that little number at the bottom right corner of each Ad?
That's right, you get ONE TENTH OF A CENT to clicking on ad AD for 5 seconds…. one tenth of a cent!?
 So, you have to view 10 of these Ads to make a single cent.  
Ok well, at least this site has a little more potential than a regular PTC site, because it doesn't JUST offer PTC.
Although, Clicking Ads is obviously the least effort way of making something – it's just a very very small amount.
To put it in perspective, watching a small video at Swagbucks you get a few cents and you don't even have to watch the videos, you can just open them in another window….
So, a tenth of a cent, even if it is only 5 seconds just seems way too low – but I know this is standard for PTC.   It's not unusual at all.
However, I did give the clicking a go and what I will say is that it was very quick and certainly effortless, (at least you don't get thrown off – like you do on surveys).
Within a couple of minutes I'd completed the Ads available… I'd made under 2 cents.
The trouble is, there were then no Ads available for me.  If you pay for premium membership ($17 for the year) you do get more Ads available and earn slightly more.
Well, you'd need to earn slightly more in order to cover the $17 fee.
If you are capable of getting a decent amount of referrals who are interested in PTC sites – you will be much better off and this is when a premium membership will make more sense.
If you want to know more about gaining referrals, it's worth learning about affiliate marketing.
Clixsense Surveys – The Struggle to qualify!
The major complaint against ANY online surveys is that you have a real struggle to qualify for any of them.
This is a standard complaint against any survey site – but I certainly had a terrible time qualifying for any surveys myself and it seemed considerably harder than many other sites I've reviewed.
In fact, I tried my hand at ten different surveys and haven't qualified for a single one.  This is just unlike any survey-related site I've known.
Yes, it's been hard to qualify – but normally after one or two I manage to at least complete one.
SERIOUSLY!?  Is this a joke?
Who does qualify for these surveys?!
(please let me know in the comments if you have more luck with this!).
The survey section actually appears to have a reasonable amount of surveys to do – for various amounts of money.
Clixsense claims you can earn up to $5 per survey, but all the ones I saw were considerably lower – the highest being $3.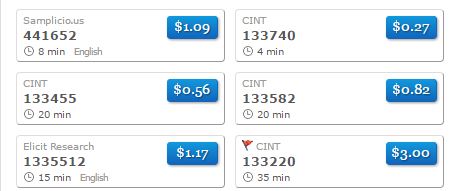 Shame you can't actually qualify for any of them….

Clixsense Offers:
I've done a fair amount of paid offers before – I don't recommend just doing it for the money, but if there is something you're interested purchasing anyway – then why not?
However, in comparison to the offers available at competitors websites like Swagbucks – this was a disappointment.
In fact, I only had three offers available to me at all!
THREE…
I imagine this has something to do with me living in the UK.  Perhaps if you're in the US you'd have plenty more offers available to you.
Besides there only being three, they aren't very good either.  20 cents for joining the Shoemoney network, for example.
What Is Clixsense  – Walk Through Video:
The video below is a Clixsense promotional video, so they are trying to sell the concept here.
But it does clearly explain exactly what Clixsense is and the variety of ways you may be able to make money.
Clixsense Referral Program:
In my opinion, this is one of this websites few redeeming features.
Because it means that you can have zero interest in actually doing any of these tasks, but could recruit people that do it and earn money that way.
Plenty of people do enjoy signing up to various PTC sites and survey sites as a way to build up a little additional income, so if you can introduce people to Clixsense, you can make a bit more money.
Unlike many PTC sites, Clixsense does not have "rented" referrals and some people have been unhappy about that.
However, in my mind, this is a very good thing – because from what I've read and believe, most rented referrals are nothing but bots.
Many people have complained that this bots become inactive and it's a waste of money.
At least with real referrals, you are dealing with actual people who will be clicking ads, not robots and referring other people is free, so you don't need to pay a dime for it.
But even if you do manage to get referrals, you'd need be getting a lot of them before you start making much money.
You can see how much you would make from your referrals via PTC below.

As you can see, you earn more if your sponsors sign up to premium.  You also earn either $1 or $2 when your sponsor earns their first $10, (standard membership) or $5 (premium membership).
For offers, surveys or tasks you earn between 5-10% of all their earnings.  You also get paid if they purchase advertising packages.
Where premium pays off further is when it comes to premium sign ups.  If you're a standard member, you only get paid $2 if your direct referral upgrades – whereas if you're a premium member, you also earn $1 per premium upgrade 8 levels deep.
You can see then how referring others, especially as a premium member, could bring in an additional income over time.
So, What About Clixsense – Just Another Scam?
Some people really want to brand Clixsense as a legitimate way to make a tonne of money and  – it just isn't.
Yes, you could make a very small amount of money on this site as a regular member, or potentially a lot more if you are capable of getting enough referrals…
…and not only referrals, but active ones.  There's no point in people signing up if they don't do anything on the site.
That being said, Clixsense are transparent about what you're going to earn here and you go in with your eyes open – so, no it's not a scam but the income potential is low.
Referring other people to something and earning a commission – whether you refer people to buy a physical or digital product, or to sign up to a service or program – is known as affiliate marketing.
If you'd like to learn about affiliate marketing and how it can make you money online, I recommend you check out this review first
If you're still interested in signing up to Clixsense and trying it out for yourself – click here to sign up for your free account.
Do you have any experience with PTC sites and survey sites… what's your take on it?  Leave me a comment below!
All the best…