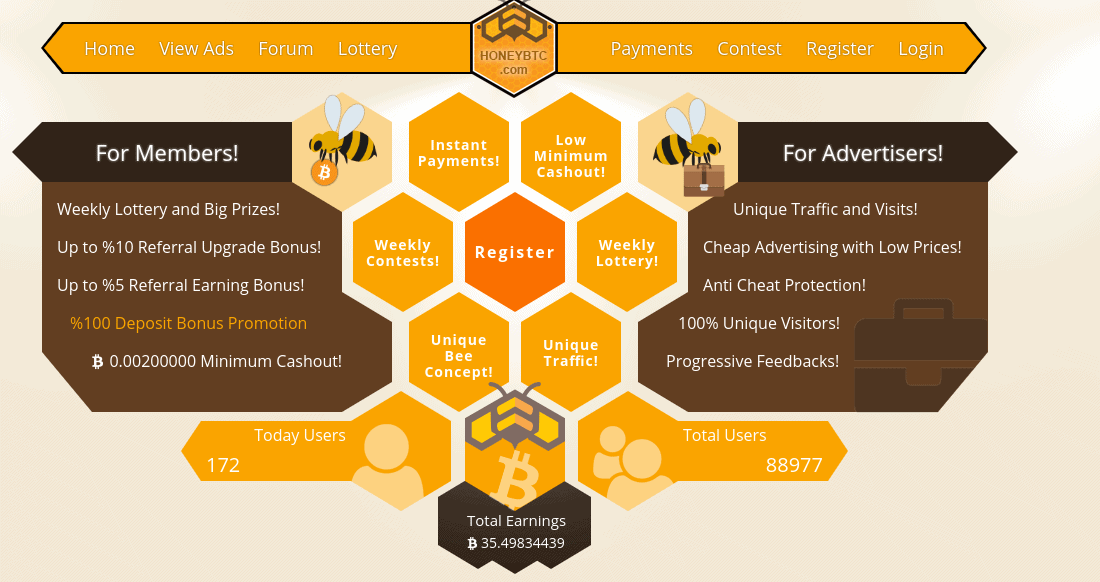 What is Honey BTC about… Is it a scam or a legit way to make Bitcoin on autopilot?
When I first arrived on this site, I was intrigued.  It looked kinda cool with the whole Bee thing going on…
Little Bees buzzing around the screen, it's cute.  Although, I'm at a loss as to what Bees and honey have to do with this website.  But if it's just a theme, fair enough, it looks good!
Anyway, I will be the first to put my hand up and say that I really dislike PTC type sites and essentially and this is what HoneyBTC at least tries to present itself as.
Albeit, with a bit of a twist.  I will explain further in a moment. If you have any further questions or comments by the end of this post, don't hesitate to contact me via leaving a comment below.
I made my first 10k profit online after following this training – which you can check out for free.
HoneyBTC And Bitcoin:
This website, on the surface, shares a lot in common with your regular PTC site.
A PTC site is where you will primarily earn minute amounts of cash by clicking on Ads.
But how you really make money on a PTC site, is by getting lots of referrals to click on Ads for you and make money that way.  Although, you need a never ending stream of referrals to do the work for you, because most will not last long.
It's been said that the average amount of time that a person will last on your average PTC site is one week.
As a regular way for someone to just make money online, without referrals, PTC is a pointless waste of time.
Sometimes these sites will also have additional ways to earn, such as paid surveys, sweepstakes and so on.  But the main aspect of them is the PTC.
With HoneyBTC though, they have this added Bitcoin element to it.  Seeing as the amount of Ads available on this site is minimal, it would seem the bitcoin element is the key way this website is making money.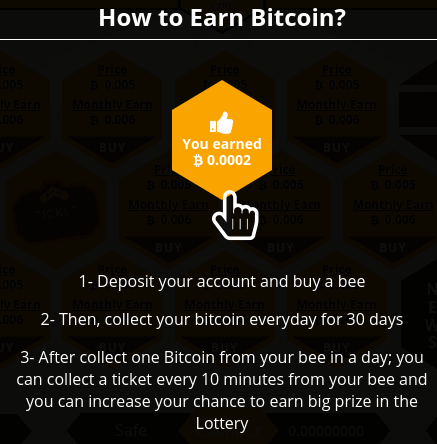 They say you need to make a deposit and purchase a Bee, (yep, a Bee)…then collect bitcoin every day for 30 days.  (Just "collect," Bitcoin… how?  They're not very clear about this!).
After you've collected your Bitcoin from your bee, you can collect a ticket every 10 minutes from it for the lottery, for extra chances to win their lotto.
Confused?  So was I.  But after a while, I got to grips with what I think this is.
It looks as though by buying a bee, you're purchasing a slot in this hive-like-matrix and by buying your slot, you will be able to just collect bitcoin automatically, without doing anything else.
This is because, as other people are joining and also purchasing slots, the Bitocin filters through to other levels.
If you're thinking that sounds a lot like a pyramid scheme, you're probably on the right track!
What I don't like is they really don't give you enough information about the whole process and what it exactly involves.
You give them Bitcoin and mysteriously this turns into an investment but they don't give you ANY information about this process, or how you make money from this investment.
Also, as soon as you join, the site seems primarily focused on you purchasing your bee and your slot, rather than the advertising PTC element.
HoneyBTC and PTC:
While on the surface this website looks like a PTC site, that could potentially just be a cover up for what looks a lot like a pyramid scheme.
From an outsider looking in and the way the website is set out; I wouldn't be surprised if a majority of their investment here is coming from people signing up into the scheme and NOT from advertisers paying for Ad space.
The money coming into the company as investment will be filtered down to the people who invested prior, just as it would in a pyramid scheme.  So, once the investment dries up, no more money is filtered down and the system is not sustainable.
While it may sound great to just invest a lump sum and then get paid money on autopilot; a vast majority of people who enter into these sorts of schemes will lose money, not make it.
How Much Can You Make?
After you've purchased your slot, they say you will earn 0.0002 BTC per day on autopilot.  As long as there is the funding there to pay.
To increase your earning potetnial, you can also purchase additional slots, but it depends on what level you're at.
Standard membership = up to 6 slots available.
Sliver membership = up to 12 slots available.
Gold membership = up to 18 slots available.
While this may sound like a great investment, it's not a stable one.  This is a big gamble; because you're relying on other people continuously joining and investing in order to make money.
The are also higher return options.  You can purchase what they call "Queen Bee Slots," which pay out 0.00061 BTC daily.
When Can You Withdraw?
In order to cashout, you need to reach their payout threshold of 0.002 BTC.
Are There Complaints Online?
Obviously, since this whole thing looked somewhat dubious, I presumed there would be complaints about the site online and there is.
There have been various complaints online about HoneyBTC.
One complaint suggested that admin have been stealing investments, that their balance has mysteriously reduced and that they haven't been paid out.
While some people claim to have been able to withdraw, these could also be people looking for people to recruit into the program and so, you need to be cautious who you trust on that level.
Have you had any experience with HoneyBTC?  I'd love to hear from you.  Leave me a comment below!
Is HoneyBTC A Pyramid Scheme Scam?
This website certainly shows many of the warning signs of a pyramid scheme.
It looks as though HoneyBTC are relying on new members purchasing slots in order to fund this system and that the investment is meant to filter through to the people who signed up beforehand.
That means, that in order for people to continue making money, more and more people need to sign up and purchase slots.
People are encouraged to spend more and more purchasing the higher value memberships and more slots… ultimately, the investment coming in will no longer be able to sustain the lower levels and the whole thing falls apart.
These schemes will only work for a certain amount of time, they will always collapse eventually.  
They're high risk investments because a majority will lose money.  What's more, you also have to put trust in the Admin.
I've been witness to many situations where the admin in pyramid schemes have been able to take what they can and jump ship  – just as soon as they're sure a collapse is imminent.
While I cannot state for sure that this is a pyramid scheme, it does have plenty of red flags there.
Only time will tell and I appreciate if you have any further information regarding this, that you share it in the comments section!
Who Owns HoneyBTC?
Another red flag you should be aware of, is that I can't see any direct contact details for HoneyBTC.
If the creators are hidden, it makes it very easy for them to disappear at the sign of trouble.
They can then always set up another similar site, with another name and nobody will know any differently.
Before you make an investment on any website, be sure to seek out some sort of contact information.  It may be worth testing it also and see if anyone responds!
Often with scams, site support simply don't respond.  In some cases, their email contact does not exist and your email will bounce back.
Generally scammers online will keep often their identity a secret, or will act under a fake persona… although, that's not always the case.
So What Now?
Maybe you stumbled upon HoneyBTC because you were looking for a PTC site and found something a bit different instead.
Well, if it's PTC you're after, that's really a massive waste of your time unless you have access to an unlimited amount of referrals, (even then, it's not something I'd recommend personally!).
If it's something bitcoin related you were looking for… from my perspective, this is not a way to make bitcoin that you can rely on.
If the scheme is created in the way I suspect it is, then it will collapse eventually and you will not get back your initial investment.
If you're tired of trying to look for quick fixes, then I recommend trying out this place.​ 
It's where I got started online and you can also check it out for free.
—–> You can check it out here.
If you're looking for smaller time opportunities – I like these 6 extra income websites.
All the best,