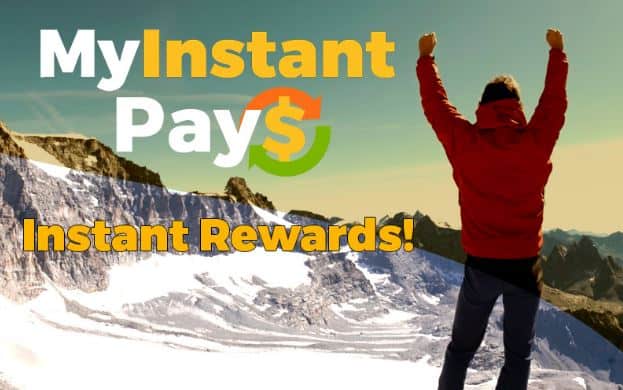 What Is My Instant Pays:  An Instant Scam?
My first impressions when I arrived at the landing page for this program, was that it looked like a scam.
There looked like a lot of promises of easy money, fake looking testimonials and a scammy looking sales video…
See the video below – take note: I'm not promoting this product.

However, appearances can be deceiving…
I know there are people out there that would straight away brand this a scam, others out there will be promoting it to make a commission, so you will see a lot of positive reviews also.
I will just give you what I believe to be, the pros and cons of joining a program like this and what to expect – so you can make up your own mind.
Reasons To Be Cautious:
I've come across plenty of similar products to this in the past and something to be wary of, is when there is very limited information about what you're going to get on the sales page.
There is very light and general information on there and the real biggie here is – there are no refunds and there is no free trial or money back guarantee.
When a product has no trial, or no refund option, then that starts alarm bells ringing right away for me.
How are you meant to know if this product is right for you, without knowing much about it?
They're asking you to part with $120+ without really knowing what you're getting.
It Will Not Be As Easy As They Claim.
They say it's simple, as they'll give you your own website and landing page – all you need to do is get people to sign up via your link.
You may think that sounds really easy, but in reality it's not easy.  It's not like the first person you get to view this product will buy it off you.
You will need to be directing a high volume of targeted traffic to your offer, people who are already looking for an opportunity like this…
And as a beginner, getting enough traffic to make reasonable sales is one of the biggest hurdles to overcome.
However, that's not the only reason why this product may not be a great buy, as I'll explain more in a moment.
Dodgy Testimonial videos?

Getting fake testimonials is just common practice now, because you can source super cheap testimonials on fiverr – or similar sites for next to nothing.
BUT in this case, even though these look dodgy – they are actually not  fiverr sourced testimonial videos.
All three people in the testimonial videos actually appear to be internet marketers themselves and are promoting various internet marketing/make money online products.
The lady in the video has her own blog reviewing a bunch of other make-money-online products, (although rating high on the scam probability scale).
The guy below has already done a promotional reviews online for several others products also – such as $250 payday, (see below).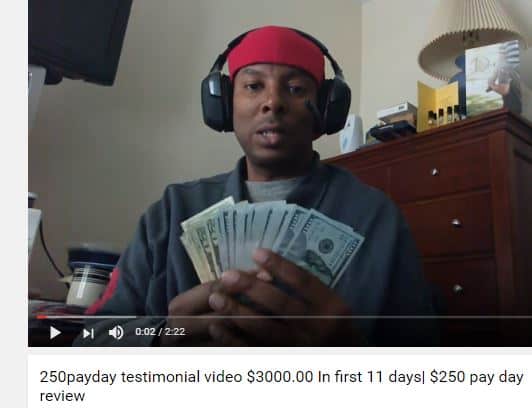 Again, it appears he's a marketer himself, he has a small number of reviews on YouTube for similar products…  all products he is promoting.
The similarities between $250 payday and this product are so close, that I imagine they may well have been created by the same people.
The last guy also has a make money online related website.  So, in all these cases of course, they will be wanting to promote this product, because they're trying to generate commissions.
What Do You Get With My Instant Pays?
If you sign up, you will be able to access the instant pays members area and instant pays product reseller page and digital downloads which you will have the option to then resell.
To make money with this product,  you'll need to essentially convince people to buy into exactly what you just purchased.
Plenty of people have no issue at all being involved in this kind of scheme and don't feel there is anything wrong with it.
To me though, the product just looks like a smokescreen for the actual purpose of this program – which is just to resell the program on and for those to also resell and on and on.
There is limited value here – the training you're buying into, (and getting others to buy into) is low quality and the aim of which, is to teach you how to market and generate leads via social media.
The purpose of getting you to generate leads of course, is so you can sell the very product you just purchased.
So, you get these courses and you have the resell rights to sell on – that is the core idea.
Although, really, you're just promoting this scheme to others, so they can also promote it to others.
Even though they provide you with a landing page builder, you also need to pay them an activation fee of $25 – and that's for each landing page you set up.
If you already have knowledge regarding how to drive traffic to a sales page, then you may well be able to make some money.
Then again, in that case you could make money promoting any products you want and products that are higher quality.
Personally, I wouldn't feel comfortable promoting this sort of product, because it's core value is low and profits are just based on selling the same product you purchased, without any significant value in the training.
So, as well as being poor quality, there is also limited scope with it on it's own, so you'd want to learn other skills and build your own independent website.
Useful Post – how to make money online for beginners.
Pros Vs Cons Of My Instant Pays:
PROS
There is a product involved, albeit of limited value.
High commissions if you can sell it.
CONS
You'll be sending people to a low quality product.
The emphasis is purely on selling the product you just bought.
Fake testimonials.
Deceptive marketing, (claiming this is easy money).
No trial, no refund.
---
So, What Is My Instant Pays?  Scam Or Legit?
It's totally possible that you could make money with this product if you have the ability to drive targeted traffic to your landing page…
But there are certainly better and more honest ways to make money online.
I think, if you're going to put yourself out there and promote something, you want to make sure it's good quality and something you'd happily recommend to anyone you know.
I make the most online right now via affiliate marketing, which I first learnt about over here.
The great thing about it is, once you know how to set up your site, you're free to promote anything you like.
For example, people online are making money from any interest that you have.
For example, I know people doing well in niches such as video gaming, organic skincare, breastfeeding advice, personal finance, food blogging…
There really are unlimited niches to choose from and more opportunities every day.
What has been your experience online so far… ?  I'd love to know!
Let me know in the comments,
All the best…

Other posts that may be of interest….