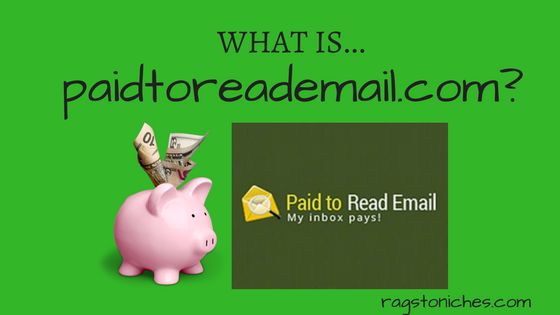 I came across paid to read email when I was in fact clicking ads on clixsense – a majority of the ads on there look like scams and I didn't think this one would be any different.
Actually, it's not a scam and is a reasonable site that perhaps will grow a bit in time.
It reminds me quite a lot of inboxpounds, (or inbox dollars in the US!) as they also have a paid email feature.
What Is Paidtoreademail.com?
Website: www.paid-to-read-email.com/
Cost: free to join
Overall Rating: 55/100
Review In Brief: While this isn't a high income opportunity, I gave this a reasonable score as one of my "pocket money" opportunities, since there are a variety of ways you can earn, the feedback is good and the payout threshold is fairly low. You can also get a $3 bonus, so sign up here.
Honestly, this did look like a complete scam, so I was wary checking this out.  I thought it'd just be about reading emails and earning a fraction of a cent to do so – but actually it's more of a paid survey related site.
How Do You Earn On Paid-to-write-emails?
Offers
This site has a bunch of paid offers available, much in the same way that Swagbucks or Cashcrate do – except not as many.
The difference I saw here was, that a majority of the offers were to join other survey sites.
Whereas, a majority of offers on other sites surround things like free trials, casino offers, or subscriptions.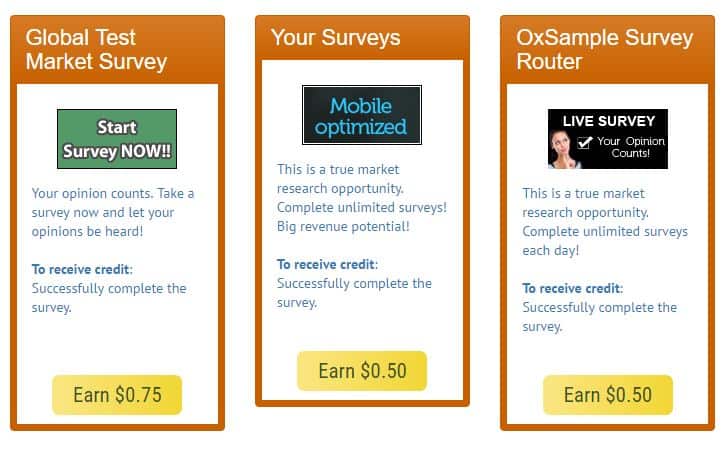 If you do sign up to any of these offers, just ensure you check the T&C's.
Sometimes, if there is a free trial, you will need to cancel before the end to avoid getting charged.
From what I saw, offers tended to range between $0.50 and $0.75.  Not much but it'd only take a couple of minutes to sign up for these offers.
Paid Email
Emails come into your email inbox and I got a couple quite quickly after signing up.
You earn between $0.1 and $0.10 per email you read.  These take a couple of seconds to open, so it is minimal effort.
The higher paid expire pretty promptly, so by opting in for lower paid emails, you will have a better chance of catching them.
Surveys
Surveys are primarily provided by third parties, so this means you'll be redirected to other survey providers to do them.
I always struggle to qualify for surveys online and some sites are worse than others…
You spend a bunch of time answering questions only to be told you can't complete it and you won't get paid.
I tried a few but I didn't qualify, this is just very similar across the board when it comes to survey sites.
I think if you're within a certain demographic, you just won't have as many surveys available to you in comparison to others.
Most surveys that I saw were under the $2 mark.
Shopping
There are some cashback offer available here too – although definitely on the smaller end of the scale if you compare it to a site like Swagbucks.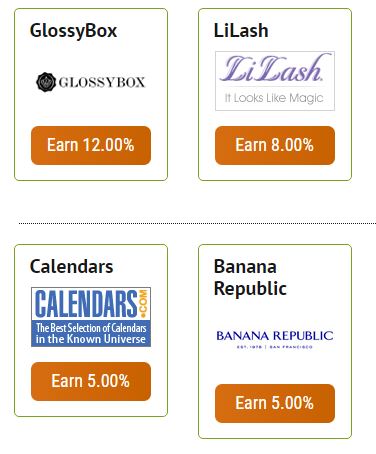 Points
Rather than cash here, you can receive points for taking certain actions/offers.
This section looks like it's been taken directly out of Cashcrate and some of the offers are also the same.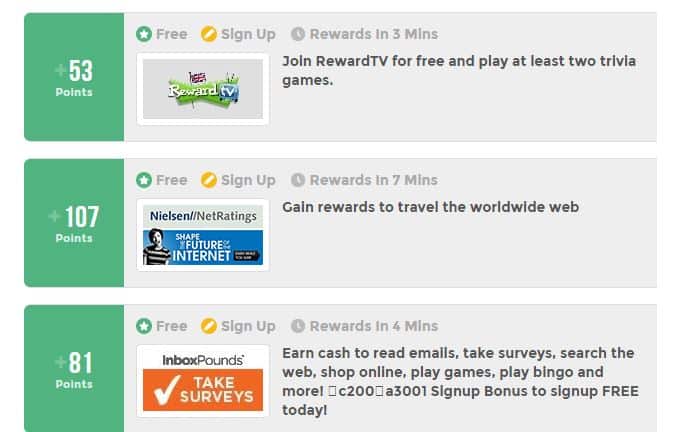 You'll earn points, for doing things that are very similar to the offer section.
Things such as, signing up for a free trial, playing games or signing up to other websites… such as another site that I like, inbox pounds.
Referral Program
If you can get your friends and family to sign up – or if you have other methods of generating a lot of referrals, (blogging/you tube/massive social media following/website etc…) then you can also earn from them.
You can earn 15% of any referrals earnings you sign up, for the lifetime of their membership.
Generally, getting referrals is not as straight forward as it may sound and you'd need a lot for it to be worthwhile – having some affiliate marketing knowledge would be useful if you're interested in doing that.
How Do paid-to-read-emails pay you?
You need to earn $15 before you can withdraw – but since you can already get a $3 bonus by signing up, this wouldn't take too long to achieve.
A $15 threshold isn't bad – when I consider the top competitors for this kind of "all rounder" sites are $5 for Swagbucks and a much higher $20 over at Cashcrate.
Some survey sites have very large pay out thresholds, such as $50!  But many realise they now need to lower this in order to compete with other sites.
You can withdraw your earnings via paypal, which is a straight forward process.
While there aren't any fancy giftcard options, that seems to have become more of a thing these days, I don't see a problem with this  — it's good to get straight cash, right?
Conclusion: Is paidtoreademail.com A Scam?
Paid-to-read-email is a simple site, without the bells and whistles of some of its superior competitors, perhaps –
but if you want to earn the most out of these sorts of sites, it makes sense to sign up to a bunch of the better ones.
If you'd like to get $3 just for signing up, reaching that $15 would be pretty straightforward.  Click here to sign up for your free account.
---
An Alternative To Survey Sites:
I review many ways to make money online, whether small opportunities or large.
The survey related site industry is absolutely gigantic – but the income potential vs the time invested is pitiful.
Many people just don't know that with a bit of effort and skill, you can build a decent online income – you don't need to know code or be able to build amazing websites to do it…
All you need is an interest that you're passionate about and some determination.
If you think you might have that, click here to learn about my #1 choice.
Thank you for stopping by and reading my review… do you have much experience with these online survey sites?
Have you had much success?  Please leave me a comment below!
All the best,