PocketMoneyGPT Review: What Is It & Is It Worth Your time?
PocketmoneyGPT is a paid-to-do site that rewards you via a points system to complete certain actions – including paid surveys, cash offers, PTC and watching videos.
Will it make you a tonne of cash?  No, it's unlikely.  But, as I suggest in the title – it's not exactly what it seems initially.
The site doesn't look great, it just looks like a regular outdated PTC type website.
BUT there are actually quite a variety of ways to earn a small amount of money on this website and it's better than it looks.
PocketmoneyGPT is a legitimate website, that has a good history of paying out to their members so far.
During this review, I will outline the various ways that you can earn, what payment/reward options are available and whether this website is worth your time.
Company: Pocketmoneygpt
Website: pocketmoneygpt.com
Income Potential: Pocket Money
Verdict: Legit.  If you like GPT sites, this one has many ways to earn, is open to most countries Worldwide and you can cash out from only $1, which is really low.  Sign up here.
How Does PocketMoneyGPT work?

There are a variety of ways you can earn through PocketmoneyGPT including:
– Surveys: get paid for answering surveys online, a popular way to earn, you won't tend to earn more than a dollar or so per survey, often it's less.  You also won't qualify for every survey, making it time consuming and frustrating a lot of the time.
– Offers:  taking up offers will pay more, but often require you to sign up to something, (a free trial, membership, mailing list, website).  Some will be free offers and others you'll have to pay something for.  The main risk is that you'll forget to cancel something you signed up to for free, prior to being paid again.
– PTC: known as paid-to-click, this is where you click on Ads and earn a tiny amount every time you do, generally this will be a fraction of a cent.  It's not a good way to make money.
– Contests/Prizes: There are some contests you can partake in, normally this will involve competing with other members.  For example; for how many referrals you have, or how many offers you complete.  But, as you can see below, you'll be competing against high numbers and the prizes only range from $1- $20 from what I can see.
– Offer Wall  More offers and opportunities from 24 or so other third party providers.  These are other companies such as peanut labs, Offer Toro and Revenue Univers.  This includes more surveys, plenty more offers, paid-to-watch short videos.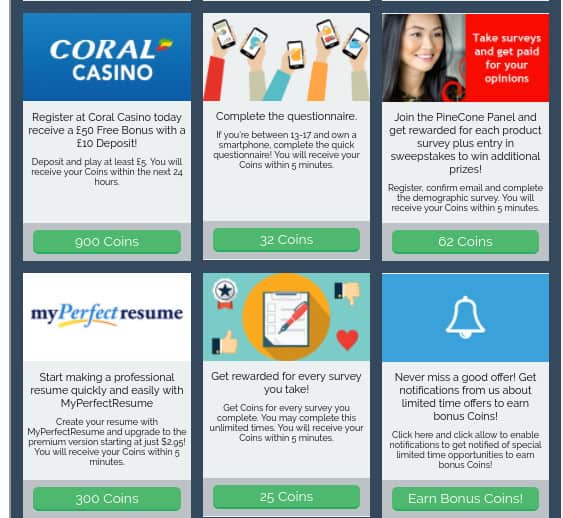 – Referring friends.  There is a referral program here, which means you can earn a percentage from those you invite to join this website too.  I talk more about that in a moment.
How Does PocketmoneyGPT get paid?
This company are paid by advertisers to promote certain offers on their website.
Whenever you click through and complete an offer, or fill out a survey for an advertiser – PocketmoneyGPT will earn a commission.
You then earn a percentage of that commission and everyone is happy.
This way of earning money, is known as affiliate marketing and so, PocketmoneyGPT acts like a middleman between the advertiser and you, the consumer.
Sometimes affiliate marketers are only paid when a sale is made – in other cases, it's when a certain action has been completed, (such as sign up for a free trial, join another website, or join a memership).
Many people online earn money via affiliate marketing in various forms.  If you'd like to learn how you can do the same, you can access some free training here.
PocketmoneyGPT Referral Program:
Speaking of affiliate marketing, this website also has a referral program themselves.
Which means that you can earn money by bringing people to sign up and participate on their website.
When you sign up, you can get a referral link that you can share onilne.
Whenever anyone signs up via your link, you can earn a percentage of what they earn.
You can also earn $0.30 each time your referral completes their initial first offer.
You then earn 10% of anything they earn for the life of the membership, but there is more of a multi-level-marketing structure here too, because you can also create a small downline, three levels deep.
So, on the first level, you will earn 10% commission.  On the Second level, you earn 3% and the third level you earn 2%.
Don't get too excited though, you really need a good system for getting thousands of referrals to make anything much from this sort of program.
Why?
1. A majority of people just don't stick with this sort of site for long.
2. The people that do stick to it, still don't earn enough to make you very much money – so you need a lot of people to make anything worth bothering about.
Even bloggers with thousands of views every day, will generally sign up to a CPA offer type-deal for survey-related sites, (this is where you get paid a one-off payment for a simple action, such as just signing up to the website).
Because, earning a percentage of what your referral earns, doesn't tend to be that profitable.
If you have a way of finding people who are super-active on this sort of website, you will do better.
Cashing Out With PocketMoneyGPT:
This is one of the best things about this website and that is that you can cashout from only $1.
Some survey related sites won't let you cashout until you reach $20 or more.
While that's becoming more rare, it still happens and that means a majority of people just will never cashout with them.
Another good thing about them, is they say they pay within 24 hours and in this day and age, why shouldn't they?
Yet some companies still make you wait for 7 days or more, just to receive a Paypal payment.
You will be able to withdraw here via Paypal, or an Amazon giftcard.
Paid Memberships:
One thing I'm not so keen on is the paid memberships section.  The way they do this is similar to some PTC sites and it's based on getting referrals.
Here it gives you the chance to become a referrer to people who sign up without having be referred.
The thing is, most people that sign up without being referred, won't take any action and so it just won't be very profitable for a majority.
The only way this could potentially help you, is if you are already very good at referring people here and this gives you a bit of a boost.
The one good thing about this is that it's just a one-off fee, you don't have to keep on paying monthly.
Paid memberships start from $3, to give you the chance to get 1x the chance for your account to refer someone who had no referral, up to a one off $35 to give you 35 x chances.
At the highest level, your commission also increases to 20%, 5% and 3% and this is the only upgrade level where this commission level increases.
So, if you're bringing in 100's of referrals, you may consider the highest level of membership – but in any other case, I don't think it would be worth it.

PROS VS CONS for PocketMoneyGPT:
PROS
Free to join, (as all sites like this should be)
It's legit, for what it is.
Unlike many sites like this, the cashout is one of the lowest I've seen:  just $1
There is a reasonable referral scheme.
Shoutout box, you can chat to other members and see in real time what people are earning.
You can cashout via a variety of giftcards, or paypal.
Plenty of offers available, which pay more than surveys.
Accepts members from many countries online – not just the US/UK/CANADA.
Decent online support.
CONS
Many time consuming tasks, for not much cash in return.
Those offers paying out higher amounts, are locked for the first 30 days of your membership.
Some sites like this offer a cash incentive for signing up, (such as Swagbucks) but this one doesn't.
If you do complete paid offers, you often need credit card information, can risk being charged if you forget to cancel trials/memberships and can often get spammed.
Some paid memerships, which would most likely be a waste of money for the majority.
Website isn't that visually appealing to me, it all looks pretty dated.
PocketMoneyGPT Review Conclusion:  Worth Your Time?
This website provides quite a variety of ways to make a small amount of money online.
In particular, if you enjoy completing paid offers, there are plenty of those on here.
While the website looks outdated, they are actively adding offers and surveys on here regularly and there isn't a shortage of opportunities.
Another good thing about it, is the $1 withdrawal threshold.
So, you can check it out and, if you don't like it, you'll still be able to withdraw what you have earned very quickly.
Overall, this is a legitimate website and if you're into this sort of website, it could be worth you checking out.
If you're looking to make more online, or if the whole idea of gaining referrals and earning from affiliate marketing is something that interests you, you can learn more here.
They have some good training that can show you, step-by-step, the basics of how you can start building a business online.
Do you have any experience with PocketmoneyGPT?  Don't be shy…. leave me a comment below! 🙂
All the best,