What Is Rodan And Fields: A Pyramid Scheme Scam?
Dr Rodan and Dr Field started their skincare brand in 2002 and to begin with, they sold their products directly in stores.
But in 2009 they decided to withdraw their products from stores and decided to create a multi-level-marketing opportunity – whereby, consultants could sell their products independently and recruit others to do the same.
One successful representative claimed:  "I always lead with the business, not with the products."  
95% of her income comes directly from recruiting others into the business, not from the sales of products – (source)
However, Rodan + Fields claim that 65% of their profits actually come from direct sales to customers, not from sales from consultants.
Even so, the emphasis on recruiting others into the business, rather than products, is a common theme for MLM's and something they're criticised for.
A business will start to be in danger of looking like a Pyramid scheme, when the main emphasis goes towards selling the business model and not the products.
While I don't think Rodan + Fields is a pyramid scheme, it's understandable that this and all other MLM's are compared to them, (and some even revealed to be them on closer inspection).
>> Unsure about joining an MLM?  Try this instead.
What Is A Pyramid Scheme?
See a brief definition below:

It's important to note that the above definition does not mean that just because an MLM has products or services associated with it, that it can't be a pyramid scheme.
Because if the product or service is deemed irrelevant to what is really going on, (ie; a recruitment scheme) then the products are just a smoke screen.
Let me point out from again that I do not see Rodan & Fields like this…
They do have legitimate products and these products have been purchased outside of the business, (not just bought by their consultants).
However, any business that first and foremost promotes recruiting others into the business, above any actual sales of their products or services, is arguably a questionable one.
Within multi-level-marketing businesses, it's very common for recruits to buy a lot of product prior to selling too and may not sell any of it at all – but by this point, the MLM company doesn't care, they have made a profit.
Even if they're selling to somebody who never legitimately wanted to buy their product at all – they just wanted to buy into the business.
This has also been a criticism made to Rodan & Fields by previous consultants.
In Rodan & Fields case, they do have a 60 day money back guarantee in place, (although recruits have argued that they make it very difficult to return).
What is this your experience with R+F?…. leave me a comment below!
As I stated previously, Rodan & Fields claim that a large number, (65%) of their profits come from direct sales to customers – not just consultants.
That being said, everyone is aware in an MLM that the real money comes from building a team and recruiting others – not from direct sales.
There have been complaints that the company are making large profits by making sure their new clients buy a minimum monthly order – whether they can sell it or not.
Then struggling recruits are left with surplus product that they can't shift, but still paying money to the company in a desperate bid to keep their business alive.
Do You Suit An MLM Business?
Some people really do love this style of business, they get a buzz from the fact-to-face sales and networking, but the mass majority will struggle.
Most consultants will try and tell you that working for R+F is not a "sales," job and you don't have to be a "sales person," to be a success…
But make no mistake about it, this is certainly sales and sales at it's most tough.
Direct, face-to-face sales and constant hustling is no easy task and there's a lot of knock backs too – you don't have to look far online to find people complaining about friends or relatives trying to rope them in to their latest MLM venture.
It's not just "connecting," with people – you need to convince people to part with hundreds of dollars and to have faith in this business you're selling.
And people don't have to dig around for long before they find a heap of criticism directed at the MLM' business model.
So, right off the bat  – it's not an easy sell.
You're encouraged to go to your closest network first – your family and friends and for the most part, they will not thank you for trying  to recruit them into your business.
Many people will just feel plain uncomfortable about this, even more so when they get a negative response.
It's very common for MLM consultants to alienate their friends and family, so be cautious about that.
The best way to really bring people on board is to find people who are already interested in starting their own business and already have some interest in your products or related products.
Are you an R & F consultant? Please share your story below in the comment box.
Do You Have What It Takes?
You need to be ultra confident and passionate talking about your business and really put it out there…
If you're a very social person and feel you could be enthusiastic and engaging talking about this business and their products, you will stand a greater chance than many.
When I first started to look for business opportunities, I considered various types of business including MLM's, (although, I had no idea what an MLM actually was then).
The issue is, I'm an introvert at heart and I realised there is no way I'd be comfortable constantly networking, organising parties, bombarding my family and friends, (who'd likely ridicule me) and trying to convince total strangers face-to-face to join my business.
As I dug deeper though, there were far more questionable things about the MLM model that turned me off.  (useful post: the difference between an MLM & Pyramid Scheme).
Rodan & Fields: What Will It Cost?
If you want to start up your Rodan & Fields business, it will cost you between $45- $995, (although the $45 package is really just info about the business, I will discuss more in a moment).
What Do You Get For $45, (The Business Portfolio).
For your initial investment, you will get all the information you need to set up your business – including a general overview, talks about the R+F mission and includes testimonials.
However, it does not include any products at all, so to actually get started as a consultant, you will need to purchase a different package.
Additionally, it comes included in the cheapest initial package below.
Rodan Fields Personal Results Kit: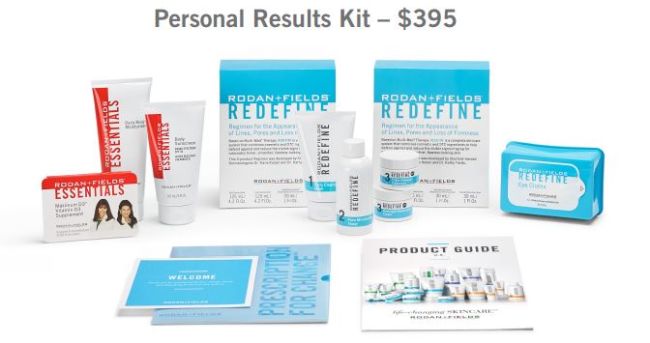 The personal results kit includes a variety of products.  Although, for $395, you may be thinking there isn't much here for the price tag.
Products include:
Their best regimen "redefine," and another on of your choice.  
Essential daily moisturiser and sunscreen.
D3 Vitamins and eye cloths are also included.  
The Business portfolio.
Rodan Fields Big Business Launch Kit: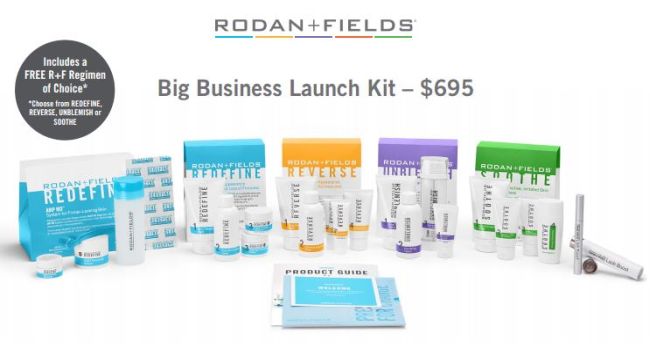 If you want to go higher, get the big business launch kit.
This is meant to include all the products you require to help you demonstrate what Rodan & Fields is all about.
The pack includes:
All four regimens: Redefine, Revers, Unblemish and Soothe – plus one for your own use.
Rodan & Fields tools such as an AMP MD micro exfoliating roller, redefine night renewing serum and purification tablets.
Enhancements lash boost serum.
Redefine multi function eye cream.
Rodan Fields Express Business Kit: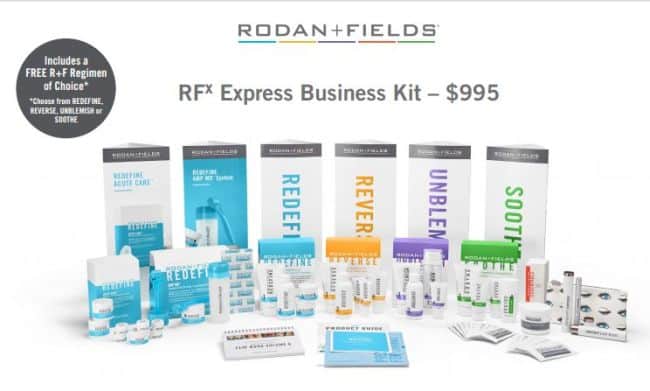 Lastly, there is the express business kit – which includes all the products of the previous kit but also marketing and shareable tools, which will help you to attract clients and consultants.
The kit includes:
All four regimens.
All the exclusive tools of the previous kit.
Two enhancements lash boost serums, (one for personal use).
Redefine acute care.
Multi function eye cream and redefine lip renewing serum – plus other best sellers.
Business building samples and materials, (for example, before/after flipbook, samples to give out to prospective clients and more).
So, you can't actually get started for $45, because if you want to be a consultant you'd need to purchase another package.
It also seems a waste of time buying the $45 deal, when that comes included with the personal results kit.
Rodan Fields: 5 Ways To Earn:
There are 5 ways to earn at Rodan Fields that are outlined below.
Retail customers purchase at general retail price.
Preferred customers will purchase products at a reduced price rate, because they agree to have regular shipments/sign up to a plan.
Consultants will be those who you recruit under you and will pay the lowest amount for products.
Is An MLM Really Your Own Business?
While a few hundred dollars is not much for what may appear to be starting your own business…
I don't see joining an MLM as ever really starting your own business.
Because no matter what, you're still completely reliant on that sole company for your success – you're reliant on them remaining successful and their products remaining successful too.
In addition, to really grow financially, you'll have to be relying on the consultants you recruit to also be successful and to successfully be able to grow their R+F businesses too.
Seeing that the success rates in MLM's is very low, you'll need to be very good at either:
 a) Finding consultants that will do amazingly well for you and are also good at recruiting others.
OR…
b) Expect an extremely high drop out rate, which will mean you're on the relentless hustle – indefinitely.
PROS VS CONS
PROS
R+F have some decent products that clearly there is some demand for, (although there are some pretty bad reviews out there too).
The skincare niche is evergreen – people will always be interested in their appearance and many people are prepared to pay a premium price for a product that works for them.
R+F doesn't have the hype surrounding it that some MLM's do.
CONS
MLM's in general are not for everyone, will it suit your personality and can you see yourself confidently fronting & promoting the company?
Products have been criticised for being overpriced and I struggle to believe they are worth the price tag – it's a fact that MLM's need to up their prices to cater for the structure of the business.
There is a low success rate, make sure you have a plan for how you're going to grow your business before you take the leap and don't rely on family and friends signing up.
So What Is Rodan & Fields, Just A Pyramid Scheme?
No, I don't believe Rodan & Fields is a pyramid scheme, but neither is it an ideal business to enter into for most people.
From what I've seen, Rodan & Fields consultants are largely focused on recruiting others into the business – because this is how you will make the most money in an MLM.
Do you make money with Rodan & Fields just by selling product?  Leave me a comment below!
Some questions to ask yourself before you join Rodan & Fields, (or any other MLM) are the following…
Will you be comfortable selling these products, can you argue why they may be more expensive than other similar products on the market?
Can you argue for reasons against why some people may claim this is a pyramid scheme?
Could you confidently sell this opportunity to a stranger and spend your days trying to make new connections?
Would you feel comfortable sharing this opportunity with people you know?
Multi-level-marketing is certainly not for everyone and I think it's important that people know the downside before they make an investment.
Too often, consultants will try and sell you the dream and that is far from the reality.
R+F are at least transparent that a large majority of people who enter the business will never become wealthy – or get to the Lexus car stage, (an incentive in their compensation plan).
If you have your feet on the ground, you'll be able to weigh up and the pros and cons before you make a decision.
An Alternative To MLM?
At the time of writing, I make the most online money via affiliate marketing – which has a low cost of entry and doesn't involve direct sales.
Although, it can also help you generate leads, if you did decide to go down the MLM path.  You can access some free training here!
What has been your experience with MLM's so far?  Do you think the criticisms targeted at MLM's are justified?
Leave me a comment below!
All the best…