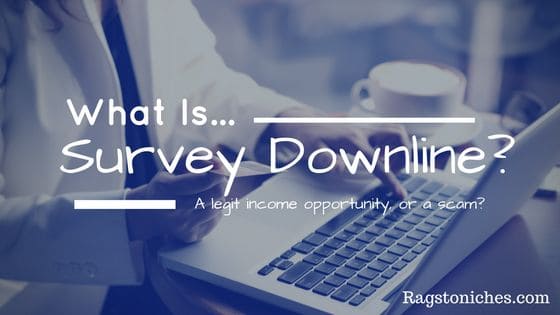 Product: Survey Downline
Price: Free.
Earning Potential: pocket money.
Overall Rating: Rating to come, what's your experience?
What Is Survey Downline?
Survey downline is a bit of a hybrid between a survey site and an MLM program, (muti-level-marketing).
You get paid for completing surveys, but you also get 10% of the earnings of anyone you get to sign up and also 5% of anyone they get to sign up.
You get paid via paypal, magazine subscriptions or facebook credits – The US seems to have a couple of other potential options that I could not click on.
To claim money via paypal, you need to earn $20 and this is pretty high now, considering there are sites like Swagbucks where you can cash out from only $5.00.
The structure of Survey Downline is similar to cashcrate, as they also have a tiered referral program, although that is largely where the similarity ends.
So, it's just straight up surveys here. But there is a difference! Or so they claim.
First impressions Of Survey Downline
I first saw Survey Downline advertised on another website and my first inclination was, that it was a scam.
Actually, upon signing up and doing some research I now don't think it's a scam, but it's not something I'd recommend to spend much time on.
It's completely free to sign up, (don't ever pay to join a survey site!) and you can make a small amount of money on there.
They claim to be considerably better than other survey sites out there, because other sites pay you a minute amount of their overall profits, where as Survey Downline claim to pay you 35% of their profit per survey.
They claim that overall, they give away 50% of their profits to their sign ups.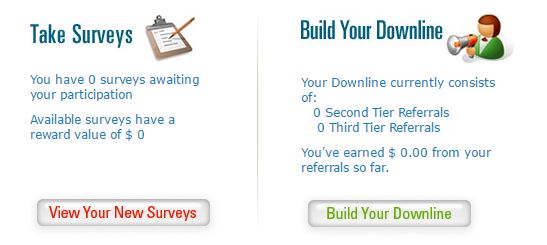 This all sounds good, but are they really so different in reality?
I'd love to tell you that their surveys are a cut above the rest and pay you vastly more than any other survey site…
…but unfortunately I can't do that because, after I signed up, I had zero surveys available to me to try. 🙁
I wondered whether there were less surveys available to the UK, the profile questions were very USA based, so this is possible.
However, surveys are meant to be available to residents of the UK, Australia, Canada and the USA.
So, right now I'm just waiting this out and I will update this post once I've finally received a survey.
After doing my research…
So, with a lack of surveys to do, I had a dig around to seek out other peoples opinions, experiences and reviews.
Surveys seem to vary pay wise – ranging anything from $0.50 – $10 – with many falling between the $0.50-$2.00 range.
But guess what? When you attempt higher paying surveys, they're impossible to actually qualify for.
This is also what I have found time and time again on survey sites across the board. It appears no one is in the correct demographic for these super high paying surveys.
Have you ever managed to complete a $10 survey? Let me know!
So, payment wise, there may be some surveys that offer more than usual but you may need to be very lucky to actually qualify for them.
All survey sites have screening out issues – that's when you're asked a number of questions to see if you "qualify," to complete the survey and it's very frustrating for many people how often you're screened out.
So, making much money via the surveys alone may be a challenge, but what about the referral program?
Survey Downline Referral Program
To make even a small amount of money here, you'd need tonnes of referrals, just referring a few friends or family members would not lead to success.
A majority of people just don't stick these things out, they bore of it quickly and won't actively participate for long.
Let's say one of your referrals was pretty active and did a survey every single day and made $1. Well, you'd get $0.10 cents per survey in that case, or $0.70 per week.
Realistically, you'd be very lucky to refer anyone that completed a survey day in and out. A majority of regular people may do a couple here and there, if that.
Even more likely, is they sign up and do absolutely nothing at all.
If you want any hope of generating a large number of sign ups for the referral program, your best bet is to have some internet marketing knowledge,
>> See my review of the best place to learn here…
If you're just hoping to join a survey site to make a few extra dollars here and there, there are better options.
Survey Downline Review – An Interesting Insight
In the above video, Vince talks about someone he knows who managed to get 300 referrals to sign up to Survey Downline and they still only made $20 per month.
Now, many of those referrals will likely not be active and that is extremely common as well.
Many referrals you get won't actually take action, or maybe they take a couple of surveys and then figure it's a waste of their time.
So, it's not enough to just get referrals, they need to be active also.
The fact is, there are plenty of affiliate programs where you could be earning thousands of dollars a month for generating that many referrals.
Survey Downline Complaints
Like all survey sites, there are some complaints I've come across, these include:
Glitches on the website, surveys failing before they've even been attempted, problems working in Google Chrome, immediate screening out.
Your points are dumped after 12 months if they are no redeemed.
Screening out issues from surveys, but this is the case for all survey sites.
Lack of payment, emails being ignored.
Do you have any experiences to share? – I'd love to know, leave me a comment below!
What is Survey Downline: A Scam Or Legit Opportunity?
Survey Downline, while it has a slightly different set up by having their MLM style referral program, is much like many other standard survey sites.
The website itself is very plain, there's nothing that sets it apart from many other similar sites and the total lack of surveys available to me, means I cannot tell you my own personal experience from having completed one.
I will update this post when I manage to complete a survey and see if I can manage to get accepted for one of these elusive higher paying surveys.
In the meantime, you can check out survey downline yourself and report back if you get any surveys!
Have you had much luck with online survey sites? leave me a comment below!
All the best…