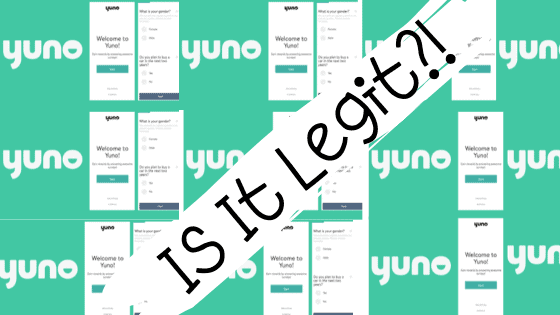 When checking out another rewards App, I was directed to Yuno Surveys to make some points.
I'd not seen or heard of this company before, so I decided to check it out and write this quick Yuno Surveys review.
Having literally reviewed hundreds of different survey sites now, it takes a fair amount to impress me.
There are just so many that are practically identical and have nothing interesting about them.
As rewards sites go, I like this site as an all-rounder where you can make/save money – these ten are also worth checking out.
While you can make a very small amount with online surveys, if you want to make more long term online, you need to invest your time and efforts elsewhere.
Tip – if you want to make 100's or 1000's of dollars per month, Apps won't work!  You can learn to make more here.
So, what is Yuno Surveys About?
Like all survey panels, this one will give you the opportunity to answer surveys created by companies and businesses, in exchange for a financial reward of some kind.
You will be able to earn a certain amount of points, per survey you complete. You must save up your points and eventually you can exchange these for rewards.
How Do You Sign Up With Yuno?
I was able to sign up by just using my email address, which was nice to not have to give out tonnes of information.
Straight away, I was then offered 50 points to complete a survey….
Although, I wasn't told what this 50 points actually equated to by this stage.
However, I clicked the link and it took me to a section, which showed me what rewards were available.
It said I needed 700 points for a £5 Amazon voucher, (I'm in the UK). But there were other options available, (see below) including a $5 Via prepaid card and a $10 hotels.com gift card.
What options you see available to you, may depend on your location.
Yuno – How To Earn Points:
On the main page, it gave me a couple of options.
Either to complete a profiling questionnaire, which is mean to mean you'll have a better chance at getting opportunities….
Or, do a survey for a 50 points.
I opted for the survey. It told me right at the start I'd be asked some profiling questions for 2-3 minutes to see if I was a good fit and accepted.
I thought this was decent actually, because they often don't tell you and then you get chucked off during the profiling bit.
During the profiling survey, I was told you could complete surveys on the actual platform, but that they also send you out to external survey providers.
They then asked if I wanted to be offered external surveys or not — again, I thought this was a nice touch and I haven't personally been asked that before.
Usually, it seems there is no choice and they just send you to survey panels externally.

Anyway, I opted that they COULD send me to external websites, because I have a feeling if I hadn't, I may have had zero surveys available.
It then redirected me to another survey via Sampilicious.
As predicted, I got thrown off.
The biggest problem with 99% of survey sites, is that you get disqualified before you've even started.
That's because companies are usually looking for a very specific demographic and most of the time, YOU won't fit it.
(Prolific surveys is one of the only ones I've found that won't disqualify you mid survey).
In any case, I find it very difficult to qualify whenever it comes to Sampilicious surveys in general and it's a common one you're sent to with these sites.
What Else Can You Do?
Well, that's the thing, there really isn't very much going on here.
It seems you just go for whatever survey they send you to, (no actual choice, no dashboard where you can select surveys…)
And you either qualify for that survey…. Or you don't.
There wasn't much information going in general. There was a help an advice section but …
Completing surveys is the only way to earn points and, as survey sites go, there isn't much choice with that either!
Completing surveys can be frustrating enough, without at least having something about the website to make you want to return.
For me, this was just really lacking and nothing that made it stand out in the sea of other websites that are identical to this one.
Have you tried Yuno Surveys…. ? Let me know in the comments.
How Does Yuno Make Money?
Survey panels allow you to make money for free, as they share a portion of their commission with you, that they make from companies looking for feedback and other survey panels, looking for participants.
Every time you complete a survey successfully, Yuno will make a commission and you will earn a portion of that.
The trouble is, it is so competitive in the survey-site world, that many will struggle to make enough money and compete with the really popular sites that are already out there.
How Many Points Do You Need To Pay Out?
How much you can make may well vary depending on your location.
As mentioned previously, the absolute minimum amount of points that I NEEDED, (from the UK) was 700 points.
You will also need to make sure that you have verified your email address before you're eligible for rewards. I believe you may need to also confirm your mobile/tel number.
There are a variety of gift cards that you can choose from once you reach the points threshold.
Some of these may include Amazon, Hotels.com, Visa prepaid card. At the time of writing, they do not pay via PayPal.
Does Yuno Surveys Have An App?
Yuno surveys does not have an App available at this time. So, you need to go to their regular website in order to make money.
If you're interested in Apps that can make you money, there are 14 different ones here.
Is Yuno Surveys Legit Or A Scam?
I think it's legit, but I don't have enough feedback about this site at this time.
For example; on Trustpilot right now, there are only a few reviews and only one was in English.
A couple of the comments that were not in English, I translated and they seemed to be complaining that they were unable to cash out, or receive a gift card.
Translated: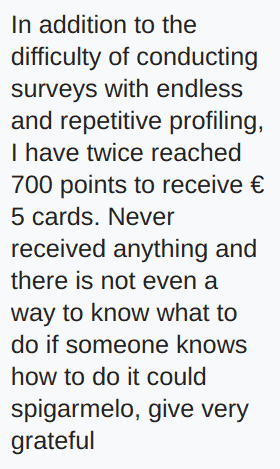 It looks like this company is just getting started and will grow over time, so I hope that it will also improve and add some more to it.
It would be nice to see an actual dashboard, where you can pick and choose surveys, see how long they are and how much you can earn per one.
It would also be nice to have a payout option via PayPal.
Generally, it seems the surveys shouldn't take more that 15 minutes – but say you only get 50 points per survey, (between 50-100 possible) that still means you need to complete around 12 surveys to just get to the initial $5 payout.
Yuno Surveys Review Conclusion:
As of yet, Yuno Surveys seems to be a pretty generic style survey site, where you can make a small amount of money for sharing your opinion.
There are a variety of gift cards available, but I right now, I imagine most people don't stick around long enough to redeem their points.
With so many survey sites out there, I feel Yuno will struggle to compete, unless they try and make their website more enjoyable to use, with more choice and a better overall website design – with more navigation.
It's completely free to try and you can get started right away, I just haven't seen anything personally that would make me want to return to it.
If you have had any experience with Yuno surveys — whether good or bad — let me know in the comments!
If you'd rather make money in the long term – I recommend you get started here.
Alternatively, check out my 5 day free email course below!