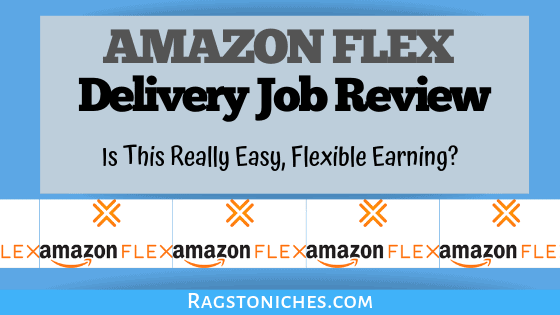 Amazon Flex is only something I recently discovered and also talked about in my 8 ways to make money with Amazon post.
But what does Amazon Flex involve, how does the App work and is the work involved, really worth your time and effort?
I did my research on this opportunity and I'm going to share what I know with you… right now!
In my Amazon Flex review today, I'm covering the following topics:
What is Amazon Flex?
Downloading Amazon Flex App & Getting Started.
What Does Amazon Flex Pay You – Can You Make A Full-time Income?
Your blocks of work With Amazon Flex.
What Do Other People Think – Reviews Online?
PROS VS CONS.
Concluding Thoughts – Is It Worth It?
How I Make Money With Amazon.
What is Amazon Flex?
Amazon Flex is a flexible working opportunity, where you sign up with Amazon and deliver packages and parcels to people who are within your local area.
Just think Uber… But with parcels instead of people! 🙂
There are training videos you can watch on their website, which will show you what their best practices are and what you can expect.
There are various different types of packages that you may deliver and there are different opportunities…
Including:
Regular parcels/packages from Amazon.com,
Amazon fresh – groceries and household items,
Amazon restaurants – delivering food orders locally,
Instant offers – these are super quick deliveries close to you, usually taking only 15-45 mins.
You will also need to download the Amazon Flex App via an Iphone or Android phone.
You will need a car and for Amazon.com orders, it will need to be a certain size – you can check out specifics as you sign up.
They also sometimes accept cyclists – but that depends on the location and of course, your bike will need a basket to hold packages.
You will also need to be over 21 years of age!
Downloading Amazon Flex App & Getting Started.
In order to download the App, you'll need at least an iphone 5 or higher and IOS 11+ or an android phone 6.0 or higher.
If you're on a mobile, you can download the App here – https://flex.amazon.com/download-app
To sign up for an account, you'll need to have an Amazon account already, or sign up for one. Of course, that's free and very easy to do.
(If you don't have an Amazon account already…. Where have you been!?)
You'll also need to make sure that Amazon flex is available in your area. This will grow over time.
When you're signing up, you'll need to upload a photo for identification. This is the photo that will also be used on your in-app ID card.
You will also need to have a background check…
But if that's clear and you have a clean license, you shouldn't have much trouble signing up and getting started!
Also, prior to working with Amazon, you will need to provide Tax and payment information.
As you'll be an independent contractor, you will have to deal with all your own Tax, you also need to remember to include any tips in your overall income.
Your Blocks Of Work With Amazon Flex:
Once you're all signed up, there are a couple of different ways you can schedule your work with Amazon Flex.
You can actually fill in a calendar on the App, highlighting which days/times you're available. You'll then be sent offers for work, on those particular days, (should work be available). These offers of work are not compulsory, it's up to you if you accept.
Alternatively, on the home-screen of your App, you can also check out what offers of work are available and these will change throughout the day.
What Do They Pay….? Can You Make A Full-Time Income With Amazon Flex?
Amazon themselves say on their website, that this is NOT a full-time opportunity.
This is a way to create a supplementary income part-time. This is because the amount of deliveries can dramatically change week by week.
While you may get a lot of deliveries one week and make good money, you may get far less the week following.
Therefore, it's not going to be a reliable as your one and only source of income.
Amazon claims that you can earn $18-$25 per hour in the US delivering. Or £12-£15 in the UK.
However, some people have claimed that you often will make less than this and you have to bear in mind things like petrol costs, parking and general wear & tear of using your vehicle.
You'll be able to keep up to date with all your earnings, via the Amazon Flex App.
One positive thing about it, is that you will actually get paid twice per week – on Tuesday & Friday, straight into your bank account.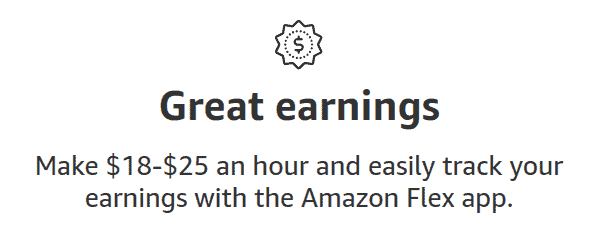 Amazon Flex Reviews Online:
Unfortunately, not everyone has had a wonderful experience with Amazon Flex and there are a fair amount of negative reviews.
It has 2.5 stars on average, on Glass Door right now.
It has 3.3 stars on average, on Indeed.
The negative reviews largely mention things like….
The low pay after costs,
Having too many parcels to deliver in an hour, sometimes heavy parcels.
Sometimes properties are difficult to find and you can get delayed/delivery can be difficult.
If you miss a few blocks, you can get banned forever.
Fuel costs can get high.
Negative comments about management & depot staff.
No benefits.
Those that did enjoy working for Amazon Flex, (there were plenty of those too) seemed to accept that this was very much a part-time gig.
They knew they wouldn't make much and couldn't rely on this as their full-time income, but were happy to make an extra income with this side-hustle.
Some people found the work enjoyable and fun too.
The good thing about this opportunity is that it's not going to cost you anything to try it out.
If you don't enjoy it, you don't have to continue – simple as that.
PROS VS CONS:
PROS
Flexible working hours, you choose when you work.
Can be reasonable pay for the job, depending.
You only have to accept the blocks of work that you want.
The App seems to do a good job and work smoothly much of the time.
You can track your earnings via PayPal.
Get paid twice a week.
Training material online.
CONS
It can be difficult to access the right support in some situations.
Work can be limited, depending on location.
Some areas will have a lot more competition.
Petrol costs.
Some blocks take longer than the allotted time.
Some complain there are too many parcels you're meant to deliver.
Sometimes the parcels can be heavy.
Some properties may be difficult to access/difficult to find.
Concluding Thoughts – Is An Amazon Flex Delivery Job Worth It?
Whether it's going to be worth it to you, is going to be dependent on so many different factors.
These may include things like,
How much you need the money,
How much time you can commit to this,
How competitive it is in your area,
What your expectations are.
But The best way to figure out if this is for you, is to simply try it out for yourself – since it's free to get started.
Just be aware that, after expenses, you'll be lucky to be pulling in much more than minimum wage!
Nevertheless, it's free to download the App, quick and easy to sign up and you can get to work quickly.
So, if you go into it with slightly low expectations, you may just be pleasantly surprised.
After you've given it a try and roughly seen how much money seems realistic, you'll have a much better idea whether it's for you.
Despite some negative feedback, I do think it looks like a pretty simple way to start boosting your income.
It may also be useful for people who are out of work right now and could possibly do this while finding work.
Good luck & let us know in the comments if you've had any experience with Amazon Flex!
How I Make Money On Amazon:
I make money with Amazon too… But not via Amazon Flex!
I made my very first sales online, with the Amazon Associates program.
This is where you can link to recommended products on Amazon from your blog/website/social media and earn commission when a purchase is made.
This is what is known as affiliate marketing… and it's a way of making money online that I enjoy, because it's so hands off.
You don't have to stock the products yourself, or deal with things like packing/shipping, or customer service.
Also, once you have a website set up that uses affiliate marketing as a way of generating an income, it is a way of creating passive income over time too.
For example; I did actually didn't post anything to my websites last week… Yet, I still made sales.
That's because some of the work I may have done six months, a year, or two years ago, still pays me today.
If you'd rather be making money online, than making deliveries for Amazon, you can start learning here for free.
All the best,