Auto Affiliate Program Review: Is It 100% Passive?
The Auto Affiliate program was created by fellow Brit, Steven Hall.
Steven promises that this is a done-for-you system, where you can generate 100% passive income and you need zero experience to get started.
This are bold claims, but are they true?  Let's see!
Product: Auto Affiliate Program
Price: $47 monthly recurring.
Overall score: 60/100
Review In Brief: This program has an original concept, that I haven't come across yet previously.  But while there's no doubt that you could potentially make money with this program – It is not 100% passive and it's not a good choice for newbies, in my opinion.  Read on and I'll explain why.
For A Newbie Friendly Zone – You Can't Beat This.
What Is Auto Affiliate Program About? 
When I first arrived to the sales page, my first thought was that it looked like a scam.  The pictures, the messages and the overall layout didn't look promising.
For example, one of the first thing you see is the message: "make money while you sleep."  
Which, while can be a common occurrence with affiliate marketing eventually, is often an idea scam products like to mention.
As generally scam products will talk about passive income, income while you sleep, easy money, push button systems and so on.
 The idea is to lure you into thinking this will be easy cash.  Money while you sleep… who wouldn't want that?
It's a winning formula, because so many people are desperate to make money quickly, but with little time and effort involved.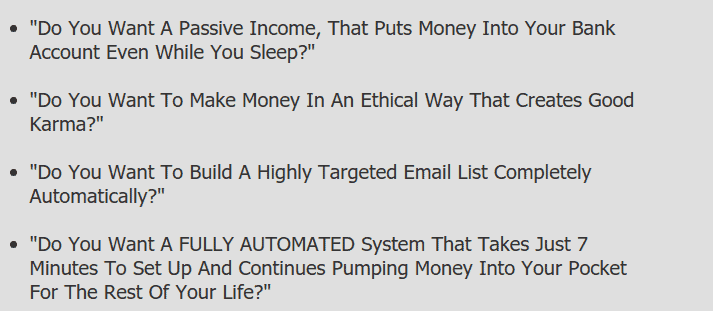 HOWEVER, even though the sales page is a little hyped up, it's definitely not all bad and there are some things that I like.
In a nutshell, Steven has created a system whereby you need to attract people to download FREE ebooks and you can potentially make sales from an affiliate link placed within them.
People love freebies, so it shouldn't be too hard to convince someone to download a free book on a topic they're interested in…
Although the conversion from freebie seekers into paying customers, won't be so easy.
To break it down:
Each ebook contains an affiliate link for a related product and if the reader purchases that product, you earn a commission.
The ebooks are all free, so your job is to get as many people to download it as possible.
You direct people to a link straight to the ebook you're promoting and they can download it instantly, with no email address required.
You also have the chance to build and email list – Stevens company will send out promotional emails to your list for you.
The cost of being part of the program is currently $47 per month.
Certainly, this program does take a heap of the work out for you.   You don't have to write or create the ebooks or covers, you have a pre-made website and you don't even need to write emails to your subscribers.
But there is a catch of course and that comes to actually getting enough traffic to your books to make a sale.
Because a majority of people buying a free book, are just after a freebie.
So, what you're looking at is a numbers game.  The more people that download and share the book, the higher your chance of making sales.

Can Anyone Do It?
Well, yes….  But it would be very hard to have much success if you have zero experience generating traffic.
If you're experienced online, then certainly you could do far better driving traffic to these free offers and hopefully making some sales.
If you're new, or relatively new, you will find things considerably harder and there's a big chance you will give up prior to making a sale, or quit because you're not making enough to warrant paying the monthly membership fee.
If you dive into paid methods, such as Facebook Ads or PPC, then you could definitely run into trouble quickly if you're not sure what you're doing.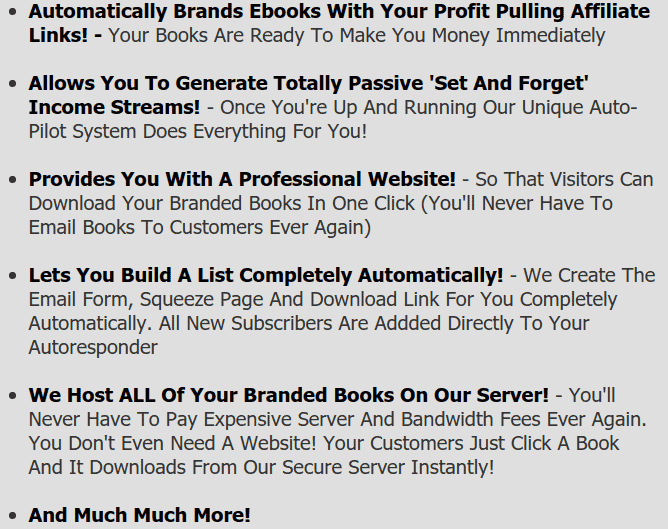 You Won't Get Any Search Engine Traffic.
Websites like the one you'll be provided with will not rank well in the search engines.  This is because very thin sites, which hold little value and duplicate content are not liked by Google.
So, you cannot rely on people finding you just by searching for related topics.
Therefore, you'll have to put a lot of work to bring that traffic to you – and this really takes away the "passive," element, (unless you pay someone else to promote your offer).
You Have No Power.
Once you sign up, you're tied into this program.  If you leave, your business will be over.
If Steven closes the program, your business will be over.  If you build a list, you have no control over what emails are sent to that list.
If you leave the program, the list will not be going with you.
Steven says that this program can bring you passive income for the rest of your life…
But this simply isn't the case, unless this program runs for decades and you're still a paying member – can you envisage that?
Pros – What I like!
Steven goes to a big effort to really reveal what the program is about in the actual sales page.  There is no mystery here, he lays it out like it is.
This is a genuine idea that could work for anyone if they were able to direct enough traffic to the offer.
You can contact Steven directly if you have any problems.
There are books in different niches, so you can send targeted traffic to your offer and choose something you're more interested in.
If a product goes out of stock, the link changes automatically to a new product within the same niche.
The fact that so much of the work has been taken away, may appeal to some – particularly if they are already experienced generating traffic.
The system can work on any computer, including tablets, or even smart phones.
CONS – What I Didn't Like!
Scammy looking sales page.
It is in no way 100% passive.  That would mean no work at all and you do need to work at generating traffic to your offer.  Which could be a difficult task, particularly if you're a newbie.
Steven uses Clickbank products, which are notoriously bad!  There are plenty of poor quality products on Clickbank and you will have no control over what products are linked to in the books.  Related post: is Clickbank a scam.
Downloading a free ebook is one thing, but those readers converting into selling customers will be low.  So, you must have a tonne of downloads daily to be worth your while.  A large number of people who download ebooks, never even read them!
While you will learn how to drive traffic, you won't be learning any of the other vital internet marketing skills you need long term.  So, it's not ideal for beginners, in my opinion.
At $47 a month, you may end up spending plenty of money before you make any sales, particularly if you go down a paid-advertising route and are inexperienced.
You have no power with a program like this, the control is taken away and if this program sinks, so will your business.
Auto Affiliate Program Review Conclusion – Is This Program For You?
Steven talks a lot about escaping the rat race, spending more time with your family and generating passive income.
While these are all appealing things to aspire to, this program is not the vehicle in which to achieve them.
Knowledge is power, if you learn about affiliate marketing from scratch yourself, you'll be in the drivers seat and in control of your own business.
I'm a strong believer to not put all your eggs in one basket, but if you're just relying on this one program to make you money, that's exactly what you'll be doing.
If you're looking at it as just an additional income stream, then that may be different and it may be something that could work for you.
When I first came online, I knew absolutely nothing about building a website, SEO, or generating traffic.  I first learnt it here.
I am grateful that I made the effort to really learn some core skills, because that will pay off in the long run and is not difficult to learn the basics.
If you really want to make a long-term income online & you don't have any experience; you should avoid seeking out shortcuts and just start learning.
Have you had any experience with the Auto Affiliate Program?  I'd love to know, leave me a comment below!
All the best,