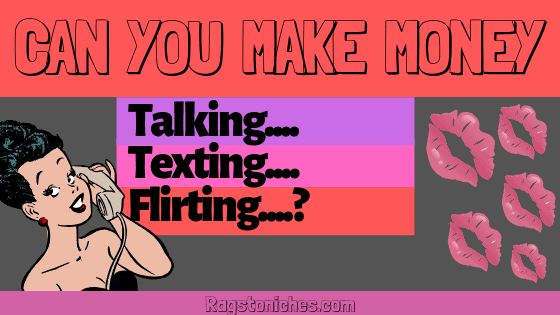 I had of course heard of people making money talking on the phone – but thought this would ONLY be of an explicit type nature.
Apparently this isn't always the case though, with some people just wanting to talk too.
There are a bunch of different places I've found and you don't EVEN have to talk, there are ways you can get paid for texting as well.
But how much can you really earn? ….And can you earn full time? Or is this more of a pocket money opportunity?
Do you want to earn more online? These side hustles worked for me!
So, How Do You Make Money From Texting/Chatting?
I'm sure we have all heard of webcam roles – but this is quite different, as you can do it totally anonymously.
You won't use your own name and whoever you speak to, will have no idea who you are, or what you look like if you stick to phone or texting.
Consequently, you can really invent your own persona if you want to!
Of course, it doesn't matter what you look like if you're not on webcam, but having an attractive speaking voice could probably help you get repeat clients!
Also, if you're not comfortable speaking on the phone and likely speaking about sexual things over the phone, (to complete strangers)…
Then you're probably not going to be OK with this!
That said, I have read some women on forums who thought they were going to hate it, but actually enjoyed the whole process more than they'd imagined.
In fact, many women mentioned that a lot of the men they spoke to were just lonely and wanting to have a chat, rather than anything else.
They would often get regular customers and would end up developing somewhat of a friendship with these people, despite the men not knowing anything real about them.
For anyone calling these lines, they will have to pay a certain amount per minute and some of this money will go to you.
Many companies seem to pay per minute from what I have seen, but there could be some that pay in terms of the entire call.
Also, the rates can go up over time — either over the time you actually stick with the company as an operator…
But also depending on your volume of texts/calls over a certain amount of time.
If you're comfortable on the phone, relaxed about talking to people in general and holding a good conversation, then it might suit you.
Although most people will only be making some additional income – rather than anything full time.
It may be that you feel it's just not worth the effort, for the amount of time you need to put in.
That being said, some women DO claim to be making a full-time income and it will all depend on how much you can get per minute and how much time and effort you dedicate to it.
If you're single and living alone, for example, then I imagine you're going to have a lot more time to dedicate to it – than someone married with four kids!
So, it's how you can manage your life and time around the work.
One good thing is, many of these lines are 24 hours and you can login when you want, which would make the work extremely flexible.
US Based Companies, (Some Offering Work In Multiple Countries).
1/ Flirt Bucks, (flirtbucks.net/program)
While based in the US, there is a large drop down menu of Countries for their application form, so presumably you can join from many countries.
No "paid to date," type gigs, they are paying you to text chat and flirt with men – but they do also have a web chat option as well.
You earn a little more, the longer you stay with them.
For the first 3 months you can earn 10 cents a minute for text chat and 40 cents a minute for video chat.
They also say you can conduct multiple texts chats at once, which will obviously increase your earning potential.
2/ Dreamlover, (Dreamlover.com)
Here is an opportunity for both girls and guys!
You can call, text and share pictures from both men and women.
However, you actually choose who you want to speak to based on their photo – and there are a lot of model-looking types.
I'm unsure if all these pictures actually correspond to the real person, but I guess you are needing to share other pics with them potentially so….
I guess so!?
I can't see any specific info here about how much you will get paid per call, text or via sending images.
3/ Tex Kings, (texkings.com)
This company hires Wordwide and says it is currently looking for workers from people in the UK, US, Canada and Australia.
Unlike any other website I've checked out so far, this platform requires you can type at least 25 words per minute.
Texts can be just friendly, or potentially erotic in nature. However, you can do this from your laptop or desktop computer – as well as your mobile.
The amount you earn can change, depending on how many texts you answer in a given time.
Bonuses between 25 Euro and 125 Euro are possible and you can start off earning between 7 and 10 Euro per message.
4/ Text 121 Chat, (jobs.text121chat.com)
Here they have a few different positions available.
You can purely join as someone to do text chat and this involves no talking directly.
You can also join as a customer service agent…(search me…) I really have no idea what sort of customer service they mean, or if they mean working directly for them in that capacity.
Lastly, they offer adult chat services, which will be more explicit type chat.
There was no info regarding how much you could make per call.
Pin Me For Later 🙂
5/ Lip Service (lipservice.net)
You must be a legal resident of the US or Canada to join here.
In the job application, they ask if you can work at least 25 hours per week, so I'm unsure if this is essential or preferable.
I couldn't find their rates of pay, although I believe it's meant to be around $0.06 per text – unsure about actual chat!
UK companies:
6/ Chat recruit, (Chatrecruit.com)
While this is a UK based platform, they do recruit from many Countries around the World.
Chat recruit offer positions via phone chat, messaging and also webcam – they even do psychic phone chat!
You can choose your own hours and there are no restrictions, or specific times that you have to login.
However, you will need a bank account, as payments are made via bank transfer and other options are unavailable right now.
You will earn around £1.30/$2 per minute of chat.
If you're chatting via webcam, this will be a higher rate of pay.
7/ Excel Telemedia: (exceltelemedia.co.uk)
One UK company I found is called exceltelmedia.
They have quite an unassuming website, simply laid out.
They say some of there highest earners can take home £1500 per month.
You will earn from 10-18p per minute, depending on the time of day.
They have a detailed training manual, that details everything you need to know about being one of their operators.
There is also a forum, where all their web operators can chat!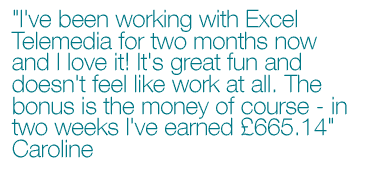 If you know of any other UK companies you'd like to share – or you just want to share your experience, let me know in the comments!
Watch Out For Scammers:
Never Pay For A Job!
Real jobs are never going to ask YOU to pay for anything.
If you need any sort of equipment, this is stuff you can get on your own and will not need to be paying them for.
If anyone suggests you need to pay some sort of start-up fee, you will know it's a scam.
Check For Reviews/Recommendations:
If you're interested in a company, check out what other people have to say.
Can you find other people that have successfully worked for them?
You will often find forums where people have shared their experience with this type of work.
Only Go On Secure Sites:
You can tell a site is secure these days, by seeing the little padlock sign next to the URL.
If the padlock is not present, it means other people could potentially see the data you're entering on a website.
This could include personal details such as – your bank account details and your name and address.
Just the sort of details scammers are looking for and can set up fake websites in order to obtain this information.
If the padlock sign is present, any data you enter on the website is encrypted.
Usually if you enter a site that is not secure, you will get a warning message and it's not worth the risk staying on it!
---
Want $5 Free?
Try out Swagbucks below – my top rewards site that pays you to search the web, do surveys, get cashback and more.
---
Phone & Text Chat Not For You?
Many people are just not going to be comfortable in this line of work – but some find it pretty easy work to do, for a bit of extra money.
If you'd rather do something that doesn't involve chatting online, you could try one of these 40 other ways to start making money.
Personally, I've never felt that comfortable on the phone, I've always felt more at home writing.
I make the most online from affiliate marketing and paid advertising – which requires me to create written content.
If you'd like to learn more, I recommend the free training here.
Have you had any experience making money chatting on the phone…….. How did it go? Let me know in the comments!