This is an App that can make you money passively…. while you do absolutely nothing?  It sounds a bit too good to be true doesn't it.
But is it?  Can you really make money with CashMagnet, or is this a load of hot air?
In my quick review here, I will outline what this App is, how you can make money with it and check out some recent feedback. 
Then you can decide whether it's really worth your time.
Fed Up Of Making Pennies? Learn Some NEW Skills! 🙂
So…. What Is CashMagnet About?
This program is a free App that you can download for android phones.
This isn't a pay-to-do app – you don't have to answer surveys, play games, or complete tasks of any kind. 
You earn points passively when you are NOT using your phone.  But how?
Well, as long as your mobile is connected to the internet, you can earn money just for having their App downloaded on your phone.
It doesn't really make sense does it… HOW are they making money?
At first, I did think this just looked like a scam.
I also noticed they have a tiered referral program.  That then made me think it could be a pyramid scheme scam type App; which I have seen before.
But after delving a bit further, I realised what was going on…. although, seems a bit unethical to me….
Basically, they use your phone like a BOT.
The automated app will look for online Ads and click those automatically.  It also completes other tasks, such as downloading games and clicking on Ads shown on those games.
Of course, this completely goes against what Ads are meant to be for in reality.
You don't want an automated bot clicking on your Ad if you're trying to generate sales and leads.  But I am guessing this is how they make their money and also, how you make money too.
The exact details involved in this, I'm not sure.
If anyone would like to elaborate on how this all works and leave your own opinion on this –  please leave a comment below!
If You're Interested In Paid Surveys – Try This 10!
How Much Can You Earn With CashMagnet?
With a name like CashMagnet, you'd be forgiven for thinking that you'll be making a whole tonne of cash just by downloading this application.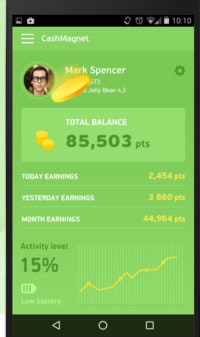 Actually, you won't get that much! 
The max you can possibly make is $15 per device, with up to 4 devices.  So, the absolute max would be $60 a month.
That being said, $15 is still $15 … and you aren't doing anything for it.
You generate points over a certain amount of time and how many points you can make will totally depend on your location, the speed of your connection and various factors – so, an exact approximation is not possible, you'd just have to try it out for yourself.
In any case 1000 points will equal $1.
One good thing about this App, is that you can withdraw with only one dollar in your account.  As well as withdrawing via Paypal, there are also a number of giftcards you can choose from.
Referring Others To CashMagnet:
There is a two-level referral system going on here and sometimes when there is too much emphasis on a referral scheme, it can end up being a bad thing.
As you end up with people claiming certain Apps are brilliant, just to get their referral commission – rather than actually thinking the apps are any good at all.
I've seen this commonly in reviews on the App Store, or Google Play – where people leave a 5 star review and just their referral code in the review.
However, I haven't seen this so much on Google Play – there is still mixed reviews there, so more of an honest mix so far.
In any case, there is a referral program.  To earn money, you're provided with a code that you can share with people and if anyone signs up using your code, you can earn 5% of whatever they make.
But if who you recruit also then goes on to bring others in to join the App, you can get 5% of their earnings also.  So, is a bit of a multi-level-marketing aspect going on.
Confused about referral programs?  Affiliate marketing explained here!
What Do Others Say About CashMagnet?
This APP is unfortunately only available on android right now.  It seems to have a mixed response from people and is currently rated with 3.9 stars on average on Google Play.
People seem to commonly complain about some of the following issues:
Some say they are not receiving the amount of points they should be, despite leaving the app to run.

Too many glitches on the app.
Depending on your location, how much you earn will vary considerably.
You once needed root access to partake in this – however, this is no longer a compulsory option.
It seems that using the phone on overnight for the App to do-its-thing seems to work well and will reduce those glitchy issues that can happen when you're using your phone.
One thing I noticed, was that they're committed to responding to comments and reviews for this App, which is a good thing.
Personally, I can't stand it when an APP has terrible reviews and the creators don't respond at all.
If people are having issues with your APP, for whatever reason, (and even if their comment is misguided) you should still yonleave a response.
Is CashMagnet App Worth It, Or Is It A Scam?
I'm not completely comfortable with how the App works and I'm not convinced it's really worth it for $15 a month…. (max)…  but if you are interested, then go and check it out.
The feedback for the App is OK, people are earning from the App and being paid at the time of writing.
You can also cash out pretty quickly after registering…. I believe within two days, you can withdraw some cash if you have accumulated a dollar or more.
I'd love to get some more feedback about this App from others.
So, have you used CashMagnet?  What do you think….  have you experienced any of these glitches and how much have YOU made from it?
Let me know in the comments below!
Beyond Mobile APPS – Making More Online:
Making money with Apps is one of the newest ways people make money online, or save money.  But for the most part, I haven't been very impressed by how much you can make.
This generally boils down to the fact that…. a lot of these things do not take any effort or skill.
To make more significant money in any field… time… effort… skills… ultimately lead to making money in the long term.
I think that will always be the case.  As much as I'd love to be paid for doing nothing.
That doesn't mean you can't earn passively though.
It just means, that it can take a long time to reach that stage at first!
For example; because I get visitors from all over the world, I can make money overnight – while I'm sleeping.
Because I now have Advertising on my site as well, they make me money – no matter what I'm doing.
I don't recommend having Ads on a new site, (there is no point) but once you're getting good traffic, it can make a very nice additional income stream.
I actually make the most online right now from affiliate marketing, but there is lots of ways you can make money from your own blog or website.
If you want to learn about that, this training helped me out.
For a bunch of other ideas for how you can earn extra money; check out my 40+ ways to make money online.
If you have any questions, leave a comment below!
All the best,