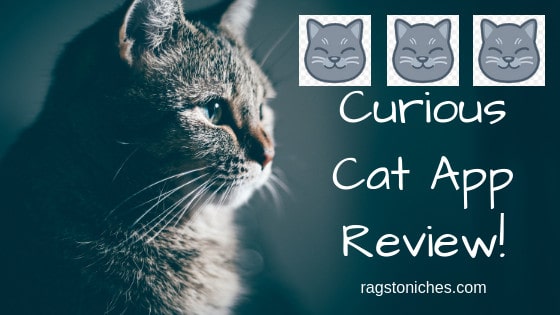 Today I've downloaded yet another App promising to help me earn rewards via my smartphone.
This one is called Curious Cat!  Is it legit??  Yes it is…
But, that doesn't mean it's actually any good!
So, this is something I will dive into now, in my Curious Cat App review. 
If you area regular to my website, you may already know that I love cats. 
So, I was more than happy to download this app when I saw it.
My first impressions were that I hadn't seen an App like this and I loved the cute cat images.
So, What Is Curious Cat App?
This is a paid survey reward App, where you can complete online surveys in exchange for points.  These points can then be exchanged for cash.
A real positive about this App is the low payout threshold – you can redeem your points once you reach 100 and that means…. just £1!  Which is great.
Getting Started With Curious Cat:
The first thing you'll need to do is simply download the App via the App Store, or Google Play.
Just make sure you're downloading the survey app – there are plenty of other random Apps called Curious Cat also!!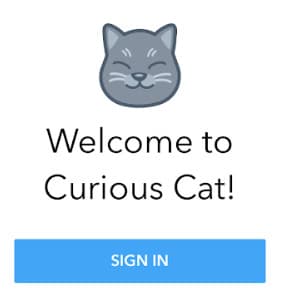 Once you've downloading, it's super quick to get started.  You do need to give them your mobile number, just to confirm your identity.
They immediately send you a code that you use to sign in and access the App.
The first thing you then need to do, is answer some basic questions and you will get rewarded a small amount of points for doing this.
By telling them about yourself, it helps them match you up with surveys that you'll actually be able to qualify for.
You won't see any actual surveys available until you get this bit out of the way – so, don't panic if you don't see anything yet!
The initial things you get asked are the typical sort of thing you get asked for via any survey site or App…. 
For example; Your occupation, income, age, how many children you have.
I notice that they redirect you to their actual site to complete these surveys, rather than being on the App itself.
So, when I completed the initial survey, I was just stuck and would have to come out of my browser and return to the App.
Also, after the survey, I got a message saying that they were putting the info into their system and that after two days I will see more rewarded surveys!?
I have to wait two days for this info to register!?  Not really the best start.  Fortunately, this didn't happen.  I was awarded the points almost right away.
Once You Have Completed Your Profile & Info Is Registered:
Once you have completed the profiling section and all info is registered, certain surveys and some offers will be available.
I noticed they had some offers such as a £10, or £20 Amazon voucher if you download certain Apps to your phone.
For example; one App anonymously tracks your behaviour on your phone for market research.  If you manage to keep the App installed for a month, they will send you an Amazon voucher.
This kind of thing pays pretty well, but I have seen people complain about such Apps slowing down their phone, or draining their battery.
That said, you could always try it and just disable it if there were any issues.
Unfortunately, I noticed that if you click a link to an offer or survey, it seems to then disappear from your dashboard on Curious Cat, (even if you decided not to complete it).
I'm not sure if it then reappears at a later date.
As far as surveys go, you won't actually complete them on the App itself, (as you would with something like the Qmee App) and I think this is a bit of a let down.
Instead, you're linked up with survey providers and then have to return back to the App when you've completed the survey and wait for your points to be added to your account.
Useful Post:  Discover My Favourite Extra Income Sites!
If You Have Completed Your Profile & See No Surveys….
It's worth your time simply coming out of the App and going back in.
Once I'd done this, my points updated and I had a bunch of surveys available to me.  You can see those below…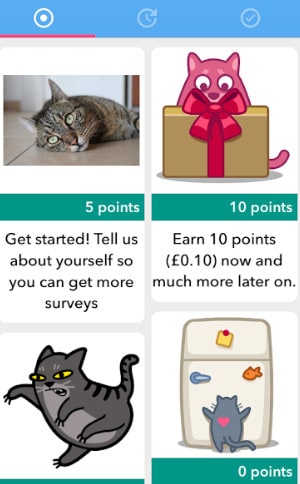 As you can see – one above says "0 points.."  That's because this is an offer, where you get awarded an Amazon vouchers for completing it.
Surveys here seemed to pay between 13 points – to 114 points, (£1.14!).  Not a huge amount obviously and also, I wasn't able to see how long the surveys would actually be right away.
However, if you click on the survey – it will then tell you how long it will be.  The one I clicked on was going to take me 6 minutes.
When I clicked to complete a survey, I was redirected to Sampilicio.us – which is a common site you will often be sent to if you're a survey site regular.
Unfortunately, I did not qualify.
The next survey was worth a little over 30 points – I managed to complete that and was then shown this happy success cat pic: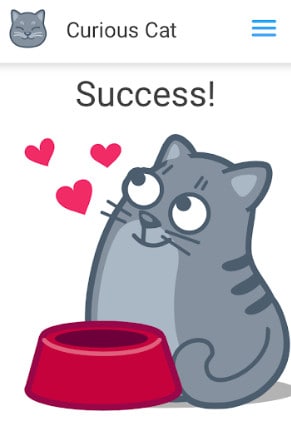 My points were awarded right away.
I then thought I'd have a go at the 114 point survey, even though it was 11 minutes long.  Unfortunately, I did not qualify for that one either.  🙁
How Do Curious Cat Pay You?
As with many survey sites, you're paid in points but, thankfully, they're really simple to work out.  100 points= £1 so, it's easy-peasy to understand how much a survey is going to be worth.
At the time of writing, PayPal is the only option available to withdraw your cash.
I think PayPal is a great option and you can withdraw from only a pound, (if you really wanted to).  Normally, I like to wait until I have at least £10 in the bank before I make a withdrawal.
It would be nice to have some gift card options.  Perhaps this is something they will add in the future.
If you try and cash out before your points have been registered….  you will come across this sad cat pic with an empty bowl!
How Do Other People Rate Curious Cat App?
This App has pretty positive feedback online.   Hey, if you happen to love cats and enjoy paid surveys – then there's no reason why you shouldn't check it out.
At the present time, the App is scoring 4 stars on Google Play!

It also has just over 4 stars on the App store.
From a positive standpoint, people seem to say that there are lots of surveys available and that you can make money pretty quickly with the App, (in comparison to some other survey panels).
People also like the cute cat drawings and pictures.
On the downside, some people have complained about repeatedly being locked out of their accounts.
Another common complaint is that the survey crashes, or they simply don't qualify.
As the surveys are held on external websites, surveys will sometimes crash and this could be due to your internet connection.
Also, it's really common to not qualify for surveys, so it's just something you have to put up with much of the time.
For sites that don't chuck you off surveys, try Prolfiic.ac – or Yougov.
PROS VS CONS:
PROS:
Regular surveys that are refreshed.
Super quick payout.
Low payout threshold, (only £1).
Cute cat drawings/images.
Some other ways to earn, by downloading Apps.
CONS:
You're redirected to surveys online, rather than completing via app.
You're not going to make much!
No referral program.
You probably won't qualify for a lot of the surveys.
Review Conclusion: My Personal Experience With Curious Cat App:
All in all, I thought there were some pretty good things about this App.
It's cute in general, (which helps) there are regular surveys, (albeit, not that high paying) and you can cash out from only £1.
Also, they pay out very quickly.  Whereas, you may have to wait days, or even weeks with some websites.
The main thing I didn't like, is not being able to complete surveys on the App itself.
When it redirects you to surveys, they aren't always that mobile friendly and it can be tricky to push the right buttons etc.  You then have to come away from that page and go back to your App.
All in all, Curious Cat App is a legit App, that will pay you a little amount for completing surveys.  Most of the ones I've seen so far have been under 15 minutes long, with many under 10.
Let me know what you make of it!
You may also want to check out…  My top survey sites UK!  
Are You Fed Up Of Making Pocket Money Online?
If you're fed up of making teeny tiny amounts completing surveys online and are looking to make more…  there are many ways you can!
Most of the time, people just have no idea where to get started online and the different ways that they could potentially make money.
For a beginner friendly place to get started – don't miss out on this free training.
All the best,