Can You Really Make Money Playing Video Games From Home?
This website says you can…  But what is Gaming Jobs Online Really? 
Is Gaming Jobs online a scam or will they legitimately help you find work online?
It's an idea that will appeal to tonnes of Gamers out there – sit in the comfort of your own home all day and play video games, for TONNES of cash!
Woohoo….  Sounds too good to be true, but you can sign up for next to nothing and they have a 60 day money back guarantee.
So, should you sign up and get started? Ummm… NO.
Read on to know why I think this would be a giant waste of your time and money.
Gaming Jobs Online Review In Brief:
Product: Gaming Jobs Online
Website: gamingjobsonline.com
Cost: used to be $1 for 7 days, that's gone right now. Normally $27, (a MONTH) they have a current offer for $5 for their premium membership. My guess is, they're on their way out.
Overall Score: Definitely not recommended!  This doesn't actually help you to find jobs playing games online AT ALL! 
This website is completely misleading. 
I will explain exactly how, during the course of this review.  While you can make plenty of money playing video games online…. This company will not show you how!!
What is Gaming Jobs Online?
When you arrive at gaming jobs online, there's a bunch of enticing info there and a video explaining how you can easily make tonnes of money, by simply playing video games from home.
Take note, on the video the girl mentions a 7-day trial.  However, that was not available when I checked this out.
The trial was gone, because there was reduction offer on of $5 for the premium membership, which is normally $27.
Gaming jobs Online, claim you can make an "average," of $39,063 a year from playing video games online.
That's really a very specific amount, don't you think?  
It always amuses me when companies randomly throw out figures like this.
Of course, what gamer wouldn't want $39,000 a year to sit online at home and play video games?
Unfortunately, the chances of your average gamer joining this site and then going to earn 39k from home playing video games is ZERO and I'll explain further in a moment.
A big red flag that stuck out for me right away, was the information they gave you about exactly HOW you'd be making money when you signed up for them
All they really press on, is the video game aspect – and yet they mention these other things.  See below.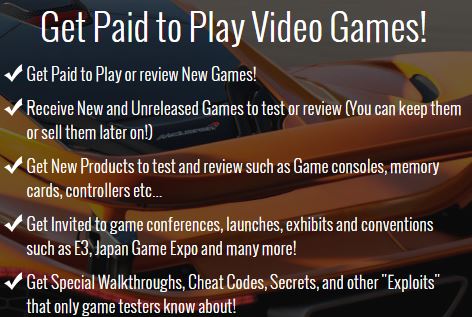 First they claim it's new and unreleased games, OK.
But second…. ONLINE SURVEYS?
What has that got to do with games?  But more interestingly, I noticed the completely BS claim that you can make $5-$75 PER survey.
This is just crap.  They link you up to a bunch of well known survey site providers, (that you can seek out and join for free by the way) and they will pay a dollar or so.
Useful: A Rewards Site I DO like – And A FREE $5 Bonus!
Yes, some people can make a side income from surveys – but it's pocket money – not thousands!
I know a fair amount about survey sites – I must have reviewed hundreds of them, (many of the same ones they'll send you to).
So I know that, generally, you'll be lucky to make between 50 cents and $2 per survey.
Focus groups are also something certain sites mention as a way to make money – but focus groups are always looking for a very particular demographic and they're very few and far between.
Basically, they're just talking a load of hyped up nonsense.
How Much Can You Make?
In order to really make sure you're on board with them, they've got a way of showing you your earning potential with them.
All with the aid of a BS salary predictor calculator!!!
The first ridiculous factor in this is: YOU have to decide, (prior to even joining them) what your hourly rate will be.
As though you'll just be able to pluck $50 an hour out of thin air.
You also have to predict your hours and days a week… as though there's just an endless flow of unlimited jobs for you.
How in the hell would you even know, you've not stepped foot inside their membership area, so how do you even know what's available… let alone your hourly rate and working hours?
The lowest hourly rate you can possibly go to is $5 an hour too, as though $5 an hour, for 8 hours a day and 7 days a week is guaranteed as a minimum, if you decided to take it.
Gaming Jobs Online Guarantee…
There is a 60 day money back guarantee and a low cost of initial entry and this will lure a lot of people in.
The reality is, people just can't be bothered with the process of asking for a refund in a majority of cases and so, they end up getting paid anyway.
As I mentioned previously, there used to be a $1 trial for 7 days, which has currently disappeared.
Although, now there is a different deal on offer – a reduction to $5 from $27 for their premium membership.
When I tried to leave their page the first time, more incentives popped up to join them.
Apparently you can also get $60 sign up bonus cash from their "partners," and a 1 month xbox gold membership and 400 MS points.
There was even a countdown timer to this offer and that remained still once the timer was up, (obviously) the offer was still available.
Gaming Jobs Online – Exposed On YouTube!
There was an honest and frank review below by an actual gamer who purchased this program!  Unfortunately it has since been removed for some reason.
Such as shame, as I thought made some amusing and highly accurate observations about this company.
The guy totally hit the nail on the head, regarding every aspect he talked about.
Particularly pointing to the clear fact, that the primary way you're expected to make money on this site, is via online surveys – which you can find online for FREE and sign up to without this site.
The bottom line:  You do not make money via this site by playing games online.  That's completely false.
I looked for some other legitimate YouTube videos about this company, but did come across various videos by people attempting to promote it as affiliates.
Unfortunately, where there is money to be made, some people promote absolutely anything!
Useful Post:  If you want to make money recommending products you love… This training showed me how!
Related Scams:
This kind of scam isn't new.   There are tonnes out there like this, but just wearing a different mask.
For example many will target other sorts of work at home jobs, such as data entry.  The only difference here is – the target audience.
What the creators get out of this initially, are just your initial and then monthly payments.  There will earn also via advertising on their site.
But more importantly, they'll also be affiliated with various companies within their membership area, (such as all of those survey sites) and will earn a commission from you signing up through their website.
Lastly, they now have your personal information, which they can sell on to third parties – these will then send you offers for other scams.
Hold On: Don't Game Testers Actually Exist?
Game testers DO exist, but they're not just jobs dished out to any random person sitting at home with a computer and some free time.
Normally, those jobs will take place within the company itself and you'll need to apply for the position, (just like any regular job).
Generally, you will also need to hold certain qualifications and extensive gaming experience.
There are reviews from past members to be found, claiming this is just false advertising.
They say that there are jobs on the site that you can apply for – but just like jobs in the real world, where you have to send in your application like everyone else and hold relevant qualifications.
More importantly, all of the jobs advertised are ON SITE, not from home!
Some people are making tonnes online from playing video games from home – just not this way. 
I explain how you can do that at the bottom of this post, in the last section.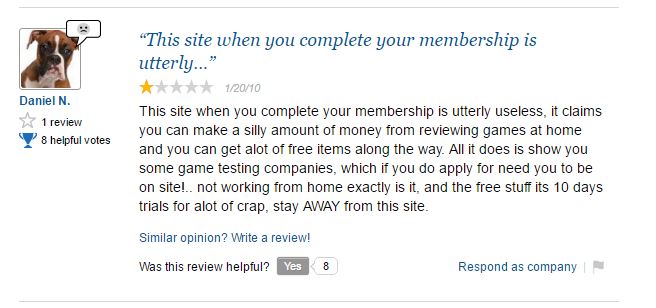 There will be some very limited good reviews for this product, because they do have an affiliate program and some individuals will be hoping to make sales from promoting it.
Some people may also be happy with the fact that they provide some info about how you could become a game tester….  
Even if all their claims of working from home while game testing are false. :/
Much of the info is also outdated on this program, that I imagine the creators have since moved on to their next scam.
There is no "about us," nor "privacy policy," page on their website.  Which again, is an additional red flag to be aware of.
Is "Gaming Jobs From Home" A SCAM?
I would say… YES!
Gaming jobs from home make big claims on their homepage, but none of it comes even close to reality.
If you want to a career playing video games, you can do your own research for potential companies quite simply via google and check out gamer forums for advice.
Check out if there are any potential jobs close to you and find out what sort of qualifications and experience they're expecting – maybe you could even get some work experience with them and check it out.
Ultimately, they'll be looking for a specific skill set, as well as advanced gaming ability and in some cases, certain degrees and other qualifications.
How Can You Make Money From Gaming Online?
Having your own website or YouTube channel – reviewing games and sharing your tips and tricks, is a way that you can earn from gaming online.
It's not a quick path to money by any means, but it is a legitimate one.
I wrote a post explaining exactly how you can make money from gaming online…. over here!
You can earn money via promoting certain games, products and services – via advertising and affiliate marketing.
I have personally made the most online, (so far) from affiliate marketing.
If you'd like to actually learn how you could turn an interest in gaming, into an online business, I recommend this training.
If you have any questions at all, please let me know in the comments!
All the best…
Other Useful Posts: