Gifthulk.com Review:  Is Gift Hulk Scamming You?
In my review today, I will run over what Gifthulk involves, how it could benefit you and whether it's worth your time signing up.
Gifthulk Review In Brief:
Website: Gifthulk.com
Income Opportunity: Pocket Money Or Peanuts?
Overall Rating: Legit but…..  This site only started in 2011 an yet there are signs of strain.  Sadly, it reminds me of an inferior Swagbucks.   It seems people used to rate it OK, but there are also now a lot of bad reviews that have emerged – mainly regarding them not paying out. What has your experience been – please share in the comments!
The bottom line is – there are far better sites out there, that are similar in nature.  While Gifthulk used to pay out well and were reliable, recent reports seem to suggest that they're struggling – so, I wouldn't recommend this website at the present time.

What Is Gifthulk.com About?
Gifthulk is another paid survey related site that I term "all-rounder, " because it's not just a paid survey site, but incorporates other ways you can earn a small amount online too.
You will earn what they term as "Hulk Coins," (HC) which you can exchange for rewards.  Every 1000 HCs = $1
Some of the ways you can earn include:
Paid Offers,
Downloading Apps,
Paid Surveys,
Mini Tasks,
Watching Videos,
Cashback, (not available yet)
Searching the Web.
You can also win coins by entering sweepstakes, or playing a game, called "Guess the card."
When people join these sites, I'd say that a majority of people have unrealistic expectations about their earning potential.
You don't earn very much at all for participating in a majority of these tasks and will generally make the most from things like, cash offers.  (I will explain that in a moment).
GiftHulk – Limited Opportunities?
Unfortunately, my first impressions were, that the opportunities were lacking here.
For example:
– When I visited the cashback section, it wasn't yet available to me.
– When I checked the video section, there was only one video available.
– When I attempted to enter surveys, I got chucked off after answering several  minutes of questions.
The offer section had the most to complete, but that always is the case and a lot of people don't want to do those, as it often involves you having to pay something, or giving out your credit card details.
Related Post – Are All Survey Sites Scams?
Can You Actually Complete A Survey At Gifthulk!?

As is the case with all paid surveys, disqualification is a big issue and one of the most frustrating aspects.
This can't always be helped, as who ever creates each survey is going to be looking for a very particular demographic and they won't know if you're suitable without asking you some questions.
However, You do get 20 "Hulk coins," every time you're disqualified from a survey, this is a good feature of Gifthulk, because so often you do get ZERO when you're chucked off a survey.
You only get this a maximum of 3 times per day though.
I tried 4 surveys and was disqualified from them all – however, at the time of writing the review, I'd only got 40 hulk coins for that, rather than 60.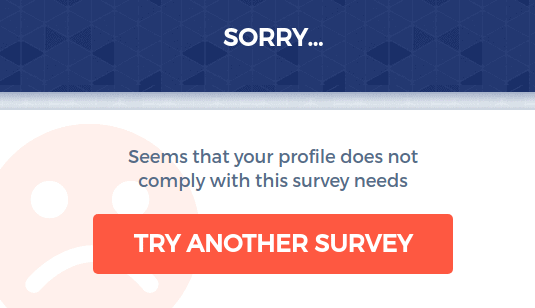 I think how you log out of the survey may have some baring on that, or maybe they will show up later – I will wait and see.
Paid Offers – But At What Cost?
Paid offers are often one of the ways you can make the most from these sort of websites, but they do have their downfalls.
For example, you will be paid in Hulk coins for signing up for trial offers, joining casinos,  playing games, joining other survey sites, signing up to dating sites and so on.
Some offers will be free, some will be paid, (for example, you make a deposit or purchase something and you get Hulk coins in return) or some will be a trial offer – where you'll need to cancel after a certain time, or you will be charged.
The risky factor normally comes into play with trial offers, because many people will forget to cancel their accounts before their trial period ends.
Another issue people sometimes face with trial offers, is being charged even after they have cancelled.
Always make sure the company you're completing an offer with has a good reputation and don't take risks with it.
Another thing to bare in mind, is to use another email address and ideally a separate telephone number before you sign up for any offers, I have had terrible issues with spam after completing paid offers.
If you read the small print, there are also many companies will pass your details on to third parities.
I will briefly outline some of the other ways you can make money with Gift Hulk:
APPS  – similar to offers really, you download and app and you'll get rewarded for doing so, generally between 50-500 Hulk coins.
Mini Tasks – I've never spent much time with these sections on similar sites, they're normally connected via CrowdFlower
Tasks may involve things like searching the internet, checking content online and answering sets of questions – the only task available to me though, was to find a linkedin url and employee profile, for 20 HC.
There are also tasks you can do specifically for Gifthulk – such as write a blog post about Gifthulk, at least 250 words, for 1000 HC, create a forum post for 250 HC, or create a Gifthulk YouTube inspired video for 1000 HC.
1000 HC sure sounds like a lot.  Actually, this only equates for $1.  Yep.

Search The Web – Just like  Swagbucks, they also have a search engine powered by yahoo, that you can earn Hulk Coins from using.  You are guaranteed to make 4-8 coins within an hour.  But bear in mind that 1000 HCs only adds up to a a single dollar!
Watch Videos – Well, apparently you can make 25 HC for watching 5 videos.  But there was only a single lonely video there when I checked this section out.
Cash Back Via Shopping – Cash back is one of the main ways I make money via Swagbucks and it's a really simple way of getting a little extra money, for buying things you were going to buy anyway.  BUT this section is coming soon, there was nothing available for me to see.
Referring Others – If you'd like to invite others to join Gifthulk, you get a small reward for doing so.  You can get 100 HC when they sign up and a further 500 when they've made their first 1000 HCs.  As referral programs go, this isn't very good.
Sweepstakes And Games – You can buy entries into sweepstakes with you Hulk Coins.  From what I can see, prizes are usually for giftcards.  I don't personally see this as a good way of using HCs, as your chances of winning anything would be slim.
There are also "fountain of youth" codes that you can find in places such as Gift Hulks Facebook and Twitter pages.  You can use the codes to redeem a small amount of Hulk Coins, between 10-40.
Something I quite enjoyed was the "Guess The Card Game," You get a certain number of chances to guess what suit/number the card is that's going to come up.
You win 50 Hulk Coins if you guess the card.

Levels At Gifthulk – Are They Worth The Effort?
There are five different levels you can aim to reach over at Gift Hulk – Bronze, Silver, Gold, Platinum and Diamond.
The actual perks you get from bothering to achieve these levels, seems pretty pointless.
The higher the level you reach, the more chips you can get on the guess the game, (starting at 5 and going up to 60).
You also get some rebate on prize purchases, faster prize delivery at higher levels and at the highest level – a $10 instant giftcard when the amount is reached.
As incentives go, they're not inspiring.  What do you think?

GiftHulk.com:  Review Conclusion; Is It A Scam?
I don't think Gifthulk is a scam, but it's possible they're having some problems right now and perhaps they will sort it out and improve.
Many people have complained they are not receiving payments and that the site support team ignore them.
It may be that they're going through a rough patch, but only time will tell.
If you have any experience with Gift Hulk, whether positive or negative, I'd appreciate hearing about it below!
My personal experience with Gift Hulk, was disappointing.  I didn't feel that it had much to offer me that was at the same level as their competitors.
The best thing I liked about it – was the guess the card game.  Maybe that says more about me than it does about Gifthulk.
I don't use many survey sites anymore, because they're a poor way to make money online – but I know plenty of people enjoy them, so I like to try and seek out the better ones.
If you're bored of survey sites too, there are other ways you can make money online….  One of cheapest ways to make money online long term, is to own your own blog or website, (once you get traffic – there are various ways you can earn).
You can check it out for free.
Alternatively; you may want to check out my 40+ ways to make money online.
What's your experience with Gift Hulk, or just survey sites in general?  I'd love to hear from you!  Leave me a comment below and I will get back to you.
All the best,