Is Blogmutt A Scam, Or A Legit Freelance Writing Opportunity?
Earlier this week, I stumbled across a website called Blogmutt.   The friendly name and appearance of the website appealed to me and I decided to take a look into it.
company:  Blogmutt, (blogmutt.com)
Money Making Opportunity: Freelance writing.
Overall Score: 70/100
Review In Brief: This website could provide a good way for you to get your freelancing career off the ground, or to simply earn some extra income writing online.  Unlike other freelance sites, you don't need to compete with others – you get to pick the topics of your choice and get started. However, Blogmutt has experienced some negative feedback, check the comments sections for further details.
So, What Is Blogmutt About?
Blogmutt is a website that provides writing opportunities for freelance writers – as well as providing content to bloggers and business owners to purchase.
As someone who has both purchased written content and written content for others, I was interested in what this platform had to offer.
> Want to build your own business online?  This may interest you.
Before I continue with this review, I should tell you that Blogmutt is only accepting writers located within the USA.
Blogmutt is not just your average content mill – it is specifically aimed at small business owners and blogs and their rate of pay is reasonable.

Those looking for content need to sign up with Blogmutt for a monthly membership fee.  The fee will depend on how much content you require.
A list of keywords will then need to be provided and these keywords will be then given to the writers who are signed up with Blogmutt.
For the purposes of this post, I will be largely focusing on what you can get out of Blogmutt as a freelance writer.
Becoming A Writer On Blogmutt: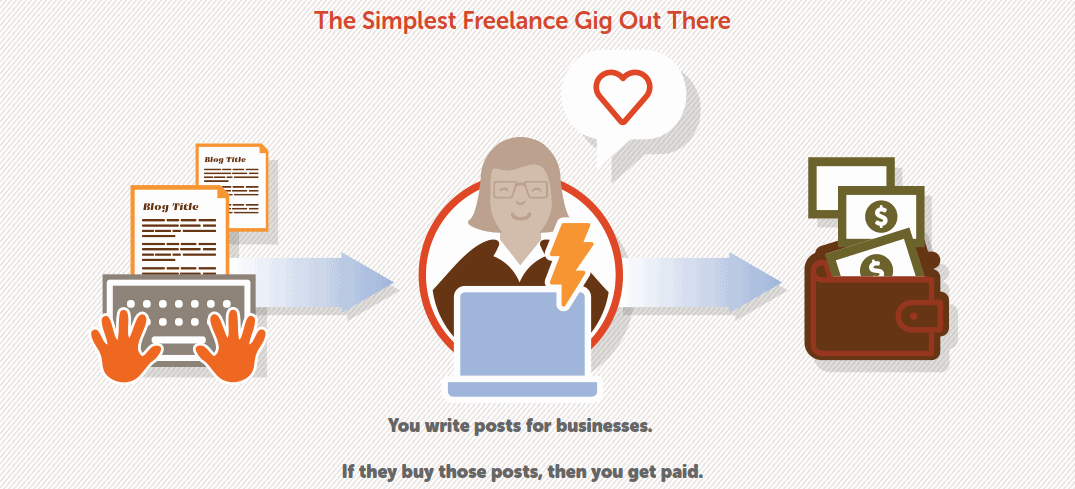 If you're a keen writer and interested in freelancing, Blogmutt takes writers from all walks of life, backgrounds and experience – but you do need to be a US resident.
If you're looking to get your foot in the door in the online freelance world, this could be a potential option for you.
First thing is first and that's getting signed up.  This is straight forward and simple to do.
However, you will need to prove that you're a US citizen by providing either your linkedin, or Facebook profile link.
If you're not on any social media networks, that's also OK – you will just have to contact them for alternatives.
You will need to complete a writing test to ensure that your writing is at a good standard.
All you need to write is a single sentence, but it must fulfil the criteria laid out and, of course, it must be grammatically correct.
Blogmutt And Pay:

As a writer, you'll be paid for the content you've produced, once your post is published.
However, customers do have the right to ask for posts to be edited and they are also able to reject posts for any reason.
The rates of pay are as follows, I will explain the levels in a moment.
250 words = $8, (available to all writers).
600 words = $19, (all writers must be at level 4).
900 words = $40, (all writers must be at level 5).
1200 words = $72 (all writers must be at least level 7).
There are points that you can redeem each time you write a post. The more posts you get accepted, the quicker you will climb through the levels.
Each post you write = 2 points.
When your post is approved, you earn an additional 18 points.
The levels Are As Follows:
Level 1 = 12 points
Level 2 = 50 points
Level 3 = 250 points
Level 4 = 750 points
Level 5 = 1500 points
Level 6 = 3500 points
Level 7 = 5000 points
Level 8 – 10000 points
Level 9 – 20 – you need to get an additional 10,000 points to progress to each next level.
So, actually, you can see that it could be straight forward and fairly quick to climb to the higher levels.
PROS VS CONS
PROS
– Straight forward points system.
– You can easily search through posts on topics you're interested in.
– A reasonable level of pay in comparison to many freelance writing sites.
– There is no payout threshold, so you can cashout no matter what.
– You're paid weekly, via Paypal.
– There are plenty of clients and it's growing.
– You can get feedback on your work, if it's rejected and this can help you to improve.
– You can choose from a wide variety of topics, so there is a good chance that you'll find something that interests you.
– At the higher level, you can also get a stock option. So, if Blogmutt decides to sell, you can earn a certain percentage from the sale of the business.
– You have the ability to set goals and this can help you remain motivated.
CONS
– Only US writers can apply right now, which is a shame.
– Your post may not be chosen at all, which will feel like a waste of time.
– Some writers have complained that their accounts have been suspended for no obvious reason to them, even when they've been 5 star writers and produced a lot of work for Blogmutt.
Tips For Blogmutt Freelancers:
-Visit the blogs/websites of the jobs you take and you can get a real feel for their style and what content they're more likely to accept.
– Search for topics that you have SOME interest/expertise in, this will help you produce better content in the beginning.
– Ensure you are aware of all the rules/terms and conditions before you begin and this will reduce your risk of having your account suspended.
Blogmutt Complaints:
Some writers have complained that $8 for 250 words is not enough:
Well, why it may not be a huge amount, 250 words can really be written pretty quickly.   So, I don't really agree on that point.
Once you've been freelancing for a while, you can go on to other platforms and request more for your time.  But it's a start!
Where is your favourite place to freelance?  Let me know in the comments!
Some writers complain that their work can be rejected:
Again, I don't think this is a fair complaint.
The company or blogger is paying for a certain standard and if they don't think that's what they've got – it's fair enough that they reject the work.
At the end of the day, this is a good way to get your food in the door, right?
Once you've started freelancing and have some experience, you'll be able to take your business to the next level and branch out.
Some writers claim they've been wrongly suspended for plagrarism:
Some writers have claimed they've been suspended for plagiarism, when they argue that no plagiarism has taken place.
They don't appear to be able to argue their case.
Accounts Suspended Without Reason – Some Claim It's With Money Withheld:
Some writers claim that their accounts have been suspended, without reason and with money still owing.
Blogmutt apparently leave a message on the suspended accounts, to say that their is no point contacting them regarding suspensions, as they won't respond.
Have you had any experience with Blogmutt?  Please leave your comments below!
Blogmutt have said in response to the suspension issue:  One reason that that Blogmutt suspend writers, is that they don't respond to them when they message them with a problem.
So, if you do join, ensure to respond to any communication.
Is Blogmutt A Scam?  Final Thoughts:
Clearly some people have had a negative experience with Blogmutt – but for all those, there are many of others happily writing for them.
For all the complaints against Blogmutt, there are hundreds of writers who have had a positive experience.
Blogmutt have thousands of writers who work for them in the US, so I would say you should take negative comments with a pinch of salt before you've tried them out for yourself.
If you'd like to share any of your own experiences, I'm sure my readers would love to hear them.
Would you like to learn how to earn from writing about things you're passionate about?  Find out more here.
Many thanks,