Today I'm checking out an extra income style website, called MoneyCroc.
But is MoneyCroc a scam?  Or a legit way to make a few bucks, (with little or no effort!?!)
Comany:  Moneycroc (www.moneycroc.com)
Price: Free
Money Making Opportunity: peanuts & potentially risky.
Overall Rating: 5/100
Review In Brief:  MoneyCroc claims you can win up to $50, just by playing a simple click game, but can you?   MoneyCroc makes money from advertising and promoting products on their website and they claim that half their earnings go to their winners, but there is no evidence that it does.
They also give no information regarding your odds of winning any cash prizes, but you can guarantee those odds will be incredibly small.
Fed up of making pocket change?  You may like this instead!
If you search in Google for the term, "free money," you will find MoneyCroc pop up as the first result on page one of Google – once you sift through the initial Ads.
As you can imagine, "free money," will have a huge amount of searches in Google every single day and the fact that MoneyCroc is number one in that search will mean a tonne of people using this website every day.
But… What Is MoneyCroc Really?
MoneyCroc is similar in nature and appearance to PPC sites, (pay-per-click) that will pay you a minute amount of money for clicking on Ads.
However, Moneycroc doesn't pay you for clicking on Ads, although there are a large number of Ads on the site.
With MoneyCroc, you play a simple game that involves a click, if the two images are the same that appear, you win money.
If they aren't you lose and you can click again – you get 50 chances per day.
You do not need to register with Moneycroc, you can play instantly.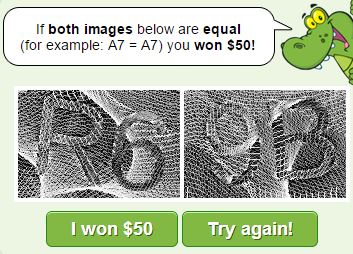 How Much Money Can You Win On MoneyCroc?
You can select to win $5, $10 or $50.
Obviously, the more money you decide to aim for, the lower your chance of winning….
Although, they will not actually tell you what your odds of winning are.

All they do say, is that the odds of winning $5 is ten times higher than winning $50.
They claim they give HALF of their income away in prizes – but they provide no proof that this is actually the case.
Each time you play the click game, the page is reloaded with more Ads.  Their hope is that you will be interested enough to click some of them.
MoneyCroc:  What Are The Odds?
Because there is very little you need to do to be in with a chance of winning money, Moneycroc knows many people will participate…
Even if they have no idea whether they have any real chance of winning.
They do not give anything away regarding your chances of winning, because they say it's not possible to approximate accurately, but this is wrong.
MoneyCroc will know very well how many visits to their website, (on average) that they receive per day.
They will also know roughly how much profit this brings in for them on a monthly basis and could very well approximate your odds of winning…
I'm sure you'd all be happy with a guesstimate right?  Better than nothing.
The reason they don't tell you, is because your chance of winning is incredibly low, (if you have any chance at all).
If you knew what the true odds were – it would put you off and of course, they want you believe that you have a reasonable chance.
MoneyCroc Ads Beware
MoneyCroc is full of ads for scammy related websites or programs – largely centred around scam survey related companies or work-from-home job scams.
You should also be cautious clicking through to some of these websites, which could potentially put your computer at risk.
They provide no proof at all as to what money they're giving out – it could quite easily be completely corrupt.
Some of the programs MoneyCroc links to are clickbank products, whereby Moneycroc will earn a large commission if you sign up.
While there are some legitimate products on Clickbank, unfortunately there are a large number of scams too.
The Owner Of MoneyCroc Is Unknown:
The owner cannot be identified, as they are using a service that allows them to remain anonymous.
While there can various reasons why this may be the case, but it is more indicative of a scam.
Do People Actually Win On MoneyCroc?
Plenty of people have claimed to win on MoneyCroc, but it's unclear whether these people could have been hired by the owners to say so.
You can hire people for pennies to write reviews all over the web, which doesn't make it easy to pinpoint the truth.
However, many people have also clearly not won money.

Some people may think it's all fine… 50 clicks per day, which may take 10 minutes or less  and even if it takes a year or more for them to win that few dollars, that's ok by them….  free money is free money?
Well, that adds up to hours of your life spent doing something with the potential of zero reward for the time spent.
If you're looking for easy money, you'd be better off doing a survey for a a dollar here and there, at least you actually get that money.
Ultimately, you're better spending at least marginally more effort trying to make an extra few dollars here and there and you'll earn much more in the long term.
Remember, this site is promoting and profiting from advertising many scam websites and products that deceive people into believing that making money online is easy.
By participating in this and helping the creator profit, you are just making people who create these programs more wealthy and supporting them – while they promise you a slim chance of winning a few dollars… some day, (if ever).
Also, if you do happen to randomly click on some of these Ads, you could potentially be risking your computer, from viruses or malware.
So, Is MoneyCroc A Scam?
In my opinion, MoneyCroc shows plenty of attributes that make it a high risk website and untrustworthy.
While I can't say for certain that you can't make the odd bit of money, your chances of doing so are slim.
You'd be better off using your time more wisely and ultimately making more in the long run.
For making a few extra easy bucks here and there, I use swagbucks as a search engine, because it takes no effort – they also have cash offers, cashback offers, surveys and so on.
I've been paid several times by them, they've been around a long time and are totally legit.
However, you'll never make any substantial money with these low-effort sites,  (or what I call "pocket-money sites").
Making more considerable money online, (from hundreds to thousands of dollars every month) isn't for everyone – because in reality it's not easy and takes a lot of work.
If you're interested in how you could make money online in the long term; you can start learning for free.
Have you spent any time on MoneyCroc?  What are your thoughts?
Leave me a comment below…
All the best,