MyView is a survey website owned by authentic response, which is a marketing company.  They are based in New York.
Many survey sites are branded as scams all the time. This is often due to the poor earning potential, people never receiving rewards and poor customer service.  Is MyView a scam too?   Well, here is my personal opinion….
Product: MyView (www.myview.com)
Money Earning potential: Peanuts
Overall ranking: 45/100
My First Impression of MyView:
When I first arrived at MyView, I was a little surprised.  Normally, if you go to sign up to a survey site, they will have some info on their main page and some incentive to sign up.
For example, they may talk about the rewards they have on offer.  By contrast, Myview had nothing there.  There was just a sign up page – nothing to stand out to actually make me WANT to sign up at all.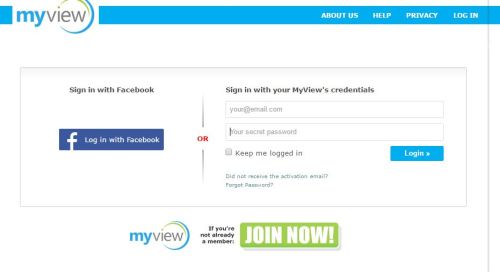 This didn't give a great impression from the get go.  I didn't really know what to make of that.  No introduction, no incentive, no details…  weird!
After attempting to sign up, it also took sometime for my confirmation email to show and I had to send for it again.
When I finally got in, there wasn't much to it.
There is very little to the site and that's a bit dull.  There is no where, (as far as I can see) that you can choose surveys.  The surveys just appear right on your dashboard…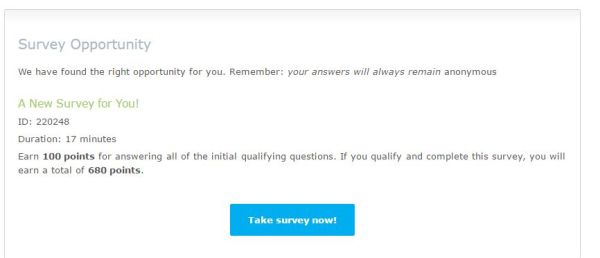 Surveys are just available to you one by one.  It appears you either take it or you don't… I couldn't see a decline option.
I entered the first one I was offered and managed to qualify first time, which was something.
The survey was incredibly boring though.  They normally are, but some

sites seem to manage to create more interesting or entertaining ones.
The survey took around 15 minutes, (it felt like an hour) and I got 800 points.
What Can You Earn With MyView?
As is the case with many survey sites, you can earn points through completing surveys and these points can be exchanged for rewards, such as cash through prepaid cards, gift card options or charity donations.
There was a time that you could only sign up in the USA.  Well, I'm in the Uk and I can now sign up, but there was only one single reward
option open for me, (a prepaid digital mastercard)…. and this was "sold out".
How can such a thing really ever be sold out… I wonder?
I emailed them to ask whether I was entitled to rewards and very swiftly got a response within a couple of hours.
MyView Replied To Me:
Hi,
Yes, you definitely are eligible for rewards. I apologize the virtual Mastercard is temporarily out of stock, an order has been placed and we expect they will be available again by the end of this week.
Best,
Marie
So, it appears I am eligible for at least this award.
If you are in the USA, they are meant to have a catalogue of options available.  From prepaid cards, restaurant vouchers, shopping vouchers, charity donations and more.
You need at least 10,000 points to redeem – which would be a $10 giftcard. Or you could save your points for higher value giftcards.
My first survey offered was 800 points.  The second offered to me was 600 and the predicted time was 17 minutes… so, you can see it would take some time to make that 10,000 points.
Now, some people are delighted that they can earn their $10 giftcard within a week or two…. personally, the thought of spending hours of my time for $10 is not very appealing, nor impressive.
Not Qualifying For Surveys:
It's very common on survey sites, that you do not qualify for a survey.  You may answer a tonne of questions – only to then be chucked off the survey and not receive any rewards for your effort.
This is possibly one of the most frustrating aspects of a majority of survey sites, (aside from the extremely low earning potential).
One good thing about Myview is that they give you 100 points for any survey that you don't qualify for, this is pretty unique and a at least you can build up points even if you don't qualify.
PROS VS CONS
PROS
Customer support was quick to get back to me via email, (on two occasions).  I've also heard good feedback in general regarding customer support.
Gives you 100 points even when you do not qualify for a survey – this is pretty rare as far as survey sites go.
Can get rewards from 10,000 points, which is relatively low.
Over time, you can get offered higher points in certain categories, where you may have a level of expertise.
CONS
Somewhat of a dull site, not much to it.
No forum or community chat.
Low earning potential – this is true of any survey site however.
Conclusion…Is MyView A Scam?
I've come across a couple of sites branding all survey sites, (pretty much) as scam.  Now, I regard a scam as something that is being intentionally dishonest or fraudulent.
I don't see MyView as that.  You're clearly told what points you need to accumulate for rewards, you can work out how long it will take you roughly to achieve that.
Take it or leave it, that's what it is and it's clear what it is, there is no deception there as far as I see.
Sure, some people claim to have had their accounts closed prior to earning their reward, (a common complaint with survey sites) but there are also many more people who have received their rewards no problem at all and never had their accounts closed.
I realise that some people simply enjoy completing surveys for fun and the extra rewards are a bonus, some people enjoy it as a hobby.
Do I recommend completing surveys great money making opportunity? Absolutely not.  
There are so many better ways to start earning money online. But just because the earning potential is incredibly low here, that doesn't make it a scam.
The Alternative:
If you ARE looking for a way to make decent money online, survey sites are not the way to go.  (See here for how beginners can start making money online).
While you will never make decent money using survey-related sites, there are a few that I prefer, I list three below.
The top two offer more of a variety of ways to earn, (such as using a search engine/watching videos/surveys/polls/cash offers/shopping cashback) and the last one you can earn small amounts by writing mini reviews on (primarily) music and I find it quite enjoyable.
Swagbucks review  

– my first choice, it has a wide variety of ways for earning on their site.

Cashcrate review  

– Another fun site, with a variety of ways to earn online.

Slice the pie review 

– A site where you can earn a very small amount for writing tiny mini reviews on things like, mobile accessories, fashion and music.
I like them all, for a way to make a very small amount on the side.
But your time is certainly best spent building a long term business online and for that, my top recommendation is always Wealthy Affiliate, where you can get started for free, with a ten part course that's suitable for beginners online.  Check out my full review here.
I hope you found this review helpful – do you have any experience with Myview or other survey sites?  Leave me a comment below!
All the best…. 🙂