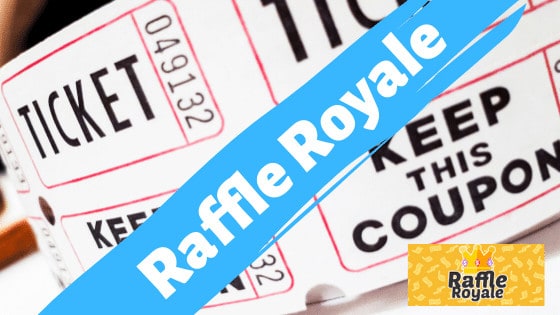 Welcome to my Raffle Royale review… is it legit, or what?
You are probably wondering whether you can REALLY win any money with Apps like this and what's the point of it.
Is it the same as those freebie scratch card Apps – where no one really seems to win?
Well, this particular app is actually made by the same company that does Scratch Royale – although a lot less seems to be going on with this App right now than the scratcher app!
It's like it's only part the way there right now, as there weren't enough ways for me to build up crowns, (coins) and join raffles any higher than $1 …. Which pretty much sucked.
If you're interested in other related Apps like this, where you could win money, I wrote about them here.
I'm very familiar with Apps like this now, so I just downloaded what was on offer and checked it out.
Fed up of relying on luck? Start building something long-term here.
What Is Raffle Royale About – How Do You Download?
Unfortunately, this App is restricted to Google Play right now, Apple had a big crack down on the types of App they'd have on the App Store and you won't find so many Apps like this on there right now.
Some Apps have to make changes to their games before potentially being let back on – but Google Play still has tonnes of these available.
As an Apple user myself, I download these Apps on my Chromebook, via the Google Play App.
So, this is also something you can do, if you want to access a lot more Apps, that you can't get on the App Store.
Downloading the App is free and you can sign in with your email address or linking to social media.
What's On The Main Dashboard?
I was pretty disappointed with what was on offer right now, which is next to nothing.
You can't just go ahead and join raffles, almost all of them are locked initially.
The only raffle I could enter, was for a $1 prize and I needed 100 crowns, (their virtual currency) to enter the raffle.
The next prize on offer was for $10, but to join that, I needed to level up.
Other raffles included prizes for $50, $100 and $500.
There was no obvious instructions showing how you level up, so I had to just look around the App.
It didn't take much time to explore the App, because there was hardly anything to it!
There are different levels you can get to: Blacksmith, Merchant, Knight and King.
When you first join, you're a Bandit – the lowest level.
In order to level up, you need to earn more crowns and join more raffles.
So, How Do You Earn Crowns?
At the time of writing, the only key way I could see to earn crowns, is by watching videos, (essentially, watching Ads!).
There only seemed to be one Ad option for me to work, which was just an Ad for another App.
For this, I made 50 crowns.
It then suggested I join something called, "Waffle Raffle," – for a limited time only.
However, I clicked on the link and checked out the App, I didn't seem to get any other crowns, so I'm not sure how that works.
You can also get bonus crowns for regularly logging in and this can go up over the days you come back.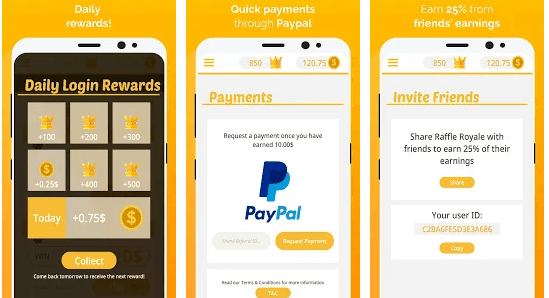 Invite Friends & Family?
The only other way I could see that you could potentially earn crowns is by referring your friends and family to join.
You can earn 25% of whatever they make. But with the limited amount on offer here, it's unlikely you'll get much.
Also, there isn't any affiliate link – there is a very long user ID that you'd need to copy and paste.
But I think the length of that alone would put people off from bothering.
How Do You Get Paid?
If you are lucky enough to win a raffle, the only way to get paid is via PayPal, so ensure you have that set up if you do want to join.
Also, you need to be over 13 to be eligible to play.
What Do Other People Say?

At the time of writing this, Raffle Royale has just over four stars and close to 7000 ratings on Google Play.
To be honest, I'm surprised the rating is so high at this point, because I didn't find this had much going for it at all.
What do you think?
On closer inspection, I noticed that some people were giving five stars without really playing it yet – several said they'd just joined & yet gave it 5 stars.
One person gave 5 stars but then said they hadn't won any money and didn't know how it worked!!!
Having a scroll down, I didn't see any comments from someone who had actually won a raffle.
Have you ever won a raffle on Raffle Royale? Let me know in the comments!
Concluding Thoughts – Is Raffle Royale Worth It?
I can't see the actual odds of winning these raffles and this is going to change because, it depends how many people have actually joined them on any given day.
However, I do know from experience of reviewing other similar Apps, that your chances of winning bigger prizes, (such as $100 or $500) are incredibly small.
The only time I personally feel that Apps like this can be worthwhile, is when they're actually fun to play.
For example; Apps like Lucky Day are popular because people ENJOY them and not necessarily because they're desperate to win a prize.
It's just a way to pass the time for them, (with a teeny weeny chance thrown in, that they may actually win something!).
In this case, I didn't find it fun AND the chance of winning will be tiny… AND there weren't enough opportunities for me to get more crowns at this point.
So, it's a thumbs down from me for this one right now!
But feel free to let me know, if you feel differently.
If You're Fed Up Of Relying On Luck:
When I first came online, I relied on luck, (& some effort) almost entirely!
I spent my days entering online competitions & I had many great wins. But probably not enough to justify the effort long term.
I realised that I had to focus on something that could bring in money long term with more consistency.
So, in more recent years, I've tried out all these side hustles.
Some with more success than others!
One of the best ways to make money long-term online, is to have your own website/blog that you can grow over time.
I can make money from my site with things like paid advertising & affiliate marketing.
If you put a lot of work in at the start, you can get to a place where you're still making money when you're doing no work at all. This is what passive income is all about!
If you'd like to learn more about how that works, I recommend you start with the free training here first of all.
Have you had any luck with these free raffle/scratchcard Apps?
I get a lot of messages from people who haven't & would like some more from those who have!
Let me know in the comments!