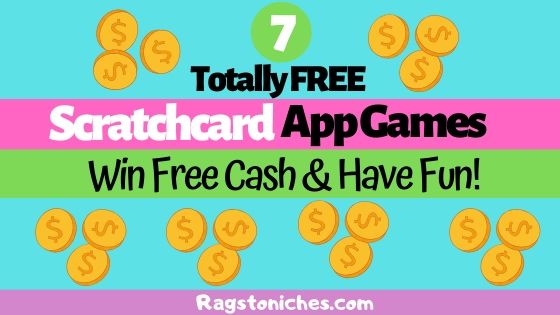 Over the last couple of years, I've been checking out some FREE scratchcard Apps, that claim you can actually win real money.
If you want to play free scratch cards online, while having zero risk involved then this post is for you.
While the odds of winning are really low, (and crazy low to actually win a bigger prize) many people still find these apps enjoyable.
One positive thing about them is, that some people find they can avoid buying the real thing, because they still get a thrill off of doing these freebie ones.
Ultimately, these are just a bit of fun and aren't something to be taken seriously!
If you know of a free scratchcard App that I haven't mentioned in this post, please let me know in the comments and check it out.
Unfortunately, while many of these types of apps USED to be available on the App store, many have since been removed.
Apps such as Lucky Day have been intending to get back on to the App store for a long time now, so time will tell when they return.
Here are some free scratch card games to get you started!
Lucky Day App:

Lucky day was one of the first Scratch card Apps I ever reviewed and continues to be pretty popular.
Some ways that you can win include…
Scratchcards – around 20 a day that you're able to scratch off. Match three symbols to win a prize and you will also usually win tokens.
Raffles – where you can win cash prizes & even trips away.
Lotto – with a chance of winning a grand prize of $100,000.
Tokens – you can build these up to exchange for prizes, but you do need MILLIONS of tokens to exchange for real gifts.
Once you reach $10, you can withdraw via PayPal – you will need a PayPal account in order to cash-out.
Lucky Day has close to 750,000 ratings on Google Play and has still managed to maintain a rating of 4.5 stars!
So, there are plenty of people still enjoying this App!
Lucky Dollar App:
The Lucky Dollar App is just available on Google Play right now, you are able to download this App if you're 13 or over.
They have one potential winner of $100,000,000 – plus other smaller prizes with their scratchcards.
Ways you can earn here include:
Scratchcards – obviously. A bit different to Lucky Day, with this you do need to initially scratch the same card several times prior to getting access to any more.
Complete offers – download other games and apps, or join online casinos, in exchange for a reward. Some are trial and free offers, others you will need to make a deposit.
Watch Ads – you can also watch Ads for extra money, but there is a limit on how many you can watch.
Refer others – get $1 for your first referral and then 10% on what any of your referrals make in their first 90 days.
You're able to cash out via PayPal, or via Amazon gift card at this time – but you also need $40 to withdraw.
This App now has over 13,000 votes and has 4.3 stars on average. Which again goes to show, many people are enjoying these Apps!
Scratch Day App:
You're required to be 18 to download the Scratch Day App and it's only currently available on Google Play.
You will need to get 5,000,000 coins in order to cash out your initial $5/£5, if you're purely going on coins.
Apart from this of course, there is a small chance of winning real cash as well.
You need to get to $10/£10 in order to cash-out real money.
Ways to make money include:
Regular Scratchcards – you get a certain amount of scratchcards to complete.
You can download similar apps – 10,000 coins!
Invite friends via Facebook – 100,000 coins, (15 max).
Follow their social media accounts – 10,000 points.
This App has over 100,000 votes and is maintaining a 4.3 rating right now on Google Play.
An impressive number again, for such a large number of ratings.
Lucky Money App: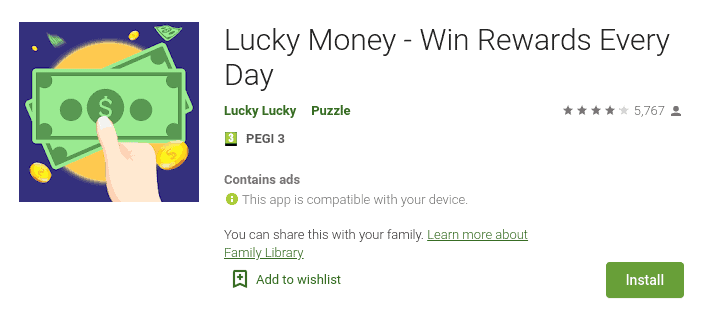 This App has a couple of unique features that make it stand out – although of course with all these Apps, your chances of winning anything are low.
Ways To Win:
Scratchcards: 40 scratchcards in 24 hours, which is more than some of the others.
Lucky Spin: Spin the wheel, in order to win tokens and golden mallets.
Lucky Code: win up to 10,000,000 tokens.
Lotto: The chance to win $100,000 and smaller cash prizes.
Various raffles: Different ones you can join, paying out in cash and tokens.
The payout threshold is also $10, which you withdraw with PayPal.
You can also use tokens, to save up for Amazon vouchers. However, to even get a $1 Amazon voucher, you need 20,000,000 tokens!!!!
This App has over 5,000 ratings on Google Play right now, with an average of 4.1 stars.
Lucktastic App:

Lucktastic is only available to US residents – so, if you're outside the US – checkout some of the other options on the list.
The Lucktastic App includes….
Scratchcards – Typically cash prizes between $2- $1500.
Tokens -Win bonus tokens and save these up for additional rewards/gift card options.
Contests – Join online contests to win prizes such as; Amazon vouchers, groceries, or free gas!
Bonus rewards – Get additional rewards for things like, playing the App every day for four days in a row. The more consecutive days you do, the more chance for rewards. These rewards could be cash, tokens, or contest entries.
The 10k Scratchcard – play 150 scratchcards to unlock the 10k card.
Download Apps – download apps for more tokens.
Refer others – invite your friends to gain 1000 extra tokens.
Lucktastic has over 10 million downloads and over 300k ratings. They are close to 4 stars with an average rating of 3.9.
Some people have complained about reaching $50 and being unable to cashout – Lucktastic has replied to each complaint and looks as though they would resolve the issue though.
Lucky Scratch App:
Lucky Scratch was pretty similar to a lot of these Apps but with a couple of differences.
For example; you can use your saved tokens to enter sweepstakes, for every friend your refer you get put into a $100 raffle and there is also a fun bingo-type game.
They also have some cute animations on the cards, which made it fun to play.
As with many of these, you need $10 in cash, to cash-out via PayPal – you can also get coins to exchange to enter sweepstakes.
Ways To Win:
Scratchcards – A selection you can do each day.
Gain coins – to enter sweepstakes for various prizes.
Refer friends – to get an entry into a $100 raffle.
Play Bingo – Play the Bingo games to win coins & gain entry into the Bingo sweepstakes.
Lucky Scratch has over 14,000 ratings and is maintaining 4.0 stars at the moment on Google Play.
Due to the bingo game, this is one of the Apps I enjoyed most personally.
Scratch Royale App:

Scratch Royal is very similar in nature to all of the previous Apps above – but it does seem to have some more negative reviews than others.
With many of these Apps, many people find it impossible to actually reach the payout threshold and wins seem to dry up when they are close to that threshold.
Some ways you can win coins/cash are:
Scratchcards – 20 per day that you can do and you can win cash prizes and tokens. You can choose your own currency when you sign up – for me, scratchcards went up to £250.
Challenges – You can earn more tokens by completing certain actions, such as sharing on social media, or downloading other similar Apps.
Refer others – invite friends and you can win an additional 100,000 tokens & so can your friend – but there is a limit of 15 friends per person.
If you have some money and tokens accumulated, but then forget about this App for a while, be aware that you can lose your balance entirely if you don't login for 90 days in total.
As with many of these Apps, once you reach the payout threshold, (£10/$10) then you can get paid via PayPal.
You can cash-out at £5/$5 for tokens – however, you need 5,000,000 tokens to do so!!! Which is pretty crazy.
Scratch Royale has over 13,000 ratings on Google Play – but has only maintained a 3.0 star rating in this case – which is why I've added this last on the list.
As with all these Apps, winning cash shouldn't be the only reason you play – or you'll just end up frustrated that you can't cash out!
If you enjoy the games then fine – but it will take you a long time before you can cash-out anything.
Pin Me For Later! :)
Scratchcard Apps – Are They Worth It?
If you're desperately doing these Apps in the hope that you can win big, or win regular money…. then no!
But if you enjoy the Apps and enjoy the games, they're completely free to do and there is still, (albeit very small) chance of winning money for free.
So, if you find them fun – there's no harm in doing it. I just wouldn't recommend wasting hours of your time doing it!
Other Ways To Make Money – Not Relying On Luck!
I really relied on luck all the time, when I spent my days entering online competitions & I don't regret that, because I had some amazing wins.
However, in the long term, I realised that I had to focus on something that could bring in money long term consistently.
In recent years, I've tried out these side hustles.
Some with more success than others!
But one of the best ways to make money long-term online, is to have your own website/blog that you can grow over time.
I can make money from my site with things like paid advertising & affiliate marketing.
If you'd like to learn how to do THAT too… try out the free training here.
Have you had any luck with free scratchcard apps? Let me know in the comments!