Thank you for checking out my Scratch day app review – which I recently downloaded from the Google Play store.
Yet another scratch card app on google play… Which, if you're an IOS user, you can also get if you have a chromebook.
I wasn't aware I could use Google play on the chromebook until recently, but Google Play definitely has a lot more Apps available than the App Store does right now.
There are various scratch card Apps around – some give you the chance of winning REAL money and others are just purely games, with zero real money involved.
Although, the free money ones will usually feel just the same as the zero money ones, because of how long it actually takes to make any money from it.
And if you're hoping to win a more substantial amount with some of them, the chance is even slimmer.
Have you tried out Scratch Day App? Let me know in the comments if you've had any wins!
Scratch Day – Key Pointers
What is Scratch Day – An App you can download on Google Play, where you can win real money from virtual scratch cards.
Who is it for? Anyone 18+ who enjoys virtual scratch cards and the chance to win a v.small amount.
How much it cost? Scratch Day is completely free to download and play, no deposit required at any time.
How much can you win? You need 5,000,000 coins to withdraw $5/£5 and you can cash-out from money wins from $10/£10/10 Euro's or AUS dollars. Your chance of winning higher cash prizes, are extremely small.
Is Scratch Day App legit? Scratch Day is very similar to other Apps of it's kind, like Lucky Day, or Lucky Scratch.
If you want to make $100's dollars online each month, (or much more)…. Playing Apps will NOT work. Learn how to make more here.
Getting Started With Scratch Day App:
Simply download and install the App from Google Play/android phones – you'll then be prompted to either sign in as a guest, or sign up via Facebook.
By signing in via Facebook, you will be able to save your progress when you sign in via other devices.
Something I liked, which I hadn't seen before, is that you can choose your own currency.
They had various options to choose from – being from the UK, I opted for pounds.
For some reason I did have some issues logging in and a few glitches.
I thought I'd connected with Facebook and the App actually froze.
I tried to go back in and sign up as a guest, but then it just wouldn't log me in and was just indefinitely "loading.."
Anyway, I went back out and in again and managed to get it working and start playing the game.
Scratchcards:
You can then begin scratching off cards, potentially being about to either win cash, or coins.
Coins are their virtual currency, that you can save up and eventually cash out real money.
You only get a certain amount of scratch cards you can do and then you have to wait…
Which I guess could be a good thing for those tempted to just stay on there all day.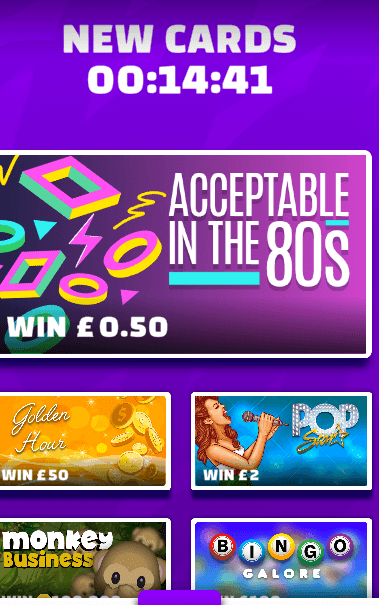 Why Do You Have To Watch Adverts?
Every few scratchcards you do, you will have to watch a small advertisement.
You may not find it that bad, because they're usually advertising similar Apps that you may want to try anyway.
The reason they do this is to make money and why they can give away cash prizes for free.
This is how many Apps remain free to play.
What Are Your Odds Of Winning?
Unlike Lucky Day and some other related Apps, that have the odds of winning available to view on their websites…
Scratch Day don't seem to have any info about your actual odds of winning.
However, if the odds of other Apps are anything to go by, you can guarantee the odds will be teeny tiny.
So small, that I really wouldn't recommend anyone participate in an App like this unless you really do enjoy it in some other way.
I wouldn't recommend logging in daily, JUST in the hope of winning a big prize, that most likely will never come!
How It Works….
You will spend all your time on this App, either doing virtual scratchers, or watching Ads inbetween
There is a main panel on top to scratch off from each one, and this is where you have to match 3 symbols for the main prize.
You can win from as low as 50 pence/cents, or £250 in my case in the UK.
There is also another Panel underneath, where you can win coins. You can also win extra bonus coins when you don't win the main prize.
After every few scratchers, you'll need to watch a short Ad – which is a matter of seconds and then you can go straight back again.
Tip: if you win ANYTHING ensure you take a screenshot as proof of the win, in case there are any issues.
Any Other Ways To Win?
While scratchcards are the only way to win real cash on this App, there are also other little actions you can take to boost your coins balance.
For example; you can download some other similar App suggestions, (10,000 points).
You can also…
Invite a friend via Facebook using a code, (up to 15 people – 100,000 coins)
Follow Scratch Day on social media, (Facebook/Instagram), 10,000 coins.
How Long Can You Keep Your Balance?
Be careful here – your cash and coin balance will be completely wiped, if you fail to log into scratch day app during a 90 day period.
So, if you don't want to leave your coins/money, don't just leave the App for months and expect everything to remain as it was.
How Can You Cash Out?
I was pleased to see you can cash out via PayPal.
You need $10, £10 or 10 Euros/AUS dollars in order to cash out the money you win.
However, you can also collect and exchange coins for cash. You may be waiting a while though, as you need 5,000,000 coins to cash out $5/£5.
After my initial game play of about 15 minutes, I'd won £1 and made around 12,000 coins.
At which rate, it would take over a year to cash-out £5 for me… if I played every single day. 😮
Who knows if I'd made the regular cash-out amount by then.
Many scratch cards App will give you at least one cash win on the first time you play to keep you interested and coming back a second time.
What Do Other People Say About Scratch Day?
This App has over 105,000 ratings on the Google Play store and is still managing to maintain an average rating of 4 out of 5 stars, which is very good.
It also has over a million downloads, which is pretty crazy.
Some of the more recent reviews have been lower, I noticed.
Some say you're now getting rewarded less for the actions you take.
As the review says below, you'd need about a year to accumulate enough coins to make just £5.
If you're trying relentlessly to play these sort of games because you make money, then I think you are wasting your time.
However, there are various free scratch card Apps out there where you don't have the chance to win ANY money at all.
Some people still just enjoy playing them.
So, surely some slim chance of getting something is better than zero….. it all depends if you enjoy these types of Apps.
If you don't enjoy them at all and find them boring, then I wouldn't bother!
Are There Real Winners?
There are supposed to be many winners every week.
They do publish some of their winners, but not as many as the amount that are meant to have won.
I guess not all winners would want to be shown anyway, I'm unsure if that has any effect on that or not.
It also would be useful to have more information about how winners are selected….
Or is it just randomly drawn after a certain number of scratchcards overall are scratched?
Despite this though, I do believe there are real winners from this App, this company isn't duping you.
However, it would be good to have a bit more info, so that people are fully aware of the odds.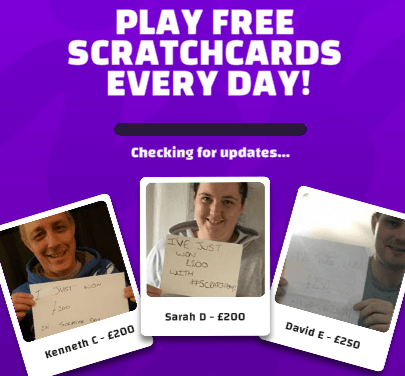 PROS VS CONS
PROS
It can be enjoyable – some will find it more so than others.
No chance of losing money, could be a substitute for people who do too much of the real thing!
You can choose your currency.
They pay via PayPal.
CONS
Winning one of the bigger chances – extremely unlikely.
No explanation to be found about the odds and your chances of winning – or any other related details.
You can't get this for IOS/app store.
It will take you a very long time to get enough coins – even to cash-out just $5/£5!
Concluding Thoughts – Is Scratch Day App Legit?
I think Scratch Day is a legit app, but possibly a little misleading – considering it doesn't openly explain the odds of winning.
At least this App provides SOME minor hope of a financial reward.
There are many scratch apps out there that are simply free scratch and slot machines – but with ZERO chance of winning anything at all, it's for fun.
So, if people can enjoy playing these things with no chance of winning anything, then some people are going to enjoy this to.
And with over a million downloads and many good reviews, it seems like many people are enjoying this App……….. despite this odds!
Some people go into this with false expectations, believing they could win a decent prize.
Most people will NEVER make a decent cash prize… even if they play the App every day for years!!
If you have this firmly in mind when you join, then you may just enjoy the App for what it is.
If you're looking for a legitimate App that can make and save you money, I recommend Swagbucks….You can get a $5 bonus for signing up here.
Making Money In Other Ways:
One day, I believe there will be better FREE apps that can help us to make money with our phones.
While there are many free Apps out there that claim to do this, you're generally talking about MINIMAL pay, for largely mundane tasks that could take hours.
Hopefully that will change as our technology grows and changes over time – and more opportunities become available!
Over the last several years, I've tried out these side hustles from home.
But so far, I still make the most from my website – via affiliate marketing and having Ads placed on my site.
If you're interested in learning about THAT….you can start learning for free here.
I hope you found my Scratch Day app review useful and I'd love to know if you'd won anything since you've started!
Leave me a comment below! 🙂