K Optimizer Review: 2.0!  Is It Worth It?
As a way to make money online, self publishing/kindle publishing is one of the few legit ways you can do it.
The creators of this publishing tool –  Stefan Pylarinos and his brother Andreas – have both had massive success with kindle self-publishing.
If you're brand new to self-publishing and aren't really sure where to start, then I highly recommend you check out K money mastery here, (full review).
Stefan created K money mastery first and later created K Optimizer, which helps makes self-publishing multiple books, a smoother process.
If you already have plenty of books out there, you may still be interested in Stefan's full disclosure membership over at K money mastery too.
Software: K Optimizer 2.0
Price: $27.77, $37.77 or $77.77
Creators: Stefan And Andreas Pylarinos.
Verdict: Recommended.
Review In Brief: A brilliant software that can rapidly save you much of the stress and time involved in keeping track of your Kindle self-publishing business.
K-Optimizer also has a 30 day money back guarantee, so there's nothing to lose.  Access K Optimizer Here!


What Is K Optimizer 2.0?
Many people who go into kindle publishing, say that they end up spending vast amounts of time on long winded tasks.
Such as: submitting their books to directories, tracking reviews and keywords or formatting their kindle books.
The K Optimizer software can definitely make this process whole lot easier.
K Optimizer is a powerful software tool that enables you to:
Track where you're ranking for keywords for your books,
Organise your kindle books and track their progress,
Format your kindle books,
Submit your books to over 60 other sites,
Send out press releases at the touch of a button,
Generate book descriptions,
It is like having several helping hands – freeing you up more time to get your books out there and build your kindle business.
For many Kindle publishers, they have had to spend time and money outsourcing these tasks to free up time.
So, with the lower membership being just $27.77 a month, this can no doubt save you money as well as time.
For those who are new to Kindle publishing, a lot of the information can be overwhelming at first.
This leads to many giving up before they've even started, or had any success.
I've seen this myself and it's a common thing in Affiliate marketing too.
I know for me, the idea of trying to figure out how to format my kindle book correctly, really halted my progress.
The other thing that panicked me, was the idea of manually submitting my book to tonnes of free promotion websites.
But with K Optimizer, you can do that with a couple of clicks.
Why You Need To Keep Track On Kindle:
Everyone knows going into Kindle publishing, it is a numbers game.
You can't just put one book out there and expect it to make you a millionaire overnight –
Yes, you can dream…  but the probability of that happening is slim to none.
Your chances of success on Amazon, will greatly increase by having a bunch of quality books out there and continuing to create them over time.
However, when you're creating multiple books, it becomes a real headache to try and track them.
But tracking them adequately can be vital – if you want to keep pulling in sales for those books over time.
K Optimizer can give you the edge over your competitors, by easily being able to track how well your books are doing and tweaking them accordingly.
What Does K Optimizer 2.0 Include?
Ability To Easily Track All Your Kindle books:
You can very easily track:
How many reviews you have.
On average how good your reviews currently are.
Your currant sales ranking on Amazon for each book.
Your Amazon free ranking for each book.
To have all this information easily accessible to you for all your books, no matter how many you may have, is invaluable.
There is currently no limit on the books you can track, which is really helpful.
You can immediately recognise when a book is not performing well and take action to improve your book sales.
You can also access simple-to-understand charts and data for your books, so that you can efficiently track the success of your marketing campaigns and promotional strategies.
Submission to over 60 free websites – with a click of a button.

This is one of my favourite features of this software – because submitting your book to these free sites can take a lot of time.
It can also be a daunting task if you're just starting out- so this takes all that stress out of it.
Track between 50-1000 Keywords On Amazon

Depending on what package you choose, you have the ability to track between 50 and 1000 keywords on Amazon.
With the basic package, which holds a great deal of value, you can track 50 keywords.
This means, you'll be able to easily see where you are ranking for your targeted keywords and improve on this where possible.
You'll also be able to quickly notice how well your promotions have had a positive effect on your rankings.
Correctly Format Your Kindle Book
Formatting can stump plenty of would-be publishers from continuing and it's one of the most important aspects.
Because if your book is formatted incorrectly, it's not going to look good and will impact negatively on your reviews.
You can even create your ebook from scratch within the software, or simply upload existing books too.
You don't need to worry about knowing HTML, you can format your book and cover pages with zero stress.
If you have previously outsourced the formatting task, this is one less thing for you to worry about and pay for.
Generate Kindle Book Descriptions.

You can also now effortlessly create appealing book descriptions, which will help your book get noticed and generate more sales.
K Optimizer Testimonials
There are plenty of positive testimonials for this software and unlike many phoney products, these are not faked!
One thing about Stefan is, you can be sure that he strives quality products that will benefit people –good reviews naturally follow on from that.

No cheesy testimonial videos sourced from Fiverr – I'm pleased to say.
K Optimizer Price Packages: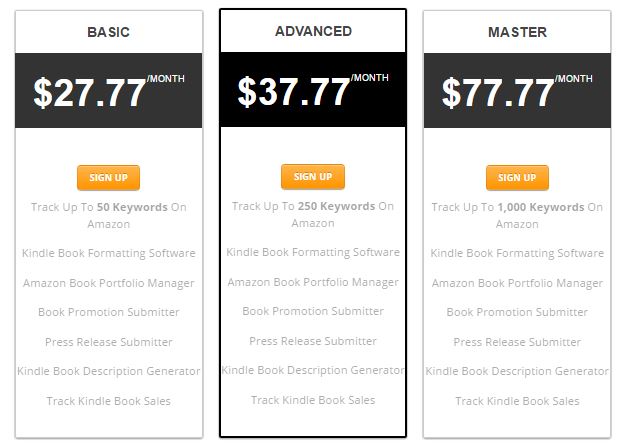 As you can see above, there are three packages available, you could always start with one and upgrade later if you decided to.
The key difference between these packages, is simply that the more expensive packages allow you to track more keywords.
K Optimizer Pros Vs Cons
PROS
Reasonable cost – starting from only $27.99 monthly.
30 Day money back guarantee.
Keep track of an unlimited amount of Kindle books in one place.
Keep track of Amazon ranking, (free & paid).
Track 50+ keywords, (depending on package).
Format your kindle books using this software.
Format book descriptions.
Submit your book to multiple free websites instantly.
Submit your press releases in seconds.
CONS
Tracking keywords is limited depending on your package.
---
K Optimizer Review: Conclusion!
Whether you're just getting started with Kindle Publishing, or whether you already have a portfolio of books, K Optimizer can certainly help make your publishing life easier.
If you're only just thinking about kindle publishing, but haven't yet released a book – then I suggest you go and check out K-money-mastery first off.
You may also want to check out kindle Spy, which is another affordable tool that helps you spy on your competitors and assess your competition!
Certainly, where ever you are in your self publishing journey, both products could benefit you and do compliment each other.
Ultimately, this is an awesome software that could benefit anyone who is self-publishing right now.
Go and check it out for yourself and let me know if you like it.
Click Here For K Optimizer 2.0!
Where about's are you in your Kindle Publishing journey?  Let me know in the comments!
All the best…

Other posts that you may find interesting….
Kindle Spy Tool Review – Spy On Your Competitors.