Today I will be looking at a site called, Master writing jobs. 
So, is Master writing jobs just a scam?  Or could this potentially lead to a successful freelancing career?
Let's find out!
Master Writing Jobs Review In Brief:
Company: Master writing jobs.
Online Opportunity: Freelance Writing.
Price: $68, reduced to $34.
Overall Rating – Not Recommended.
Review In Brief: If you want to be a Freelance writer online, there is no secret system or magical program that can make that happen.  
You should not need to pay to access Freelance job listings, their are multiple places you can find them for free.
The topics I'm going to cover today, are as follows:
What is Master Writing Jobs?
Are companies desperate for writers?
What is Master Writing Jobs really selling?
Freelance Writing – Actually highly competitive.
Complaints On Facebook.
60 day money-back-guarantee?
Legit ways to start Freelance writing.
Another way to make money writing long-term….
Tip: This is where I learnt a different way to profit from writing online.
What Is Master Writing Jobs? You'll Be Left Guessing!
Today, I will be taking a look at a freelance writing program called "Master Writing Jobs."
I've been interested in freelancing for a long time, because I think it's a great way to boost your blogging income.
However, I have noticed there are also plenty of scam related programs in the freelance industry, as well as the make-money-online space.
On arrival to their sales page,  I was confronted by the banner above, which claimed that you can get your first paycheck in 30 minutes.
So, does this program deliver what it promises?  Or is it a lot of hot air?
Well, it sounds like a dream for a budding freelance writer, doesn't it?  But there is more.
Beneath the banner is a video, explaining how you can earn up to 10k per month, just for writing simple articles.
While the video plays, the number of positions left clicks down lower and lower.  A classic internet marketing tactic!
There are no limited spaces of course.  You can come back whenever you like and you'll be able to sign up.
They just want to make sure that you feel you're about to miss out if you don't sign up right then and there.
On the video, the apparent creator of this program, talks about how he struggled to get freelance work; but that he spent two years creating a "system,"that made him 100k in only 4-5 hours a day!!!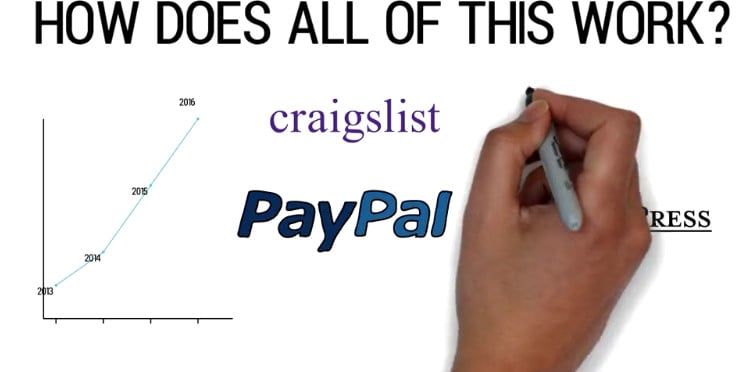 Whenever these programs start to talk about special systems, my eyes start to roll.
Generally, they will talk about a secret system that made them breakthrough and make a tonne of money…
But naturally, they won't actually tell you anything about it.
For all to be revealed, the answer is to sign up and part with your money – which is where you hope to find the answer.
Unfortunately, you won't find the answer you're looking for and I will explain why in a moment.
Are Companies Desperate For Writers?
He claims in the video that major well-known companies need you and your writing skills.
He then provides examples of how much you'll make with the writing jobs that are on their books.
If I'd watched this presentation a few years back, I may well have thought it could be an amazing opportunity – maybe I'd have fallen for it.
Unfortunately, I've seen so many programs selling the same old story, (in various forms) and they generally look very similar on the front end too.
Same familiar voice over, same story you're meant to relate to and the same over inflated earning claims.
In this program, they claim you need just an hour a day, (minimum) – who wouldn't want to switch their 9-5 for that?
What Is Master Writing Jobs Really Selling?
When you join Master Writing Jobs, there will be some writing related job posts on the dashboard…
There have also reportedly been various other unrelated jobs, such as graphic design jobs!
However, these are not jobs you can just take and start writing for cash immediately.
All that's provided there, are links to actual company job profiles, or websites and you will need to apply for those jobs… just like any regular job.
If you don't have any previous Freelance experience and you don't have a portfolio of your work to show your prospective employer, your chances of landing a job are slim to none. 
They have also added additional junk training in the members area, to make it look as though you're getting something for your money.
So, you'll randomly find training about how to make money on Amazon.
It's nothing to do with Freelance writing, but they just stick it in there anyway.
The Freelance Industry – Is Actually Highly Competitive!
There are thousands of writers out there, all desperate for paid writing gigs and while there is also an abundance of paid work available, it is also a competitive space.
You need to build up a solid portfolio and contacts – companies that will hire you again and again.
While there are courses you can take that can help ease you into Freelancing – they're not going to be promising you can earn thousands over night.
The bottom line though – is that you certainly don't need to pay to view a list of Freelance writing jobs.
You can seek those out for yourself, completely for free.
Just head over to Upwork, or People Per Hour and you will find thousands of potential jobs.
If you're a blogger, you may also want to check out the Problogger job board.  It can be a good way to find other bloggers in your niche.
Complaints On Facebook:
They claim to have 33k likes on Facebook, but they don't actually post anything on their page and you can't see their likes – clearly because they're bought/fake.
Hilariously, the one fan who positively posts on their Facebook page is called, "We Love 2 Promote!"  How transparent can you get?
They delete anyone who tries to warn others that this is a scam – but they cannot delete the number of people who have commented.
See the post below is meant to have over 70 comments, yet only a handful can be seen.
You can also see some people have posted an emoji angry face and yet, no angry comments can be seen.
What About Their 60 Day Money Back Guarantee?
Many people may be tempted to sign up, because the price is low and they do offer a money back guarantee.
Unfortunately, they can make it difficult to try and get your money back.
I have seen comments from people claiming to have requested it 3 or 4 times and heard nothing back.
Have you got a refund from Master Writing Jobs?  Leave a comment below!
The other thing is, most people who sign up, simply won't go to the effort to get a refund.
In fact, many may still be unaware when they login that they've been ripped off – so many people will buy these programs and never actually look at them.
Since there are legitimate products that I do recommend and I know first hand that very few people actually take real action with these things, even once they've bought them.
How many books have you bought and never read?  How many courses or programs have you purchased… and then never started?
Many people want to do amazing things in their lives and start a business, or start a blog, become an author and so on and so on.
But only a few actually have the drive and motivation to pursue those goals until they succeed.
The problem is, many people can go into a new project with great enthusiasm…
But once that initial excitement wears off and reality kicks in, a majority lose the motivation to continue.
Whatever you choose to do, just don't waste your time paying for information that you don't need!
If you want to be a freelance writer, just go for it.  This program is not what it claims to be and won't help you become a success any quicker!
So search for jobs on Google, set up an Upwork profile and get some writing samples sorted.
One route that some bloggers take, is to contact other bloggers and see if they need any content written.
You can give examples of your work and what you charge – the worst that can happen is they ignore you or say no.  Big deal!  Give it a go.
Additionally, there are some blogs that pay for guest posts.  There's a useful list of those over here.
Have you had any experience with Master Writing Jobs?  Leave me a comment below!
Legit Ways To Make Money Freelance Writing:
There are lots of ways you can legitimately start making money from writing online.
However, they're all going to take you a certain amount of dedication to get started.
One course I recommend, (and have taken myself) is Gina Horkey's 30 days to Freelance writing success.
There is also a cool freebie you can pick up here.
Gina knows what she's talking about – she went from zero to $4000 per month, in just six months.
Some other posts that can get you started, I've linked to below.
Another Way To Make Money Writing Long-Term…
If you have a blog or website online, you can write every day and actually build something that can generate you a growing income over time.
If you love to write, it's ideal…  I write every single day and the posts that I have written can bring money in for months or years after I've written them.
How?
Because you can make money from a website in various ways, including affiliate marketing and paid advertising.
By recommending products or services that I love to readers, (for example) I can earn a commission and I can also earn completely passively by having Ads on my site.
I want to stress, this is something that took many months to achieve, not something you can do over a few weeks…
But if you want to build something long-term, it's a really good way of making your writing pay you multiple times over.
If you have any questions, let me know in the comments!
All the best,