Is Bonus Bagging a scam, or a legit bookies loophole?
Edit: 

This post now links to Profit Maximiser

– which helps you profit in the LONG TERM and is a superior program.  The program is still developed by Mike Cruikshank.  You can visit the sales page for full info here.
Is it possible to make several hundred pounds per month, both risk free and tax free… all from a low-cost program, with no experience required?
When I was first introduced to Bonus Bagging, I was certainly sceptical and didn't hold much faith in it.
But since there is a 60 day money back guarantee, I thought I'd give it a go anyway – and I'm very pleased that I did!
Bonus Bagging Review In Brief
Product: Bonus Bagging
Creator: Mike Cruickshank.
Price: £27
Money Making Opportunity: Up to £500 per month initially.
Overall Rating:  80/100  As someone who doesn't bet and has no experience with arbitrage of any kind, bonus bagging was a welcome surprise.  There is a small learning curve, but this is a very newbie friendly program.  Mikes instructions and support has been great.  This is a great opportunity for anyone to make tax-free cash and it's a lot of fun.
What Is Bonus Bagging And How Does It Work?
Having reviewed many ways that you can make extra cash online – I have to admit, I'd never even heard of "Bonus Bagging."
In addition, if a make-money-online program claims to be able to give you free-cash for very little work, I would normally run a mile.
But in this case, it's actually true and delivers what it says it will.
Bonus Bagging Explained:
Bonus Bagging takes advantage of a loophole in the betting world, whereby you can use bookmakers bonuses against a Lay bet, in order to make a profit.
This is how it works…
You Sign up with different bookmakers that have introductory bonus offers for you, (free bets!)
You first place a precise bet, (that Mike sends you via email) at a particular bookmakers.
You then lay a bet against the selection you just made, at the Betfair exchange.  Again, precise details about this bet will be emailed to you.
By making a lay bet against your original bet, you are covering all eventualities.   You're covered – even if the result is a draw.
At this initial first stage, you may have made a tiny loss once the bets have cleared, but this is normal.
It's the next steps you take, that will recover any loss and leave you with a profit overall.
Once your original bets are clear and you have your result, your free bet will become available.
With your free bet, you can now now make another bet at the same bookmakers and a lay bet against this once more, at the Betfair exchange.  Now you will make a profit, no matter what.
Once the bets have settled and you've made your profit, you withdraw your money and move on to the next bookmakers.
If it sounds complicated, it's really not.  Because Mike sends you full instructions for every bet you place and it's simply a case of following instructions.
Lay Vs Back Betting
A "Back" bet is when you bet for a particular outcome to be true, if it is true – you  win the bet.
A "Lay" bet is the opposite to this.  This is where you bet against a particular outcome being true.
(E.g.) You lay a bet against a particular horse winning.  If that horse doesn't win – you DO win.
You cannot place lay bets everywhere, but only at a betting exchange.  In the Bonus Bagging case, this will always be at Betfair and that's where all your lay bets will be made.
When you sign up to Bonus Bagging:
Upon sign up to Bonus Bagging, you'll be asked which bookmakers you're already signed up to – as you'll be taking advantage of introductory offers.
You can then take your time reading through the FAQ section, which is very thorough and goes through everything you need to know.
When you're feeling confident with the basic details, you can go ahead and request your first bet.
Your First Bet:
After your first bet request, you receive an email from Mike, usually within a few minutes, detailing what bets you need to place.
There will be direct links to the bookmaker and the specific details about the bets you need to place.
I've been using this system for a number of months and I can say for sure that it's completely legit, simple to understand and an opportunity for anyone to partake in.
 (Take note:  You do need to be a resident of the UK or Ireland to sign up!).
It doesn't matter if you have zero experience of betting.  I used to play Poker online, but that's as close as it gets to any sort of experience, I was not someone who would place bets online.
Thankfully, Mikes instructions are easy enough to follow that anyone can do it – and you can also email him at any time.  He's very quick at answering queries.
Is Bonus Bagging Really Risk Free?
While this system is completely risk free when implemented correctly, the risk comes into play from human error.
As long as you follow the instructions precisely, you cannot lose.
When I started, it did take me longer than 10 minutes each day, because I'd check and double check and check again that my bets were correct.
I also contacted each bookmakers in live chat, to make sure I was eligible for their bonus.
If I ever thought I'd made a small mistake, I'd email Mike and he would advise me how to fix it.
Initially, I was nervous and it still felt like gambling in my mind  – even when I knew that it wasn't.
So, I took it easy at the start and made sure all bets were settled before I started any new ones, to avoid any confusion.  I made sure my profit was in, before starting with a new bookies.
I also kept a spreadsheet of every bet I made, the result of each bet and the profit or loss made per bet.  You can see an example of some of my bets below.
Keep Your Bets Organised…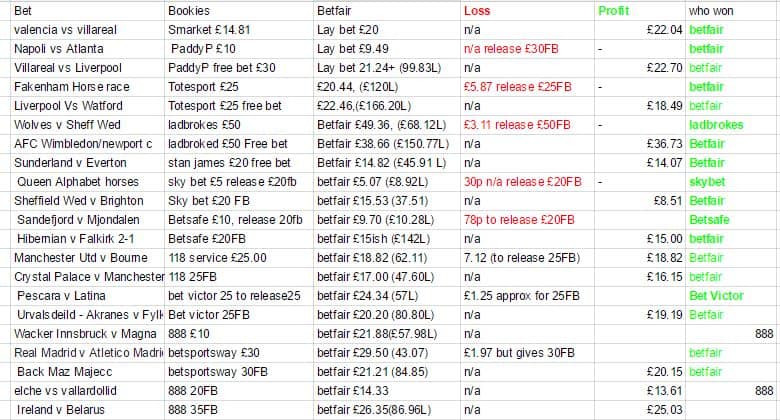 I set up a spreadsheet in Google docs and I strongly recommend you use a similar system, in order to keep track of everything.
The profits made per bet can really vary, but any profit made is free cash and tax free at that!
All it takes is following the instructions in each email and once you get to grips with it, it shouldn't take longer than 10 minutes or so each day.
Remember: This Is Not Gambling!
It's important to remember that this is not gambling – as long as you're placing accurate bets, your money is never at risk.
Mikes emails are simple to follow, I also highly recommend reading the FAQ section in full before placing your first bet.
Mike is also at hand to answer any questions you may have, I've emailed him on numerous occasions and he's always been able to answer my questions.
Bonus Bagging Testimonials & Info
Pros Vs Cons
Pros
Risk free profits – guaranteed.
Newbie friendly, anyone can do it.
Simple to follow instructions.
60 day money back guarantee.
Cons
Only available to the UK and Ireland.
You'll need to be comfortable signing up with a lot of bookies, it's best to create a whole new email address especially for bonus bagging, so that you can keep all the book makers emails in one place.
Bonus Bagging Review: Conclusion
I don't dish out great reviews easily, but Bonus bagging is a brilliant value program that actually delivers on its promise.
It's very simple to get started right away and you could have made the money back that you spent on the program, within a couple of days.
Ultimately, if you're looking for a way to start saving up a bit of money on the side, whether it be for a holiday, paying off debts or just for extra expenses, then this is a great way to do it.
What's more, if you're not happy with the program, you can get a full refund – there's a 60 day money back guarantee, no questions asked.
Are you going to have a go with Bonus Bagging?  Let me know in the comments how you get on!
Beyond Matched Betting Online & Offers:
Matched betting is fun for some additional risk free cash, but if you'd like to make a sustainable income in the long term, there are other things you can do!
I make the most online from having websites that promote products or services via affiliate marketing and this is an income that can grow over time.
Something that you write today, could reward you for years into the future.
If you'd like to know more about how you can do the same – this is the exact training I followed.
You may also be interested in another post here – 40+ ways to make your first dollar online.
All the best… 🙂