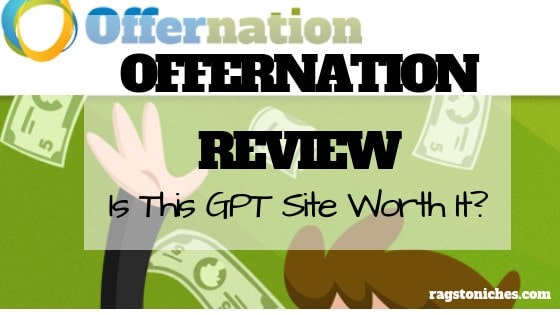 Offernation Review… Is This GPT Worth Your Time? Or is it just a scam? Let's find out!
When I first heard you could make money taking surveys online, I basically thought they were a scam.
It was a friend of mine who actually convinced me otherwise and I saw her results, she was making around £50, ($62) per month from a couple of different sites that she stuck to.
Which I believe were Global Test Market and Toluna Surveys at the time.
However, once I started doing them myself, I realised that it wasn't so easy to replicate what she was doing.
Surveys are incredibly repetitive and that's if you manage to get on a survey and actually complete it, without being chucked off for not qualifying.
After reviewing hundreds of different sites, I do realise that some are definitely better than others.
So, today I will be sharing how you can make money with Offernation, my personal experience with the site and the PROS VS CONS.
Is Offernation a scam? Nope…. Despite first appearances, (which are a little bit cheesy and old fashioned!) this is a legitimate website and has some pretty positive feedback online too.
Offernation Review In Brief:
Website: Offernation
Money making opportunity: pocket money/GPT site
Overall Verdict: Legit… although I had a terrible time doing surveys on this site and for that reason, I can't personally recommend it. That's just me though, other people seem to have better experiences.
So, What Is Offernation.com
Offernation is a GPT site – this stands for "Get-Paid-To," and are my favourite type of survey related site, because it means they DON'T just do online surveys.
Instead, much like Swagbucks, you can earn in a variety of ways – including paid surveys, offers and tasks.
To sign up, they do ask for your name, address, email, username/password and an email for a payment method, (such as PayPal or Payza).
Once you have done that, you're in instantly.
You get paid $0.25 as an incentive to sign up.
One good thing is, you can cash out from only $1…
This is considerably lower than many that's that often have an at least $10 payout threshold.
Rather than housing their own surveys, they connect you up to various survey routers which will link you up with multiple different sites.
This has it's pros and cons – on the pro side, it means you have access to a lot of different surveys and offers.
But on the downside, it can often mean you end up answering a lot more repetitive profiling questions all the time, (stuff like your age/location/income and so on).
Because you can get paid in both cash and points, (depending on the survey provider) that can also be confusing – however, you can easily exchange your points into cash in the "rewards," section.
1 point = $0.01
How Can You Earn?
There are several different drop-down columns running along the top of the website, which lead you to different sections.
Make Money – links you up with many different survey/offer routers which link you to surveys housed on different websites. Some of these include, Tap Research, SaySo Rewards, Pollfish Surveys and Worldwide Offers.
Offerwalls – Is self-explanatory and links you up with 13 different offer providers at the time of writing – including some I know well like OfferToro, Persona.ly, Revenue Universe and Peanut Labs.
Aside from this, you can go to "rewards," which is where you can cash out, or choose to cash out with a gift card.
At the time of writing, I could only see a $5 amazon voucher available.
At the contests tab, there is a regular $1000 prize competition.
Everyone is automatically included and the draw seems to be every couple of months.
The first three winners make the most money, with the top winner taking $350.
Lastly, you can also earn by referring other people to join Offernation – you will make 25% of whatever they earn.
So, if they make $1, you'd make 25 cents.
Useful Post: 7 Free Survey Sites That Pay To Refer!
My Experience With Surveys:
I find these sites can be quite overwhelming, as there are so many different choices and you can end up wasting a lot of time just trying to find a survey you can qualify for.
When I first tried to join a survey, it kept asking for my Zip code – as I'm in the UK, we have postcodes rather than Zip codes and mine wasn't being recognized.
So, I had to move on.
Instead, I went back to the "make money tab," and went to Tap Research, as I've completed surveys with them before.
As expected, I had to answer some standard questions and then I was shown some surveys available.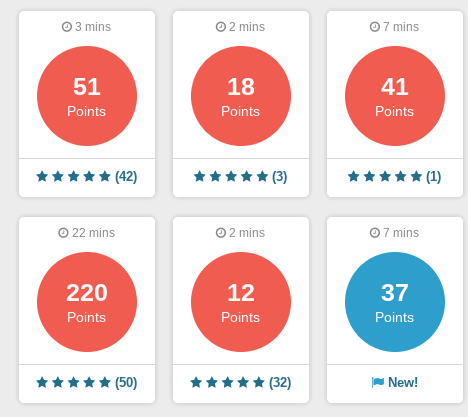 I decided to go for the 2 minute survey for 12 points.
Unfortunately, it didn't seem I qualified, but they did give me 3 points anyway.
The next one, I was screened out before I even reached a survey and they gave me 2 points.
The next…. same thing, 2 points.
Same again for the next, 2 points.
Fith time lucky?!?! Nope, this time the survey had a problem and froze after a few questions.
This is a really common problem with most survey panels, you will struggle to actually qualify and complete a survey – which means you end up wasting a lot of time and earning nothing.
One survey panel that doesn't screen you out is Prolific, which I highly recommend.
In any case, totally bored with Tap Research by this stage, so decided to try my luck with a different survey router.
I went for another that I had heard of and used before – Peanut Labs.
Once again upon trying to do surveys here, I had to answer more profiling questions for a few minutes.
Again, I tried several with zero success and this time, I didn't get anything for not completing them either.
In fact, one survey I am sure I was near finishing when it disqualified me!
I'd been answering for 10 minutes, which is about how long the survey should have been.
By this point, I must have tried to answer 10 or more surveys in total and had not got to finish a single one.
These places often have the same survey routers, so it could just be luck on my part this particular time.
Basically, some people will be able to easily complete way more surveys than others – because whether you get accepted or not depends on certain demographics.
I have read previously that you get accepted to more surveys if you say your household earns under $20,000 a year… However, I have not tested this, so I don't know if it's true.
If you have trouble with surveys, (like I do) you may want to take a look at the offers instead and there are plenty of offers to choose from as well.
I tried a whole other bunch of surveys… I didn't even count how many, it was loads.
I didn't qualify for a single one.
In fact, some of the surveys were really cheeky and led me on answering questions for a long time, before cutting me off.
Let me know if you have better luck!
If You Have No Luck With Surveys….
If you have real trouble qualifying for surveys, like I do, then I do recommend you try Prolific– the pay is much better than other sites and they won't screen you out!
They only have surveys there, but they're higher paying than usual.
Anyway, if you can't qualify for surveys here, you could check out the large number of offers instead.
There will be some free and some paid offers.
The paid offers is where you have to pay to join something, but you will often get back more than what you paid in points.
Some offers could be free, but you need to achieve a certain level to make the points.
For example; I saw an offer to join GrabPoints for 360 points.. . Which is pretty good for a free offer.
However, if you carefully read the description, you'll see you need to make 5000 points over at GrabPoints to qualify.
What offers you see available, are going to be dependent on your location.
I advise you don't go for the sweepstake/competition type offers – these can lead to a lot of SPAM!
Unless you use a separate email/telephone number when you join.
Unfortunately, a lot of the higher paying offers I'd already done previously – on other sites.
PROS VS CONS
Before I launch into the Pros and Cons, I'd like to say that one thing I do really like about Offernation, is that they show you in real time what members have withdrawn in cash to PayPal.
So, every single transaction, you can see for yourself and see that it is indeed possible to make some money.
I had a scroll through and a majority of payments were under $15 – but there were the odd ones that were more.

PROS
Various ways to earn.
Cash out from only $1.
$.25 when you sign up.
Quick payments.
You can join Worldwide.
Decent support & live chat available.
See people cashing out in real time.
CONS
Low-income potential.
Personally… I couldn't qualify for surveys. This is a problem many people have, but will totally depend on your own demographic.
Online Reviews Of Offernation:
Offernation has four stars on Trustpilot, but surprisingly not that many reviews at this point in time.
While they don't totally escape bad reviews, Offernation have been dedicated at responding to some of the negative comments and, some of the negative comments were revealed to be lies.
Especially one case where someone claimed they'd been banned in error and Offernation explained how they definitely had been banned for the right reasons!
So, if it wasn't for some of the inaccurate ratings, they'd probably have five star reviews here.
They also have four stars on netbusinessrating.com
Plus, they have nearly 5 stars on reviews.co.uk
So, they're doing pretty well with their feedback overall and doing a good job of answering complaints as well.
Offernation Review Overview…. Is It Legit?
Yes, but most people won't make very much money.
There are some people who will have their own ways of generating thousands of referrals and they could make money that way.
But most people will not make money from referrals, because most of them won't remain active.
Seeing as you need to make 25% of what your referrals earn – that means you need to have many very active referrals to make anything worthwhile.
If you're interested in making more money from referrals, check out this post.
If you want to find out some other reward sites – here are some of my suggestions.
Alternatively, you want to make a much larger income online, in the long term – check out the free training here.
What's your experience been like with Offernation? I'd love to know! Let me know in the comments!
All the best,