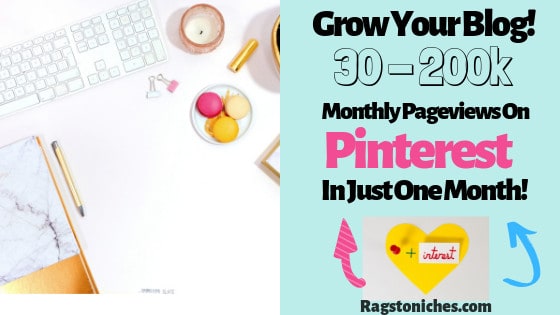 I Went From 30k – To 200k Monthly Views On Pinterest in 30 Days.

Does it matter?
Well, not in the way you may think it does… But I will explain that more further down!
My Pinterest History:
Ugh. It's been an up and down story for me over several YEARS.
But frequently, I failed once I lost interest and stopping trying….. Out of boredom or frustration.
But I had had some success with Pinterest in the past, with minimal effort.
If you're in a niche that is super popular on Pinterest, it's possible this could still happen to you.
For me, the blog was in the home decor niche and and even when I stopped pinning and posting altogether, my Pinterest traffic still grew.
It felt kind of miraculous but, because I was brand new to the whole thing and decided I wasn't going to work on the blog anymore – I just left it. 🙁
Consequently, the traffic fell and has been on the decline generally.
In any case, Pinterest has changed a lot since then and it's not so easy to get traffic as it once was!
For one thing, Pinterest wants you to PERSONALLY to be active on the platform now…
So, purely relying on schedulers like Tailwind, (while it is an important tool) won't cut it anymore.
You also can't just spam a million group boards and hope to reach millions of views either!
This is because, joining generic and huge group boards could actually hinder your progress.
I listened to a really enlightening podcast about the updates on Pinterest, (and plenty on group boards) on the side hustle show here.
It is what first opened my eyes to the reality of how much Pinterest had changed and how important it was to keep up to date with developments.
Also, what niche you're in can have a significant result on your results on Pinterest.
So, if you're in a business related niche like me, you're probably unlikely to reach the sort of crazy Pinterest numbers that you will if you're Pinning in topics like recipes, DIY, diet, decor and so on.
It doesn't mean that Pinterest won't work for you though!
Even in this type of niche, getting hundreds and even thousands of visitors per DAY from Pinterest is possible.
I have now experienced this first hand, as one single post of mine went semi-viral, (more on that in a second!).
But My overall experience with Pinterest until recently was a mixed bag…. and usually ended up with me feeling disappointed.
Thankfully, I did find something that has helped me and I'm sure will continue to do so, as long as I implement the strategies!
If you're looking to grow your blog and you haven't had much luck so far with other social media platforms, OR SEO, this could help you.
So, What Has Been My Pinning Strategy To Date?
Ha! Well, that's the problem – I didn't have one.
I also didn't realize I was making some big mistakes and risking my account, now that Pinterest has made changes.
I had tailwind, but I frequently forgot about it for months and then, when I'd tell myself to manually pin…….. I forgot.
I decided I'd create a Pin for every new post I made and I'd add that to Pinterest….. But still, all my efforts were really random.
I'd completed various Pinterest courses and training online and while I definitely got some nuggets of wisdom and grew my account, it wasn't enough.
Sometimes, I think it can be the PERSON behind the course that can really make the difference too!
You know when you think you don't like a subject in school…. ?
But then figure out when your teacher changes, that it was actually the teacher the whole time?
I think that can often be the case with online courses as well.
I did like a course I took on affiliate marketing on Pinterest, (and I LOVE the Elise and her teaching style….) but hers was about affiliate marketing on Pinterest itself, without a blog!
Rather than actually growing Pinterest traffic for your current established blog.
In any case, along the way, I did pick up some tips that I began to implement…
Things like….
Creating multiple boards for closely related topics. E.g – rather than just just make money online, you may also have make extra cash, ways to make money online, legit extra income sites, making money ideas and so on. Or in another niche… chicken recipes, easy chicken recipes, family chicken recipes, crockpot chicken recipes!
Creating new pins for old posts.
Creating several pins for the same post.
Creating keyword rich pin descriptions for every board.
Adding hashtags to new pins, (Pinterest now allows this).
Enabling rich pins and starting a business account, (where you can access analytics and see your best performing content!).
Trying to join relevant and targeted group boards, (which can be time consuming and many of the top boards you won't get accepted to, it can also take a while to hear back and you have to track which ones you've already applied to!).
Trying to pin with regularity and consistency, (not 100 one day and zero for the next three!).
My Pinterest traffic started to shift a bit and I did get my Pinterest monthly views from 17k to 30k……
But it was slow and my Pinterest page views didn't have a huge impact on my actual blog traffic numbers.
Do Pinterest Pageviews Even Matter?
It's important to mention that Pinterest Pageviews have ZERO connection with monthly pageviews to your actual blog.
One person who has a million monthly page views on Pinterest, may have LESS traffic to their blog than someone with 500k monthly pageviews.
Why?
Because this number relates to just how much your pins are actually seen on Pinterest.
These could be your own Pins, or the Pins you have repinned from somebody else.
So, if you pin highly popular pins and these get high repin counts, you will also see your Pinterest monthly pageview number go up.
But that won't help you very much, if it's not getting anyone to your blog!
In my case here, the increase in Pinterest Pageviews WAS due to my own pin, because one took off and one went a semi-viral.
But this extra boost meant hundreds of more visitors from Pinterest for me personally, not THOUSANDS.
Therefore, the number Pinterest shows for peoples accounts can be misleading and doesn't give an outsider real info about real traffic numbers to a website!
Of course, you can increase the traffic to your own website by largely creating and sharing your own content – most of the time.
But even though the Pinterest account pageveiws isn't going to directly correlate to your traffic numbers, it can be a good indicator that your account is growing and your Pins are more visible on Pinterest.
This, of course, will be more true if you're largely pinning your own content.
Pinterest has made it clear that they don't mind you just pinning your own content, as long as it's good for user experience.
They have recently suggested, you don't pin the SAME Pin to the same board more than once every three months.
However, this doesn't include NEW pins that are created for old posts.
Every new pin you create, is considered to be fresh content.
Sometimes it really can be small changes, that can make a big difference:
Because I was really struggling and feeling a bit burnt out when it came to Pinterest, I needed something to give me a boost.
I set out to find and purchase the best Pinterest course within my budget, that I could find.
After a relatively short time, I happened to discover a course by Anastasia Blogger.
I loved the look of the course and what Anastasia said, really resonated with me.
But I decided that, I was going to buy this course, I was going to meticulously go through every lesson and implement her suggestions.
I'm sure there are courses you've purchased where … you don't even complete them?
Or you but them in your bookmarks to finish, "one day…" and then never do? (I've also done that…..).
Sadly, that is the reality with most of us that purchase courses, which is just crazy!!!
So, What Happened So Far?
Well, on day I started this course, I had 30k monthly viewers to my Pinterest account.
That may or may not sound impressive to you but, like I said before, this doesn't equate to much traffic from Pinterest in reality!!!!
30k visitors to my Pinterest account basically meant around 25-30 visits from Pinterest per day to my blog!!!
Nearly 100% of my traffic at that stage, was from Google.
My plan was to eventually match my Google traffic with Pinterest traffic, which I haven't managed yet, but I believe will be possible.
I am prepared for this to be quite hard because… my niche isn't the best match for Pinterest.
If you're in a different niche, maybe in the home decor space, or healthy recipes, or diet, then you may grow faster.
As I have an old blog in the home decor niche, I am planning on resurrecting it and applying Pinterest strategies to that – and I will see what happens!
My Early Results:
At the time of writing, I only purchased this course a little over a month ago and only recently completed it.
However, I took action at each stage, which is why I took my time!
After taking action in the course, I actually jumped from 30k sessions to over 50k sessions within the matter of less than a week.
During some days, I went from 30 views from Pinterest a day to my blog, to several hundred on some days.
This was amazing for me, considering I felt I had only just started.
Within a month, my Pinterest account had jumped from 50k to 200k monthly viewers.

Then I took a trip away and it had grown to around 230k, but slipped down while I was away.
While I had scheduled some Pins in Tailwind while I was away, I wasn't doing much manual Pinning.
This is where many bloggers go wrong, you can't just rely on Tailwind now and expect your account to grow, you also need to be active on the platform itself.
Pinterest want REAL people on their platform, people who engage with their platform AND add regular new fresh content, (not just relentless repins of the same image!).
I Also Had A Viral PIN!
Below you can see how my impressions have recently grown on Pinterest.
A viral pin occurs when a pin takes off and you get a massive burst of traffic for a limited amount of time.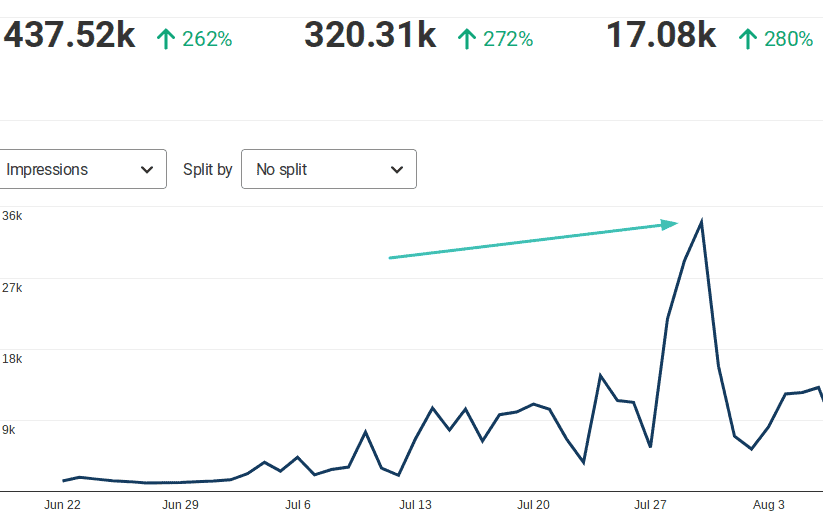 For a short time, I got hundreds of views to one post due to a pin that took off.
This is what I feel attributed to my Pinterest pageviews growth.
Unfortunately, the viral traffic doesn't last long, (it would be lovely if it did!).
However, the traffic to that post is still higher than it was prior to the viral pin and also, as your Pinterest account grows, you will experience more of these viral Pins.
Plus, you continue to get traffic to the other pins you share which – while may not be viral Pins, still all adds up over time.
I imagine my Pageviews could take a further drop now this viral pin has gone, but I now see what is possible and this is only the beginning.
Why Am I Looking To Pinterest At All?
In 2018, my organic Google traffic grew to close to 2000 unique visitors per day for a while.
Then, I lost over half my traffic over night and even more in the months following this – which I still have not regained.
It got as low as a 300 hundred unique visitors per day at one point.
As you can imagine, any money I was making also took a massive nose dive as well.
But why did this happen? Well, it was a combination of the following….
An SEO error: I missed that Google was indexing tonnes of junk URLS from my website – (image attachments and so on) and Google can perceive this as thin or duplicate content. I eventually saw this in Google search console but it was too late. My rankings suffered and it's still something I am trying to resolve right now. Unfortunately, these things can take months to resolve.
My Top Post… dropped… One of my highest traffic posts lost ranking and I lost hundreds of views per DAY.
A Google update? I also believe a Google update had some impact as well, as it effected many other bloggers. The top of the search results on page 1 have changed dramatically, (videos tend to feature above posts, for example).
Increased competition… to get decent traffic to a blog post, you need to be in the top 5 positions in google for your targeted keyword. People are having to work harder and harder to achieve this in competitive niches.
So, I could have crawled into bed and cried for a month.
Thankfully, one of my character traits is that I can be stubborn – and this can come in handy when it comes to not giving up.
Instead, I figured that I needed to do something that I'd intended to do from the beginning.
That is to DIVERSIFY traffic!
Therefore, if one traffic method sinks into an oblivion, you're not only relying on that one thing.
I'm incredibly grateful that I learnt SEO and that I still get most of my traffic from Google.
Many bloggers dream about getting traffic from Google and it's still my no.1 traffic source.
But, I also know, that to rely purely on Google ALONE for traffic, is risky risky risky!
I learnt all about SEO and ranking in Google here and I recommend you learn it to.
If I hadn't known how to check Google search console, I NEVER would have figured out there was an error and had the chance to correct it!!!!
Investing Pays Off:
Something I have learnt over the last several years, is that investing in help is WORTH IT.
When I started, I really wanted to figure out everything all on my own and FOR FREE, but that's a dumb thing to do.
For a start, when you first go into learning something from scratch, you won't even know what you're looking for.
You will also find tonnes of conflicting advice and much of it is outdated as well.
Also, even when you go through a bunch of material…. how do you even know if you're missing something?
If you don't ask the right questions, you won't get the right answers.
That's what struck me while I was doing this course.
There was a bunch of stuff I had no idea about and I wouldn't have even thought to look up, because I didn't KNOW what they were.
If I'd just been searching through YouTube or blog posts and none of that stuff was included – I'd have been none the wiser!
Much of the time, things are actually WAY MORE IN DEPTH than people make out.
Take how to start a blog……..
How many posts of about 500 words do you find about that, showing you a step-by-step how to start a money making blog?
When, in actuality, it will take months of work to figure things out as a beginner….. and that's just the basics.
I wrote a really in depth blog guide here… I think it's about 5000 words….
But you will find that I link out to multiple other posts I've written and even THEN, it only scratches the surface!
Years on, I still very much feel like I'm learning!
So, if you think you can just learn skills by reading up on a few free resources and become an expert, you just won't.
Even if you figure out a bunch of stuff, you will be missing things and it will take you so much longer than just learning from those who have ALREADY figured everything out.
So, What's This Pinterest Course?
The Anastasia Blogger Pinterest Secrets Course is a step-by-step course suitable for new, or established bloggers that will help you grow your traffic.
Her methods will also work for business owners, or E-commerce stores.
Anastasia gets the vast majority of her traffic from Pinterest, with some incredible traffic stats.
But what really sold me on this course, was that Anastasia is committed to bringing you the very latest, up to date advice from Pinterest itself.
So, the methods she teaches are going to keep your Pinterest account healthy and compliant with Pinterest rules.
But that's not just for today – when you purchase the course, you get a lifetime membership and you will get ANY updates that Anastasia includes.
She regularly updates the course and even included a whole new section while I was completing it!
In addition, she has a secret Facebook group where her students can ask her advice and share their success.
Anastasia is committed to helping her students and personally replies to all her students in the Facebook group.
She is on there every single day and promptly replies in depth to any messages.
I've found this to be so useful already and any time I have a question, I know it will be answered.
What Does This Course Include?
As well as the private Facebook group, there a multiple videos showing you step-by-step how to proceed and an additional workbook download, that she refers to.
Whether you're a total beginner, or someone who has tried and failed to get much traffic, this has you covered.
What's more, I was worried it would all be stuff I've heard before.
FAR FROM IT!!!
Not only is much of material unique – Anastasia also reveals some secrets in her bonus section that blew me away.
One of the things she mentioned, saved me from doing something that would have caused me a huge amount of time, energy and would have most likely damaged my account!
Another genius secret I also haven't implemented yet…
In fact, there is tonnes of advice that I still need to implement and I've still seen results!
If you already have an established Pinterest account, you will find it takes you some time.
Not only to get through the course, (which is in depth).
But also to implement all the suggestions she makes, which will take you some time to do.
Because I also went abroad part way through the course, I took it really slow and did it over the space of a month.
You could go faster than this, but I find that there is so much information there, that I will have to go over it again.
In any case, while some of the suggestions were ones I already knew, (after several years on Pinterest and doing various courses) much of the information was entirely new to me.
Even with the information I already knew, I figured out I had been making errors.
Here Are The Modules Coverered:
Each module includes several lessons – 37 lessons covered in total! – you can find all the details here!
Module 1 – setting up Pinterest, (useful if you're a total beginner – 2 lessons)
Module 2 – Pinterest SEO,
Module 3 – Pinterest Boards,
Module 4 – The Best Way To Check Pinterest Analytics,
Module 5 – Smart Pinning Technique,
Module 6 – The Art Of Making Pins Viral,
Module 7 – How To Design Pins That Stand Out,
Module 8 – Tailwind Tutorial, How To Schedule Efficiently,
Module 9 – How To Create Video Pins, (New Section – Which I love!).
BONUSES – Top Pinterest Secrets And Hacks.
While I was actually taking the course, the section on Video Pins was released this was another revelation to me.
I hadn't even considered creating video pins in my niche before.
And as I mentioned before – the BONUS section has some really beneficial insights that I highly doubt you will have ever heard before.
Click here to check out the details!
What Now For Me?
Although my overall traffic has increased, my Pinterest traffic took a nose dive right after my Pin stopped going viral.
Now my intention is to go back over the course, start implementing the aspects I haven't yet done and try and get a Pinning strategy sorted.
I also want to go yearly with Tailwind – because right now I'm only limited to schedule 400 Pins a month.
While I want to do a healthy balance of manual Pinning and scheduling, Tailwind can Pin for me at my best times, (which is generally in the middle of the night for me!!).
Lastly, I want to experiment with my old blog and see if I can grow my Pinterest traffic using the strategies talked about in the course.
Have you found getting traffic from Pinterest hard? What are the things you've struggled with most?
Let me know in the comments!
All the best,
Did You Like This Post? Pin To Your Blogging Board On Pinterest!