In my Poll Pay review today, I'll just be quickly running through how you can make money with this App, how it works and whether it's worthwhile!
Poll Pay is essentially an App where you can earn gift cards for completing surveys on your smartphone.
You must be over 16 to use this App, but you can download it from various Countries and languages too.
At the time of writing, this App has over 30k reviews on the Google Play store, but only a few on the App store right now – I think it hasn't long been available on there.
It has been installed over 500,000 times.
Try my top choice here- and get a $5 bonus.
How To Sign Up With Poll Pay App:
All you need to do is download this App for free, currently on Google Play, or the App store.
In order to sign up, you can log into your Google account, or you can use Twitter to sign up, (for a change….. Always seems to be Facebook… ).
Either allow notifications with this App – or not. If you do allow it, you may be notified when there are surveys to do.
This can be useful because it's very easy to forget all about these Apps after you play them for the first time.
First Impressions Of Poll Pay:
It was simple to sign up and my first impressions were pretty good.
There was a colourful and clear dashboard on the main login page – with a section to join them on social media, invite friends and rate them.
However, there was one lonesome survey there waiting for me.
I'm in the UK and so, in this particular case the survey was for 27p.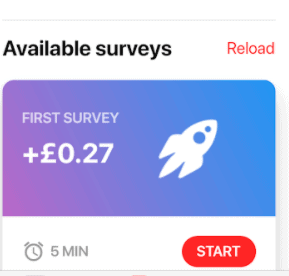 This said it would take 5 minutes and so, I gave it a go.
In fact it took much less time, but what this ended up being was a profiling questionnaire.
This isn't the "real," surveys yet – it's just basic questions to find out more about you and your situation.
Such as, what your occupation is and the income of your household.
In any event, I did get my 27p…..
It then said I'd need to fill out more profiling questionnaires in order to be invited to a survey.
However, that didn't happen and I was invited to a survey anyway…. it was a survey where I had to rate sports wear and explain why I did or didn't like it.
It was pretty tiresome, took around 10 minutes and was only going to award me 7 pence for my time.
But when I completed the survey and went back to the dashboard…. My 7 pence had not been awarded.
However, when I returned later on…. I seem to have been paid more than 7 pence, which was quite confusing!
I now had 43p! So… I was quite pleased and figured maybe I'd do some more surveys over time and reach the payout…. (which I will explain in a moment!).
There was another survey when I came back – this time only for 6 pence.
But I wondered if I might end up earning more like I did last time.
Overall, while there aren't that many surveys necessarily, they do all seem fairly quick and are easy to do on your smartphone.
Another bonus about it, is that it has a low payout threshold.
Getting Paid With Poll Pay:
You only have to reach £5 before you can cash out here, which is a really great incentive to carry on.
I'm guessing cashout will be $5 if you're in the US.
There are a various gift cards that you can choose from.
Amazon – From £5
PayPal – From £6
Google Play – From £5
App Store – From £5
Starbucks – From £10
And these aren't amounts that seem so hard to reach.
How Else Can You Earn With Pay Poll?
Unfortunately, this isn't an App like Swagbucks, where there are tonnes of different ways to earn.
This is more of a traditional paid survey App and paid surveys is basically it!
However, you can also invite your friends and family.
By referring them with a code you can get via the App, you can earn 15% of everything they earn while they're a member, (at no loss to them).
So, if your friend makes it to the £5 payout threshold, you will earn £0.75.
This isn't much if it's just a few family members, but you'll have a better chance if you have a blog or YouTube channel where you can refer people.
As an incentive, they can also get a £0.19 start up bonus…. Although I'm not sure how much of an incentive 19 pence is to many!
There are many other survey panels that will offer a better bonus than this to sign up.
What Do Other People Say About Poll Pay?
Google Play does have over 30k reviews of this App, with an average of 4.6 stars, which is great.
Although, scrolling over the reviews and the number of 1 stars that recently seem to be posted, I wonder how long they can hold on to that rating.

This App seems to have more recently been added to the App Store, as there are only 12 reviews as of yet, with an average rating of 4.8.
One person on Google Play, claimed they had reached the end of a survey completely and then were chucked off.

Various other reviews also talk about being thrown off a survey too late. There do seem to be more 1 star reviews recently than previously.
I think it can also be easy to jump to the conclusion that you haven't been paid because, in my experience, it took a little while before my earnings showed on my dashboard.
As far as getting disqualified and thrown off surveys go – this is just something that WILL happen with a majority of paid surveys.
I was amazed I managed to complete the first real survey here, because that almost never happens to me.
Is Poll Pay App Worth It?
This App may not have too much going on, but it is legitimate and you can certainly make a small amount of money.
Also, I love the fact that the payout threshold IS low, so that you actually have a chance of cashing out, before you get too bored!
It's not going to make you very much, but if you're looking for an online survey app – it's straightforward, simple to use & has shorter surveys than most.
Disqualification can be annoying, but that is almost always an issue with survey panels.
Looking For Other Ways To Make Money?
Just last month, I made over $2500 online from different things that I've built up over time.
While they're not quick options, like completing a survey, they will pay you much better if you persevere, learn and stick with it.
And the best part is, these are things you can build on and earn more from in the future.
You can see some side hustles I've tried here.
However, at the time of writing this post, I still make the most overall from having a blog or website.
I earn from my blog via paid advertising and affiliate marketing.
If you'd like to learn to do that too, I first started here.
That concludes my Poll Pay App review today, but if you'd like to recommend any other Apps – please leave a comment below!