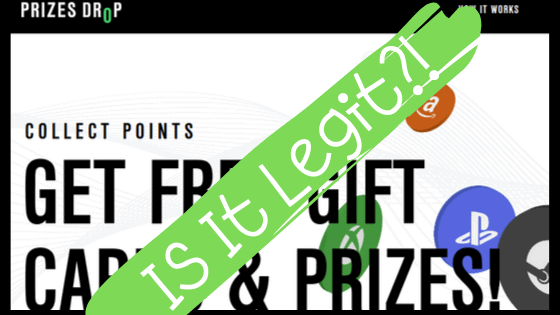 This is another platform I was sent a message about and actually, the layout of the website is practically identical to the last one I reviewed called: Grab Free Money.
Except, with Prizesdrop.com, there looks like there are a couple more ways to earn.
In my Prizesdrop Review, I will quickly explain how you make money, what is on offer and whether I believe it's worth your time.
Is Prizedrop legit? I think so yes, but it's early days and appears to have some glitches.
While it may be legit and I do quite like the layout and design of this website…. I feel there are better sites like this out there.
That said, this is a very new site and it could improve in time.
Honestly, you can really only make a small amount of extra money on sites like this anyway.
If you're looking to make hundreds or thousands of dollars a month online, this is not going to get you there.
How Does Prizes Drop Work?
Just like Grab Free Money, you can sign up quickly with just your email address.
Then it seems you can earn in exactly the same way. The dashboard is pretty much identical, as far as I could see.
So, what ways can you make money??….
1/ Referring Others.
So, the first way you can earn is by referring other people to join and participate on the platform.
You can make $1 per referral, but only once they have also made $1 themselves.
That means you can't just refer anyone, you need to refer people who are actually going to take action and participate on the platform.
2/ Linking To The Prizesdrop Blog.
You can also earn money by sharing links to their blog on forums and websites.
You need to link them to the URL where you have shared the link, in order for them to verify it.
You then earn $1 per referral that come via those links and also between 10-500 points for the link itself.
Presumably it depends how much authority the site has that you've posted the link on, or how valuable they perceive the link to be.
3/ Paid Offers.
You can earn points by completing offers.
This is where you can do things like, join trial offers, join other sites, survey panels and casinos for a certain amount of points.
There are also various games you can join and play, for more points.
For example; there is a game called Crossout – you need to register and play for three days to get 1050 points.
The instructions don't seem particularly in depth – it says to play for three days, but doesn't say how long you should play each day!?
4/ Watch Videos.
There is a section called, "prize Drop TV," and this is where you should be able to watch YouTube videos for points.
However, there were no videos available when I joined. What videos are available, could be dependent on your location.
Getting Paid – How Much Are Points Worth?
It's all very well earning points, but exactly how much are they worth?
Well, there are many gift card and cash out options you can get in exchange for your points.
Some options include – PayPal, Amazon, Itunes, Paysafe, Visa Prepaid card and more.
In order to get a $10 giftcard, you will need to have made 5,000 points.

Most of the cash offers pay you several hundred points – the ones that offer thousands of points tend to not be free offers.
Some offers may involve you paying a small amount to join a trial, or to join a website and make a deposit.
It's these offers that pay the most, but they do require some investment.
If you stick to the free offers, it would take quite a lot of effort just to reach the 5000 threshold.
What Do Other People Say About Prizesdrop?
There has recently been a discussion of this site on the Beer Money forum.
It's here that I discovered that Prizesdrop may be a sister site to the legitimate website – bananatic. See below.
I quite liked bananatic when I looked into it and, if this is true, it would help confirm this websites legitimacy.
They don't have many reviews on Trustpilot at the time of writing, but I noticed they are responding to reviews on there, which is a good sign.
I like it when companies actually take the time to respond to reviews – whether good or bad.
See in the comment above, how they say they are in beta and still testing.
This would explain a glitch I had logging in….
I signed up with an email address, but when you go back to the site later, it asks you to login with a password.
But you aren't asked to create a password when you sign up.
It also didn't allow me to sign up again with the same email, yet said it didn't recognize my email when I tried to reset the password, (which I'd never set in the first place).
Yep…. A bit confusing…. I presume it's just a temporary error and will work itself out soon.
Aside from Trustpilot and the Beer Money Forum, I didn't see any further info about it right now.
This platform is still new in 2019, so presumably this is going to improve in time.
Is Prizesdrop Worth It?
This platform is still new at the moment, but very similar to another platform I looked at called Grab Free Money.
I don't really like how you're encouraged to add links to forums online and – in any case – you don't get very much for referring others.
Only a dollar when your referral also makes a dollar.
If you're still interested in making money with survey sites, via their referral programs, you could check out these 7 options.
If you want to learn more about how you can make more money online from recommending other products and services, this post explains what affiliate marketing is about.
Do you have a favorite rewards site? Let me know in the comments!
Beyond Rewards Sites – Making More?
There are so many ways to make money online, it seems a shame to limit yourself to a few dollars here and there.
Check out these 10 side hustles, that have made me money online so far.
There are ways that you can gradually make more than pocket change online, even if you're broke!
It just takes a little bit of effort, a little bit of time & some trial and error!
Hmm…. Did I mention persistence? That too….
All the best,