Someone sent me a message asking me if I'd check out the "Grab Free Money," platform – so I went to check it out.
I noticed that this really doesn't have that much feedback about it so far and I haven't quite made up my mind about it yet.
Have you tried Grab Free Money & been paid out? Let me know in the comments.
There is one thing I dislike about this platform right from the get-go… I will explain what that is, a little further down!
Is Grab Free Money Legit, Or A Scam? … From what I can see it's legit, but I don't think you can make much here and it's not a site I'd recommend right now.
Stick with me until the end of this post, where I explain how you can make much more than $1 for referrals.
This site seems very similar to another site I checked out called Prizesdrop…. Although, I think I prefer the latter right now. I also believe both are connected to Bananatic…. which is quite different.
Tip – if you want to make 100's or 1000's of dollars per month, pocket money sites won't work!  You can learn to make more here.
How Do You Sign Up To Grab Free Money?
All you need here is an email address and I didn't have to confirm my details, nor give any other information to get in.
This is typically quite unusual for sites like this – but then, you will need to give more information when you join the different offers and survey panels.
However, they do send you an email after to confirm.
When I joined and almost clicked away, they had a pop up telling me I could make an additional $15 once I'd made $100…..
Although, on the actual accept button, it said, "get your $10," not, "get your $15."
I guess it's just a typo…. but it doesn't give the best first impression.
Also, it's a pretty empty promise.
As most people that join sites like this won't stay around to make $10… Let alone $100!
At this point I didn't even know what the cash out threshold was, so I decided to sign up and find out more.
What Is Inside Grab Free Money?
You can sign up with only an email address and that immediately takes you into the main dashboard.
Rather than seeing a dashboard that immediately links you to surveys, this platform seems more keen on paying for referrals.
So, the first thing you see is really your affiliate/referral dashboard.
They will pay you $1 for every new person you bring in to join the platform – but only after your referral has made one dollar.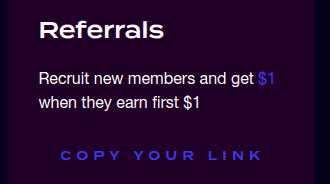 So, it's no use them just signing up, they also need to complete a paid offer or survey of some kind.
Another way you can earn, is via posting links to different posts on their blog.
In addition, they will pay you extra if you place any link to their website on a forum or gaming website.
For this, you get $1 per referral and $0.01-$1 for the link.
I'm unsure how they decide how much you get for the link.
This is something I immediately dislike.
Because, they're basically going to pay you for spamming links on other forums and websites.
Which, by the way, will likely get you banned from forums if you're not careful.
This is even how I regularly get to learn about new websites. People message me telling me to check out websites – with affiliate links.
Their strategy is to message website owners that may be interested in reviewing or using this type of site and getting a referral in the process.
I constantly get spammy comments on on my blog with affiliate links – that is because it is a strategy some programs recommend for making money.
They say to basically put your link everywhere you can – blogs, social media, forums….
This is a low-converting strategy – especially these days, when people are so familiar with spam and more cautious about clicking links from complete strangers online.
While this platform doesn't directly tell you to go out and spam every thing you can, but it's still encouraging you to add links to forums.
Aside From Referring – How Do You Make Money?
After seeing the affiliate dashboard and the various ways you can earn money from referring others and posting links…
The actual "make money," section almost feels like an after thought?
And there is nothing new about what is on offer either.
There is just one page, with an offer wall on it.
The offer wall links you up to various well known companies that will link you to paid offers.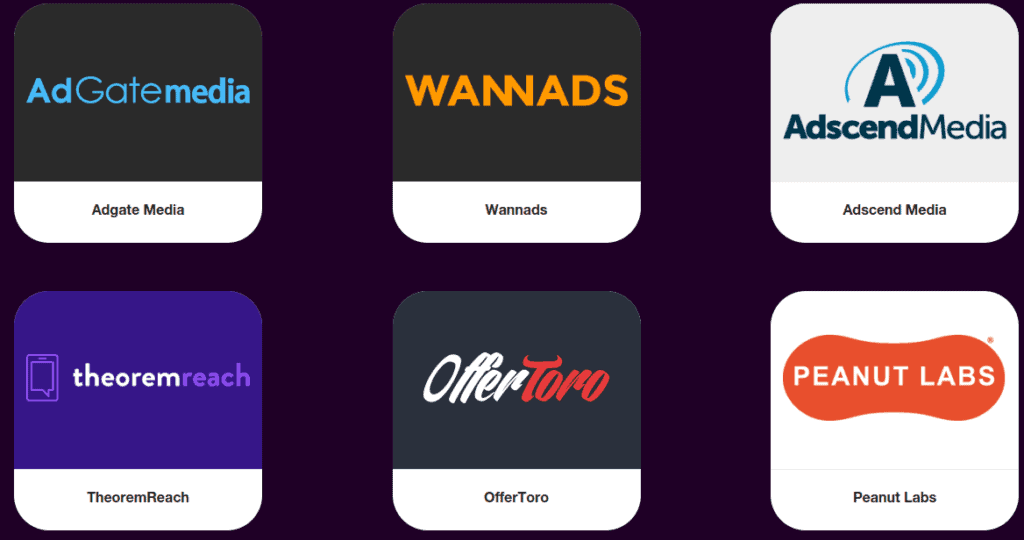 This is where you can make a small amount of money for completing certain tasks.
For example; for signing up to a survey panel, joining a free trial, Or join an online sweepstakes.
They link you up to many providers that I've seen before – such as Peanut Labs, Offer Toro and Persona.ly
These are legitimate offer websites, but this is it as far as the opportunity goes…. There is nothing else here.
The only other opportunity is, a section called "coupons…"
This is where you can find coupons on social media and other websites to earn additional points.
But there were no coupons available when I visited.
If you are interested in making money from paid surveys and offers, I'd recommend you check out Swagbucks and Prize Rebel…
Both of which are two of the most well known of their type and have a lot of different ways you can earn.
In this case though, it could just be that this website is quite new and will grow over time.
What Do Other People Say About Grab Free Money?
There is limited information online about this website right now.
Actually, when I Googled, "Grab Free Money Review," all that came up were reviews for Grab Points, (which is another website that pays you for cash offers).
However, on their actual website, they do link you to reviews on Trustpilot.
Although, at the time of writing there were only 6 reviews on there.

Several weren't in English -in any case, 6 reviews aren't enough to make any sort of conclusion.
No one mentioned having cashed out.
Cashing Out With Grab Free Money:
I'm not entirely sure how much you need to cash out.
When I joined this section, it said it was still "double verifying my points history…"
It said if I continued to use the site it would be verified. I haven't seen this before, so it was a bit strange.
I also couldn't see cash out options – but on their main website page, they do say they pay out with popular known methods, (like PayPal, Skrill and so on…).
I didn't know if I could cash out from a dollar, or 10 dollars. But it does say that I can get a 10% bonus at $10 and a 15% bonus at $100.
Is Grab Free Money Legit:
This website has a few red flags to me that make me a bit uneasy about using it, or recommending it.
I don't like that you can't immediately see Payout information, I don't like how they encourage you to post links on forums and websites.
I also dislike that their primary aim seems to be to get you refer others and post links on forums/websites.
Furthermore, their actual offer section isn't very big and there is nothing else going here other than that.
I think I prefer the very similar website called Prizesdrop…. Pretty much identical, but there is a little more going on right now.
As far as earning any money goes….
Yes, apparently you can potentially get $1 for referring people – but only once they have also made a dollar themselves.
To me, this is the sort of site where people will just check it out and leave once they don't see much on offer here.
So, your chances of making that dollar for your referrals is slim anyway.
You'll have more chance making money from posting links to their blog – but that could be as low as $0.01!
To be honest, their are so many well known survey panels out there these days, that sites like this just don't have much value.
Have you made money on Grab Free Money – what's your opinion?
Do you recommend something else…. Let me know in the comments!
Beyond Surveys & Offers – Can You Make More?
If referring people is what you want to do, you can make much more that $1 for referring people to survey sites.
But the real way you do so is by having your own blog/website and having the ability to sign up to CPA networks like the Panthera Network, or Maxbounty.
These networks will pay you for every sign up you get to certain survey panels and you can get several dollars per lead – sometimes more.
You can also earn more by learning about affiliate marketing in general.
This is where you can earn big commissions by referring people to products and services that you recommend.
If you would like to learn more about how you can make money online with affiliate marketing, I recommend you try the free training here first.
All the best,