Today, I'm looking at another survey-related website that I have recently checked out called Surveytime – found at Surveytime.io
I've must have reviewed hundreds of rewards sites and they're all unique in their own way.
But does this Surveytime have anything extra to offer?
I signed up to take a look.
In my Surveytime review today, I will cover the following topics today……
What is Surveytime.io About?
Signing up with Surveytime – first impressions.
Two different looks, two different panels?
Watch out for trick questions.
My experience, completing surveys.
How do you contact Surveytime?
What do other people think about Surveytime?
PROS VS CONS.
Concluding thoughts – Is Surveytime a good panel?
Beyond Survey Panels – making more $$$!
Tip: Ready to make more online? Try the free training here!
What is Surveytime About?
Surveytime is a website where you can complete online surveys and earn $1 per survey you complete.
These are not surveys that you complete on the survey panel itself, they link you up to other panels where you will complete the surveys.
On the plus side, this means that there will always be surveys to do.
On the downside, it means you constantly have to answer more profiling questions for every site you get sent to.
This really gets frustrating after a while.
What version of Surveytime you get, may vary at this point in time! That's because the site owners are doing an A/B split testing on the site.
That means, 50% of people that sign up will get one version and the other 50% will see another.
However, I don't believe this will be the case for long because they will decide on one in particular and go with that.
I go into this more a bit further down….
Signing Up With Surveytime – First Impressions:
My first impressions of the site prior to signing up were good – a nice clean design and everything looked straight forward and easy to understand.
Right away, you're told you'll need to answer some profiling questions, this is meant to help match you to surveys that are relevant to you.
Although, I'm never sure if this really helps at all! It hasn't seemed to in my experience most of the time.
One of the biggest hurdles in completing surveys, is actually qualifying – this is because companies are looking for a particular demographic to answer them and you may not fit that.
In any case, they let you know that the initial profiling part should take around 7 minutes… But did it? I tested it to find out.
Interestingly enough, it took EXACTLY 7 minutes and I wasn't rushing, so that was accurate.
I found it did ask a couple of similar questions more than once – often survey panels will do this to check you're paying attention.
Be careful to not contradict yourself with your answers, as this can often result in being thrown off from a survey, or even the entire site if it happens too often.
I was then taken immediately to try and match me to a survey, after answering a couple more profiling questions, unfortunately – I didn't qualify.
However, I really liked the cute animation that told me I hadn't managed to complete the survey! 😉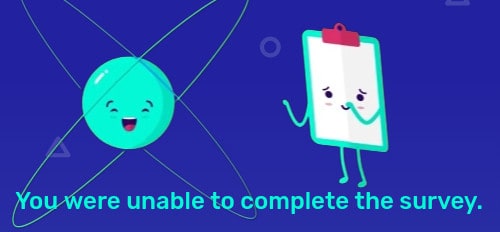 Two Different Looks/Two Panels?!
I didn't realize at first, but when you join Surveytime you may see it in two different ways.
At the time of writing, that's because the creators are testing out which version users like the best.
So, when you login, you may see a dashboard – showing you a range of surveys and how long they will take you, (like below!)…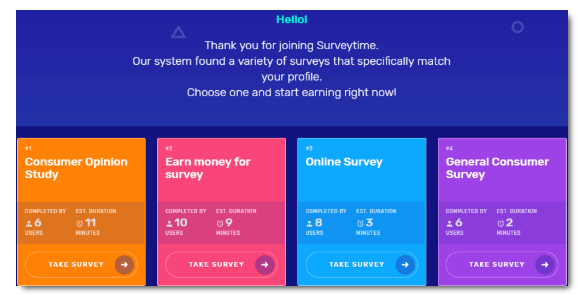 Having a dashboard is useful, because it give you some choice and you may only choose surveys that are the right length.
That being said, I often find that when these dashboards SAY a survey will be a certain length, the survey you actually GET is completely random.
So, you may go into a survey that says it's 10 minutes, but the survey you're actually sent to, is 20 minutes.
I'm not sure this is the case with Surveytime, but it's certainly what I've experienced on other panels like this.
In any case, the above version was NOT the version that I got.
I got quite a different version on Surveytime, that was definitely on the basic side.

In my case, there was dashboard, but only one survey option is available for you to do right away – but there is no specific info about it.
You just have to press the "start now," button and see what happens.
The downside in this for me, is not being able to see what sort of survey I was heading into, nor any other details about it at all.
Watch Out For Trick Questions:
Many surveys will often put in trick questions, or repeat the same questions at different times, to check that you're paying attention.
This is usually not a glitch, survey companies need to make sure you're concentrating
That said, I think Surveytime is a bit glitchy at times and did repeat the same question multiple times in a row.
My Experience, Completing Surveys: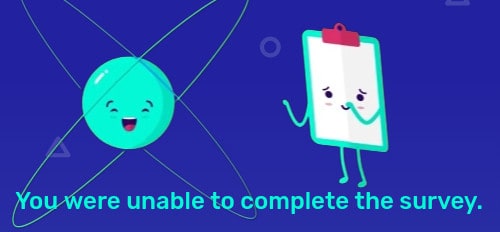 Personally, I've been thrown off every survey so far.
You're sent off to other survey providers for each survey you do – which is very common with many survey panels.
The benefit in this, is that there are often surveys available.
But on the downside, you usually have to answer the same old profiling questions every time you start a survey and most of the time, you probably won't qualify.
More frustrating is, once you get into the survey, but then are chucked off after spending some time on it.
That's what happened to me.
First of all, the survey said it would take 30 minutes… (Surveytime say most surveys should be 10-15 minutes and any longer is "rare,").
Also, I had to answer a lot of questions before even getting into the survey, (What happened to them finding special surveys that are suited to me?).
I then answered questions for about 5 minutes after completing profiling questions, only to be chucked off.
I'd already failed to complete several other surveys by this point – surely there are far easier ways to make $1!!!
Tip: This survey site will not throw you off a survey!
How Do You Contact Surveytime?
One of the key things I look for, when assessing whether a site is legitimate – is if there is a way to contact site support in some way.
Whether an email address or some other way, being able to contact someone is important.
Plus, I also look for a privacy policy page, terms and conditions, or "about us," page.
They do have both a Privacy Policy & terms of service page. But there isn't a clear way to contact anyone that I could see.
What they do have is an affiliates tab, which does send you straight to an email address.
But this is an email address intended for potential affiliates, not for regular users of Surveytime.
That being said, they have told people on Trustpilot to contact them at tommy@surveytime.io
What Do Other People Say?
Surveytime has plenty of good reviews on Trustpilot – although, having experienced the website first hand myself, I was a little skeptical about the glowingly positive ones.
At the time of writing, they have four stars on Trustpilot, but only 100 reviews.
So, some of the comments claiming it's the best survey panel ever, are certainly over the top in my option.
From what I could see, I feel that there are better survey panels out there.
However, the review below is definitely one I can agree with!
It's true that Surveytime only pay you $1 per survey, no matter how long it is.
That means you could do a 30 minute survey, (or longer) for only $1. This is a definite downside for me!
Reviews on other sites that I've seen, are generally OK.
However, there are many sites that don't really try these things for themselves or do their research.
So, there may be generic information regarding how you sign up – but not actually sharing valuable information.
For example; when I think of some of the best panels out there – I look for either panels that pay well, don't disqualify easily, or have a variety of ways to earn.
Swagbucks & PrizeRebel have a variety of different ways to earn and some good added incentives.
By contrast, a survey panel like Prolific looks like a simple site… But actually don't chuck you off surveys and they pay really well.
For me, a survey panel should have something that stands out about it that makes it worthwhile and unique from others.
I guess you could say that the unique feature with this website, is that it pays $1 per survey and pays instantly…
Many other panels could have lots of bells and whistles, but this can also distract people from actually earning money at times.
I think if they improve the platform, the surveys become easier to qualify for and the available surveys really are 10-15 minutes long, then they could end up doing well.
Also, being paid instantly isn't as good as it sounds. A dollar is such a small amount, are you going to notice that going into your PayPal account?
I feel like part of the highlight with survey panels is saving up your points or money, to exchange for a reward you really want.
But I know not everyone feels that way!
PROS VS CONS
PROS
Easy to navigate/simple to understand.
Some cute graphics.
Get paid $1 per survey & get paid straight away.
No minimum cashout amount.
Get paid via PayPal.
Can join globally.
CONS
You can't save up your winnings.
The site a little basic right now & no good if you can't actually qualify for the surveys.
One of the perks is that the surveys are meant to be short, 10-15 minutes in most cases, which isn't the case right now & hopefully will be improved in future.
The site was a little glitchy at times.
Final Thoughts – Is SurveyTime Legit?
SurveyTime is a legit website, but you may struggle to qualify for surveys and you may not feel that longer surveys are worth your time earning just $1.
Also, the novelty of being paid instantly – may fade quickly when it's only a dollar a time you're getting paid.
I sort of like the idea of this simplicity. To just have somewhere you can jump in and do a survey right away and then jump out again.
But in order for that to work well, the surveys need to be easier to qualify for and they always need to be short.
If Surveytime can improve these issues, then it could work well!
Want a $5 bonus? I recommend this survey panel.
Beyond Survey Panels – making more money long term?
If you're fed up of spending hours on survey panels and not getting the sort of rewards you were hoping for, you might want to do what I did!
I started looking for better ways to make money online in 2015 and and now make the most online from having my own website, paid advertising and affiliate marketing.
If you'd like to learn how to do the same, you can learn more for free here.
All the best,