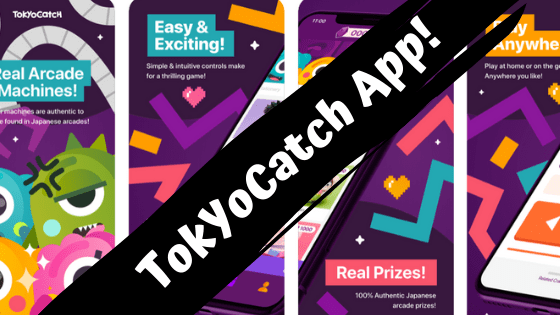 I've been investigating claw machine Apps online recently and today I'm checking out TokyoCatch App.
My kids always enjoy having a go at Claw machines in real life, so I was surprised to find out that there were these Apps where you can win toys.
However, many of these Apps are certainly not cheap and many also have complaints against them, regarding the length of shipping time, prizes not arriving and the quality of products.
In My TokyoCatch App review today, I will let you know not only what I think of the App, but some of the comments other people have made too.
Is TokyoCatch App legit…….. let's take a closer look………
Want to stop relying on freebies & luck? Learn how to build an online income – like I have!
How Does TokyoCatch App Work?
This App is free to download and you can download it free from the App store.
Once you've downloaded the App, they will give you a little introduction, showing you what to do.
IN order to play games, you need to have GEMS, gems are the currency you use to play the claw machines.
Browse the toys available and see how many gems you need to play. If you need more gems, you will need to purchase them.
There are very categories you can choose from, from beauty, stationary, toys, plushies and more.
Playing the game all seemed to be the same amount – costing 120 gems per play, not per prize.
How much a prize will cost will depend on how many games you have to play and this could become very expensive.
How much do gems cost?
A beginner pack of 300 gems cost $5.99 – but there is zero guarantee that you can get even one prize with this amount.
The next bundle up gives you 610 gems and costs $11.99. The more you invest, the more gems you get for your money – but it's not a huge bonus.
For example, with the atomic bundle where you get 610 gems, you get 50 bonus gems.
I think more generous bonuses would encourage more to purchase higher numbers of gems.
Can You Get Free Gems?
When I first joined the App, I was concerned there would be no free play options.
Other Apps allow you to have a free go, before you have to make any payment.
However, I did manage to get some free gems by joining via Facebook.
For doing so, I managed to get 240 gems which = 2 free plays. A couple of free games was worth linking up with Facebook for me.
They also sometimes run campaigns to get more free plays. There is one running right now where you can get 1 free ticket a day, but you need to have purchased at least 600 gems.
How Easy Is It To Play?
Unlike some other Apps, this Apps claw is pretty tricky to use and grip on to toys, as the claws here are two armed ones.
You can see the claw in action below…
I quickly used up my 240 gems and wasn't close at all to actually winning a prize.
This was disappointing, as I'd managed to win a prize with both Clawee and Claw Toys previously with my free goes.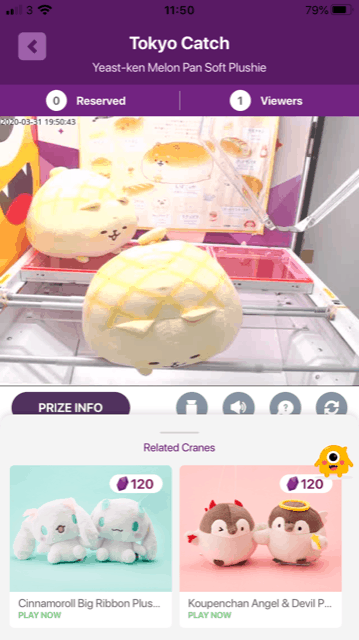 Are The Prizes Any Good?
The prizes don't seem that dissimilar to other Apps on the surface, but there is no variation here with the cost of prizes.
Every prize is set at 120 gems. Also, many of the categories seem sparse… Only one prize in, "kitchen tools," for example and only two in, "fashion accessory."
In comparison, Clawee has many more prizes to choose from and overall, they just seem more interesting overall than here.
This is going to vary from person to person, but there is a more limited choice here.
What Do Other People Say About TokyoCatch?
TokyoCatch does not have amazing reviews on the App store, it currently only has 3.1 stars – which isn't brilliant.
However, it only has 33 ratings, so not very much to go on right now and this is likely going to change overtime.

Overall, people have generally mirrored my own feelings about the App.
Comments such as…
Disappointment that you don't get more chances for free turns.
The claws being very difficult to use.
The games being very expensive – particularly as they are very hard to win.
Some people also complained about a lag, which I didn't experience personally.
My own opinion is that this isn't the best claw app out there – but you still might want to check it out and make up your own mind.
This is still a legit company and you should get your packages sent to you eventually, even if they may take a while.
Is TokyoCatch Legit?
You can legitimately win prizes here and get them shipped to you, however you may have to spend quite a lot of money just to get a single prize.
All prize claw apps are expensive to play and the prizes are not going to be great quality.
But some apps definitely seem to give away more prizes, or be easier to win.
I'm not a fan of the two armed claws, because I find them more difficult.
Beyond Apps – Making An Income Online?
I enjoy testing out Apps that can help me to make some extra money, or win cash and prizes online.
But if you're actually wanting to make substantial money, they're usually just a waste of time.
I've tried various ways to make money online, I talk about 10 key ways I've made money here.
One of the most profitable long term for me, has been having my own website and making money via paid advertising & affiliate marketing.
I didn't have any idea how to do that when I started, which is why I'm such a huge advocate for learning new skills and persevering.
I first learnt how to set up my first website here – and I first joined their free training, which is well worth checking out.
That concludes my TokyoCatch app review for now, but please feel free to share YOUR experience in the comments!