I thought I'd write this Use App review today – because it is a brand new and currently available in the UK – on the App Store and Google Play.
How useful it is at the time of writing, is going to vary depending on your location…!
But worry not, it's free to download and is set to vastly improve over time and offer more deals in your area.
In the meantime, there are a bunch of prize draws you can enter too!
Tip: if you're not in the UK, you can find 14+ Apps that can make you money here.
What Is Use App?
Use App gives you the opportunity to save on the go in your local area.
But what makes THIS App stand out from all the other Apps and websites that provide you with offers online?
For example; things like Vouchercodes, Groupon, or mysupermarket?
Well, you'll be pleased to know that there are a few unique things about this App, that I will talk about a bit further down.
I will say, as far as first impressions go…..I'm definitely not really loving the name. "USE?"
But then, I guess a lot of names really aren't that interesting.
For example; take – Vouchercodes. Which is simply naming exactly what it is… No fancy name there, but at least you're going to remember it.
And even if you don't…. what's the first thing anyone may type into Google when looking for a voucher?…
Yep… "Voucher Code"… (And naturally Vouchercodes is the #1 natural result).
OK, So you "USE," vouchers…. But if you type USE into Google, this App is not going to be the first result that comes up,
Plus, if you type in, "Use App," into the app store, tonnes of irrelevant things come up right now… You can find it if you put in "Use," alone though.
Also, the only way I could find them at all in a Google Search, (after multiple attempts… e.g. USE app, USE voucher APP, USE savings APP etc…..
Was to type in: "Use – Live More Pay Less, " (which is their catchphrase).
…. Anyway! Perhaps when this if this becomes a crazy App, it will show up in Google, no matter what way people search for it.
We will have to see! But I did manage to eventually find their website, so you can get their download links here.
Pin Me For Later 🙂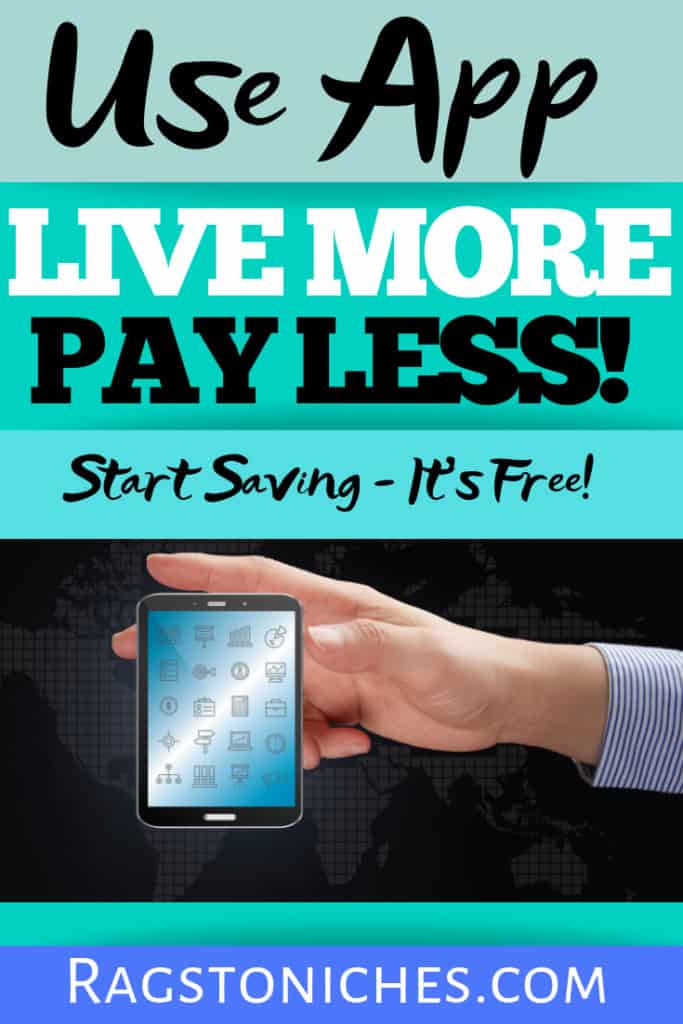 So What Makes USE App unique?
This isn't just an App that gets you money off food and drink, there are actually vouchers for all kinds of stuff, in multiple different categories.
You CAN get money off food and drink, but also other categories such as: days out, entertainment, beauty and health and more.
You can also keep track of all your savings and then actually see exactly how much you've saved over time, which will be satisfying to see if you save a lot.
You can also personalise the offers that you see, so that you only see the type that really interest you.
There are also some cool prize draws you can join, with new prizes coming up on a weekly basis.
So, it's more than just a vouchercode App.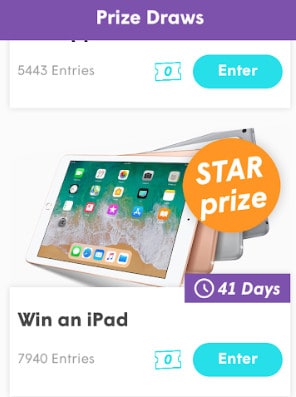 One feature that I particularly like is that – you know where you go to a restaurant with a 50% off but at least two people need to use it?
Well, I believe with USE App, they have ones where you can use it for just one person.
Who Is Use App For?
Of course Use have full intentions to share discounts and vouchercodes throughout the country.
But… Even though they say on their website that they do have great deals throughout the UK, it's not quite the case yet!
I see there are a lot of deals in the Manchester area to my knowledge and I've seen them advertise some in Liverpool & Birmingham.
but you're going to have far less available in other towns and cities at the time of writing.
No doubt that will change in time, just as long as they manage to partner up with the right brands and businesses.
It would be nice, for example, to be able to get deals at your local independent restaurants and that is what Use App are trying to do.
They do advertise this opportunity on their website – so, if you're a small business and would like to feature on USE, you can find out more details here.

As far as availability of offers around the country – they have to start somewhere and gradually build on their foundation.
For me right now, there are not many offers. For example; I just about had one restaurant offer close enough to me.
All the other restaurant and bar offers, were many miles away and closer to Manchester.
In entertainment, the closest offer was over 30 miles away! What about others?
Fashion? 34 miles away…
Beauty? 24 miles away…
Health and fitness? 28 miles away…
Days out? 31 miles away….
Goods? 27 miles away…
You get the picture, there isn't much going on for me…. but this is going to improve and they will expand to more deals throughout the country.
Depending on where you are, your best bet is to just download the app and see how much is available near to you, it will be improving in time.
Signing Up With USE:
The App is totally free to download via the App Store or Google Play.
You can sign up using your email, or simply by connecting Facebook and you're good to go.
Despite the fact I didn't have many offers near me, (which I expected anyway at this point) the App itself is slick and easy to navigate.
Some people had complained in reviews about the App being glitch, but I believe this has been resolved (I mention this further down).
I personally haven't experienced any glitches at all, the App is simple to use and I have had zero issues so far!
Prize Draws:
One unique feature of this App is that there are various Prize draws that you can enter.
They actually show you exactly how many entries that have been made as well – so, you can see how good your odds are for a particular prize.
You can get multiple entries per prize draw, so presumably your odds are better than they look anyway.
At the time of writing, the prizes available to me were:
Win Apple earpods,
Win an Ipad,
Win a shopping trip to Selfridges,
Win a Huawei smartphone.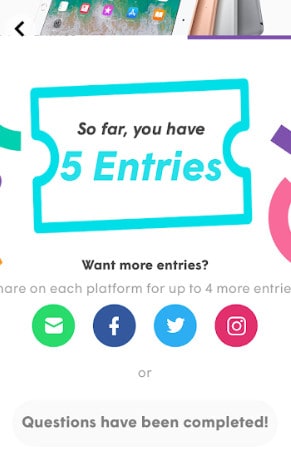 How do you get entries?
To participate you do need to have entry tickets.
In order to get them, there are a couple of things you can do:
Share the competition on Facebook, Twitter, Instagram or Email – for up to a possible 4 extra entries, or answer Questions, (mini surverys).
By answering surveys, you can get quite a lot of entries. I did get nine entries for one of the mini surveys – which tend to only be a few questions and take no time.
Try My Favourite Rewards Site – Get A £3 Bonus!
What Do Other People Say About USE App?
At the time of writing, USE has four and a half stars on Google Play.

Use actually has 5.0 stars on the Apple Store right now as well.
However, the reviews are still on the low side yet for a popular App – at both under 300.
Also, some of the reviews seemed a little odd to me and actually made me chuckle a bit…
As they really don't sound like they've been written by people who have used the App.
Take a look below….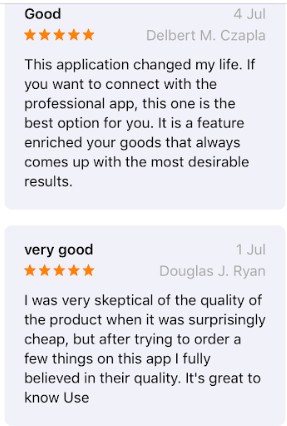 Both of these are weird, but look at the top one.
They say: "it is feature enriched your goods that always comes up with most desirable results…." Eih?!!?!?
What about these ones below….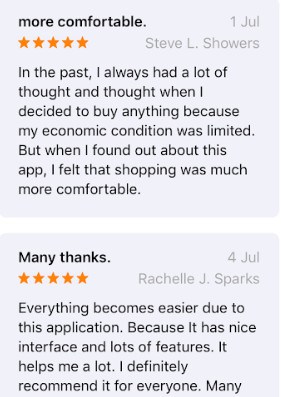 Again, the top comment here is pretty weirdly worded. And um…. written by Steve Showers!? Really?
The comment below that says that, "everything becomes easier due to this application…" Interesting.
So, make of that what you will! 🙂
Aside from that, there are plenty of regular reviews and many of them are positive.
There are some one star reviews, mainly due to just a couple of reasons:
Glitching issues – which I believe are resolved now.
Not having any offers close to them – which is an issue that will improve over time and is a work-in-progress.
USE App Review Conclusion:
This App right now, is still a work in progress and how well it will due in future, remains to be seen.
How worthwhile and useful this App will be to you, will strongly depend on where you are located and obviously whether the offers available, are actually going to be for things that suit you.
For now, even if you don't have many local deals nearby, there are always the prize draws you can enter.
Obviously, you'll have a higher chance of winning while the App is still new, as less people are using it currently than they are in the future!
Also, if you're someone who frequently travels around the country, then it's going to be worthwhile having downloaded anyway, as you can check offers in different Cities.
Ultimately, while the Use App certainly isn't very useful to me right NOW, I'm looking forward to when I will have deals closer to me.
As I've already entered into the Prize draws, I'm going to be keeping this App on my phone for now.
The App itself is slick, easy to navigate and decent to look at and interact with – I hope it continues to grow and improve in time.
Have you had any experience with the Use App? Let me know in the comments below!
Beyond Apps Online:
Saving money is great, what what about actually making money online?
After spending years entering prize draws and competitions online, I wanted to look for more long-term ways to bring in some extra money.
Right now, I'm interesting in building little income streams that can grow over time.
If you'd like to do the same, you can find 40+ ways to start making money here.
All the best,