In my Valued Opinions UK review, I will be checking out how legitimate this website is and whether you can really earn rewards.
I'm based in the UK myself and therefore this review is based on the UK version.
However, if you are in the US, you can visit Valued Opinions USA here.​
If you're interested in survey sites, you may also like….
What Is Valued Opinions UK?
This is one of many survey-related sites, that will pay you a small sum in exchange for you sharing your views and opinions on various topics.
You'll share these opinions from participating in surveys they provide you with.
Each survey will take a certain amount of time and you will be paid a different amount per survey.
On their main page they claim that they pay up to £5 of credits per survey completed.  Once you have enough credit to withdraw, you can withdraw your funds via various gift cards  – such as Amazon.
As I've reviewed a large number of survey sites in the past, this number seemed very high and I suspected that only a minute amount of surveys would ever pay £5.
In my experience, surveys tend to pay up to £1 and perhaps slightly more – but not £5.  Well, I signed up for myself to see if I could see any surveys paying up to £5.
Have you been paid £5 at valued opinions?  Leave me a comment below.
Useful Post:  If you're fed up of earning pocket change, try this.
Signing Up & Getting Started:
Unfortunately, when I went along to sign up – I was greeted with the following message:
How disappointing!  Therefore, I have had to leave this review in a state of limbo.
I will return and update it once I can get inside and participate in some offers.
But in the meantime, please share any of your own experiences of Valued Opinions UK – whether good or bad – in the comments section below!
Valued Opinion Reviews Online:
As survey sites go, I was initially impressed by the large amount of positive feedback for this website, so it's unfortunate that I couldn't get into it myself and check it out.
Therefore, I had to have a little look over the net and see what other people are saying.
At first I thought there would be a lot of positive feedback, but there appears to be an increase in negative reviews in the last couple of years.
In my experience, people are more likely to feel compelled to write a bad review than good; because often when people are angry, they want to vent their frustration.
Whereas, unless someone has an exceptional experience, they may just be satisfied with that and not actually go out of their way to write a review.
It's also quite difficult to trust some of the reviews online, as some companies will pay others to go out and post 5 star reviews where they can.
Although, sometimes this is more common with sites that already have terrible reviews, as a kind of damage control.
For example; for some scams you may see a lot of low rated reviews, (understandably) but with suddenly all these five star reviews popping up and looking totally out of place.
Fake five star ones tend to be quite pretty empty as well, not very detailed, or on the flip side; they sound too scripted.
That aside, the one star reviews out there; seem to resolve around the same couple of issues
​ banned for, *no reason.* Having account closed and shut down, not receiving the points.  This is such a difficult one, because can be down to human error, or a fault in the system as well.  Often people may not realise when they are violating the T&C's.
Being disqualified from surveys, (same issue across the board).
Lack of surveys, (although some claim there are lots of surveys!).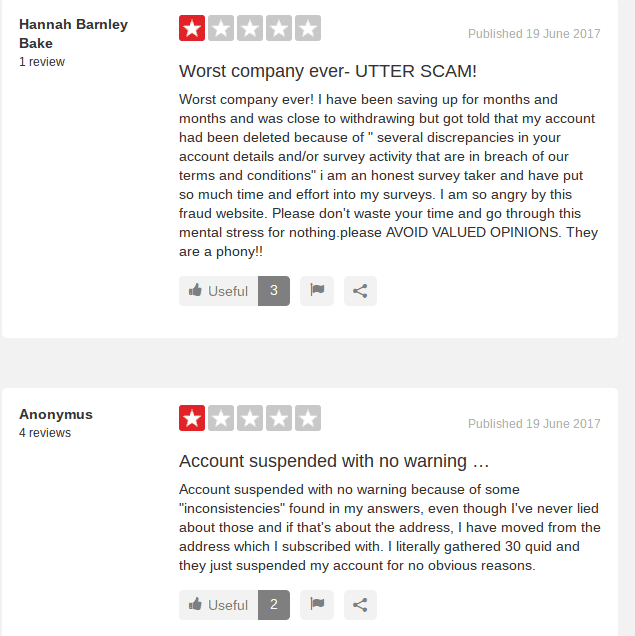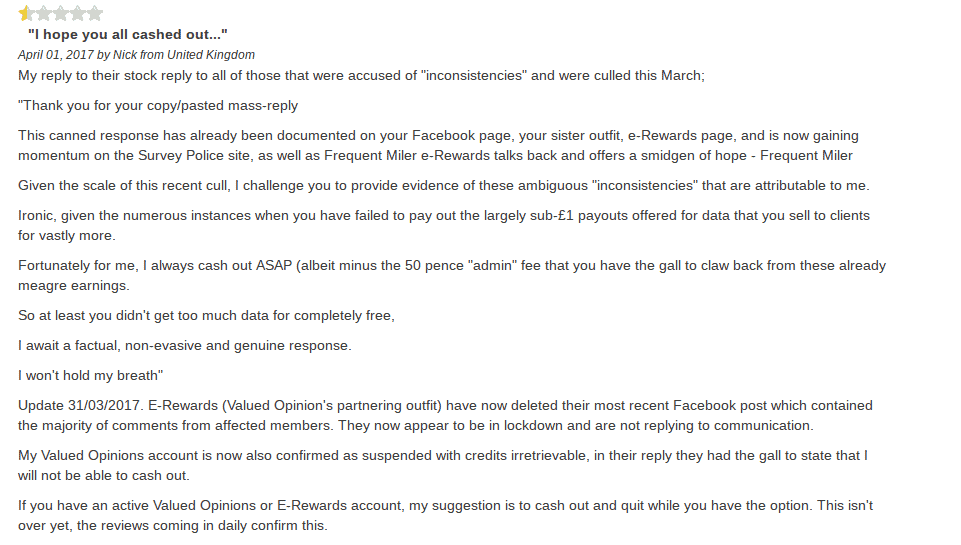 On the other hand, some people have certainly had a positive experience.  Good points that stood out for me were:
​Regular surveys sent and interesting variety.
Quick payments, no issues.
Well priced surveys.
Variety of rewards.
Trustworthy.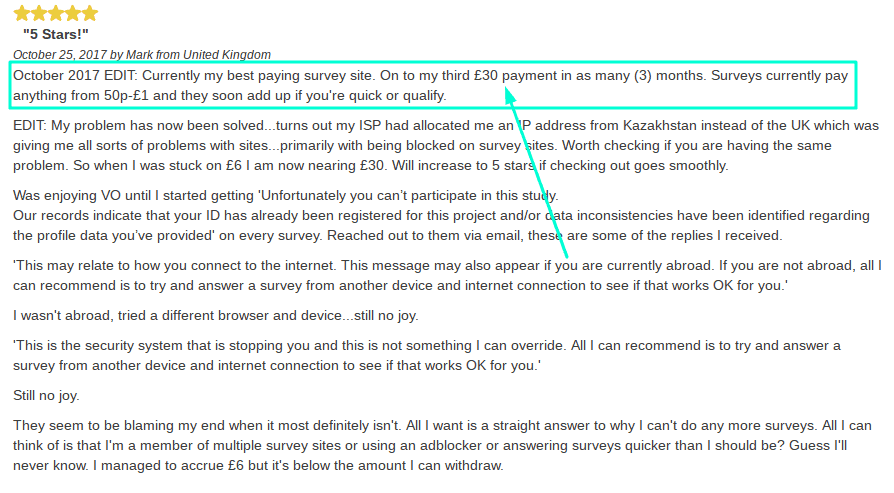 ​So, overall it's a little bit of a mixed bag, but a lot more positive feedback than many survey related sites that I look into regularly.
Have you had much luck with Valued Opinions?  Please share your own story in the comments!
Beyond Survey Sites:
Survey site wise, one of the few I still use myself, (mainly for their search engine/cash back) is Swagbucks.​
Although, primarily I now get Swagbucks via their affiliate program.​  There are affiliate programs for most products and services online and is a legitimate way that thousands of people make money – by connecting others to products and services online.
If you'd like to learn more about affiliate marketing and how you could earn money from it – this is where I got started.​
​If you have any questions, or would like to share your experiences over at Valued Opinions UK – please do leave me a comment below.
All the best,