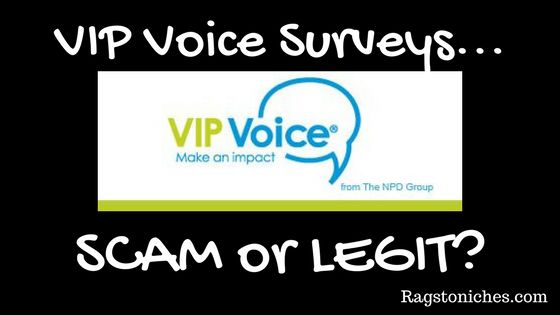 What is VIP Voice surveys About?  Another paid-survey scam site, or is this a legitimate business?
VIP Voice certainly has a lot of mixed reviews, but it has been around a long time and has many long withstanding members.
They are currently only allowing members of the USA or Canada to join, so to other readers worldwide, this is not one for you.
VIP Voice does have over 3 million members, and while not all of these are going to be active, clearly plenty of people still think it's worthwhile sticking around.
BUT, although this is a legit site, it doesn't rank highly in comparison to other sites of it's type that I review – and I will explain why in a second!
All survey related sites have downsides to them and those that have been around a while are bound to accumulate some negative feedback too.
What I will outline in this review, is what some of those complaints are, whether it's worth your time signing up and whether there are better alternatives.

What Makes VIP Voice unique?
There are a couple of things that make VIP voice unique from other survey sites.
Unfortunately, these things are also the sites downfall, in my opinion!
VIP Voice Rewards System:
A vast majority of survey sites today, pay via gift cards or cash.
However, VIP Voice has an unusual way of rewarding you.
You earn points for participating in surveys, but rather than being able to directly exchange those points for cash or giftcards…
You either have to BID on prizes/giftcards, or enter a sweepstakes to win them, using your points.

Obviously, if you're fortunate to win one of the bigger prizes, that would be nice for you – but the chances of that happening are slim.
Take this from someone who used to enter sweepstakes online – for hours a day!
Also, since you're bidding to win gift cards, there seems no way of actually knowing what these VIP points are really worth!
Because, someone could end up bidding $15,000 for a $10 giftcard and winning, but another person could end up bidding significantly less and win on another occasion.
From my view, you should be rewards for the time you are putting in and not have to mess around just "hoping," that you might be a winning bidder, or a lucky sweepstakes winner.
It just seems a bit nuts to me, but some people obviously enjoy this system and maybe you will too….
I just don't know why you'd go to all this effort – for potentially zero reward.
If you're a member of VIP voice and love their system – why not leave a comment below?
VIP Voice Referral Program:
The referral program is unique, because it pays you a one off fee of 250 VIP points per referral – once they've completed their first survey.
Other similar sites tend to pay 10-20% of everything their referral earns, for the lifetime of their membership.
The second way sounds better, because it's ongoing – and it is better if you have a lot of active referrals.
The only downside is to having a percentage, is many people who join survey sites do not remain long at all.
So, you may only get a very small amount per referral – if they ever become active at all that is.
With the VIP voice way, they only have to complete one survey and you get your commission.
While I do see some benefits to this, if you build up a lot of referrals long term, getting a percentage long term is better.
Because ultimately you build up some referrals that are more active over time and you will profit from that long term.
Additionally, VIP voice only allow you to refer via email anyway. Whereas, with a referral link, you can share via social media, or on your blog/website.
Really, referral programs should only matter to you if you have some sort of platform online anyway, (e.g. blog/YouTube channel/large social media network) whereby you'd be able to generate enough referrals to make it worthwhile.
If you want to learn how to build a platform to generate money, this training can help you.
VIP Voice Complaints:
When VIP Voice email you with survey opportunities, they don't actually tell you right away, what you'll earn, nor how long it will take.
This seems a bit of a sneaky way to try and get you into the survey, without telling you the facts about it.
Another common complaint is that peoples accounts are closed down for no reason.
I always take those complaints with a pinch of salt though and here's why:
Understandably, survey sites are trying to get genuine answers in their surveys, but so often the people doing them try and rush through and don't read the survey questions carefully.
So, the survey companies try and trick the taker, by asking a variety of very similar questions.
If there is any contradictions in their answers over a period of time, they may decide that the survey taker is not giving honest information and closes their account.
Many people then argue they had their account closed without warning for no reason, but I don't think you can rely on those types of complaint.
Also, the amount of points you earn per survey is linked to how many surveys You've done.
So, at level one, you get 25 points.  At level five, (20 surveys) you get 200 points.  This is seen as unfair by some new people coming in.
While I can understand it may give incentive to others to keep going to reach their next stage, it must also be frustrating that other people are doing the same tasks for considerably more points.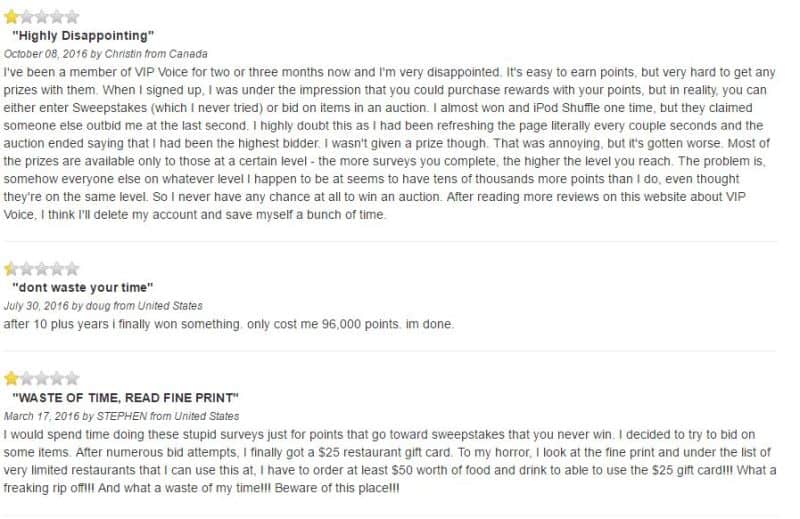 The thing about survey sites and related sites, is that there are so many of them and new ones popping up all the time.
So, it's not like you're going to be stuck for choice.
Although, many survey sites really don't differ much in terms of pay and a majority will have very mixed reviews too.
So, if you want to be involved, just see what it's like and you can make up your own mind.
What Survey Sites Do YOU recommend?  Let Me Know In The Comments!
Conclusion: Is VIP Voice A Scam?
I don't think this website is a scam, but I do think it will be quite a waste of your time and they're not making it any better with their weird rewards system.
The points for better prizes run into the tens of thousands.  So, you'll need to be saving a whole lot of points for anything decent.
The amount of time and energy you'll put into saving points, could be better spent actually earning money.
Starting your own blog/website for example; which is really simple to get started, hardly costs anything and is v.low risk.  (You're not going to lose much by starting a blog!).
VIP Voice is not a terrible website, but just don't be fooled into believing that this is an awesome way to make extra money online.
Survey related sites can make you a little bit extra each month, but they aren't going to be life changing and they are time consuming for how much you earn.
You can check out my Top Extra Income Sites Here.
Alternatively:  if you're more interested in making money online in the long-term; check out my 40+ ways to make money online.
Some people enjoy getting a buzz out of bidding an entering sweepstakes and hey, if that's you, then totally go for it.
But there are definitely better ways of making a little extra online, (or more with other opportunities).
Some members claim to have been offered good cash paying survey via email now and again – but seem unsure why they've been selected, (around $25).
Have you been offered larger sums of cash for surveys?  Let me know in the comments!
That about wraps it up!
If you have any questions, comments, or suggestions – just enter those below this post.
All the best…