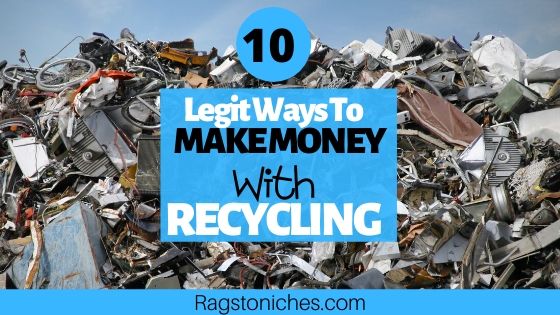 Being "green," and environmentally friendly is such a current and important topic now.
But as well as being an important notion in general, it can also be profitable to recycle your stuff.
Sometimes your old junk can actually be just what people are looking for!
I've noticed a lot more people putting out boxes of free stuff in front of their homes.
This has happened more over the last few months and I've rarely not taken something home when I've passed them!
In fact, it seems to have had a knock on effect and more and more people are doing it!
In any case, while giving away things for free certainly has its place and is a great thing to do, it's also possible to sell recycled products.
But what kind of stuff?
Want to make MORE money? These side hustles worked for me!
1. LEGO:
Everyone loves Lego – but it's pretty expensive stuff isn't it? No wonder parents everywhere want to pick it up second hand!
While you could certainly sell it online directly yourself, somewhere like Ebay – there are also companies that buy lego from others.
So, some people even turn recycled lego into a business and if you're an extreme lego fan, there are various way you can make money from Lego online.

2. Computers:
If you have an old computer that you no longer want, you can recycle it.
No problem is your computer doesn't work either – as you can still sell it for spares and repairs. In fact, many items are sold on Ebay in this way.
It doesn't just stop at laptops either – any old or either faulty electronic goods can generally sell for something.
Also, it's worth remembering that any computers contain toxic substances that must be handled properly.
Computer batteries, for example, often contain mercury, and some displays are made of lead – you don't just want to throw them away.
There are various ways you can sell your used computers – from many second hand electrical goods shops, online market places and also, (for a lower amount) other companies online.
To get the most money, you'll want to sell directly. Companies like Music Magpie will buy second hand electrical items from individuals – but it will be for less than you can sell it for yourself.
Some second hand shops have deals where you can exchange items for OTHER items in their store. This can work very well.
I've exchanged a bunch of old electrical items and games for an Ipad Pro before in this way and because I just had all this stuff laying about – it felt FREE and was so easy.
3. Car Tyres:
Car tyres can get expensive and personally, we always get used ones anyway and so we would rarely have any hanging around.
However, it is possible to sell used tyres online, that are still in good condition you can get something for them – so don't just scrap them!
Either you can sell them on an online market place – or you can return to a car dealer and see what they will pay for them.
Although, be prepared that it may not be much!
4. Bottle Caps:
This was actually new to me, but something I will seriously consider from now.
I'm used to saving all our bottles and cans for recycling – but in our area at least, you're not permitted to leave bottle caps on the bottles, nor plastic ones, (if you do your recycling isn't collected).
So, usually I'd toss away metal bottle caps from a beer bottle, or other glass bottle.
However, if you collect those up, you can sell them in bulk online. People want them for crafting!
I even noticed some plastic bottle caps as well, so you could save those up.
Admittedly, you're not going to make a fortune selling these… But some money is better than none right?
I'm in the UK and saw a bunch of listings with bids on them and still time to go…..
5. Toilet Roll Inner Cardboard Tubes:
I mentioned this one some time ago where I wrote a post about weird things you can sell on Ebay.
But it was so weird, that I thought it worth mentioning again.
Actually, it looks as though some people have set up a mini business doing this and with the amount of toilet paper a typical family of four seems to get through, (in my case) maybe it's worth it.
There is just so much recycling that we don't consider could be worth money and if you go through it all, it does add up.
Admittedly though, I saw quite a bunch of listings in this case with ZERO bids.
So, it doesn't look like a big money maker!

6. Old Carpet & Rugs?
Ok, sounds a little bit gross…. At least when I consider my own carpet which must be over 15 years old and would be no good to anyone.
However, many types of carpet or rug can be recycled. The materials can be reused and turned into other products, for example. Including creating new rugs!
There are businesses online that focus on carpet recycling – but there are also people online willing to purchased discounted and used carpets and rugs on online market places.
This may be because the cost of new carpets can be very expensive, or to reuse the materials in their own projects.
Of course, typically you'd want the carpet to be in good condition – unless it was being sold purely for an alternative use and not as a carpet in someones home.
7. Car Batteries:
Don't forget to take your old car's batteries to your local scrapyard to get some cash.
They will be purchasing it from you for the batteries lead core, which has some value and can be reused.
You want to make sure you dispose of Car batteries carefully and passing them on to someone who can repurpose them and recycle them is going to be beneficial.
You are only going to get a token amount of cash for a used car battery, but it's a little extra that you wouldn't have had otherwise.
8. Mobile Phones:
I've been guilty of having multiple old mobile phones laying about my home – usually many of which are broken and faulty.
You can sell even broken phones online, but also exchange working ones in certain shops or online.
I once exchanged some old phones to get my son a second hand ipod touch, for example.
Typically, you will get more for exchanging IN STORE, rather than getting cash. But you will also get more for selling independently – it's just less convenient.
So, don't just let your old mobile phones gather dust!! See how much you can get for them and potentially exchange them for a new phone, laptop or ipad.
9. A Used Mattress?!
This also sounds quite horrible to me and buying a used mattress from a stranger is personally something I wouldn't do.
BUT…. let's be realistic, some people struggle to buy new mattresses. They can be incredibly expensive and sometimes you can find barely-used mattresses for sale.
Some people like to frequently change their mattress, or just need to for health reasons.
A majority of people presume their old mattress is junk and that they couldn't give it away, let alone sell it.
But that's just not true. Some people out there are looking for a bargain mattress for a good price and actually, some still go for reasonable money when they're in good condition.
So, if you're looking for a little extra cash – don't forget about your mattress next time you change it.
Also, tossing out a mattress is no good for the environment! Think about how big mattresses are? And the amount that are just taking up space in a dump somewhere.
10. Home Appliances:
It's not just your regular electrical items you can sell, or recycle – but many other household appliances as well.
Even some that are well used and past their best, could be the bargain someone else is looking for.
Some examples of things you shouldn't just throw out include…
Cooking appliances… (toasters, kettles, slow cookers, deep fat fryers, air fryers, panini makers, popcorn machines and so on….)
Hoovers,
Steam cleaners,
Irons & ironing boards,
Refrigerators/Freezers,
Microwaves,
Dishwashers,
Sewing machines….
And pretty much any other useful household appliance you can think of!
Good quality branded items that are brand new can cost a large amount of money – yet some can get these items second hand at a fraction of the original cost.
How about if you happen to have a SMEG refrigerator, for example?
There is one on Ebay.com selling now that is already close to $300 and still plenty of time left to go.
I saw another on Ebay.co.uk at £200. However, many would still happily pay a decent price for a SMEG product, as it's still a huge discount.
The last thing you want to do is just chuck your old appliances, (working or not) into landfill – as there are many negative environmental consequences.
Plus, it's just such a waste, when many of these items would be happily taken by someone else…. Sometimes for good money too.
Pin Me For Later 🙂
What Recycling Will You Sell Next?
Hopefully, next time you'll think twice before turfing out your next lot of "junk…."
Before you make a decision, consider doing a quick search online – to see if anyone is buying the item, (even if broken!).
If you'd like to scale this to another level, consider that some people are happy to give others their junk, just to remove it from their home.
It's possible to turn this into a business by selling on products that you take off other peoples hands for free.
The downside to this is that you will need a suitable place to store everything you take and some things you could end up unable to sell.
It's a good idea in this case to be selective – only collecting old electrical items and appliances for example – which you should be able to sell on, (even when faulty).
Making More Money:
Making some extra cash from recycling items in your home and so forth, is only going to get you so far.
I started out online from winning all kinds of stuff, by entering thousands of sweepstakes per month for free online.
That got me initially interested in other ways I could make money in the long term.
Now I earn a full time income online from various side hustles — you can find out ten I've tried here.
Feel free to leave a comment below!