What is Onepoll?  A Scam?  Or Legit Survey Related Website?
I will give you a run through of what the site has to offer in my Onepoll review – as well as the criticisms of this site – and you can make up your own mind!
Review In Brief:
Website: www.onepoll.com
Money Making Opportunity: Peanuts, (if you're lucky).
Cost: free to join.
Vedict:  Legit – but not escaping plenty of criticism, see why below.
Alternative:  For a far lower payout threshold, this is my favourite rewards site.
---
What is Onepoll About?
Onepoll is a straight forward survey site that is free to sign up to, although you will have to tell them quite a bit of information about yourself.
For example, personal details about your income, whether you have children, their birthdays/yours, your employment status and so on.
What struck me most about onepoll was the size – there isn't much too this site and yet, from the look of the welcome page, you'd expect a lot more.
How Can You Earn Cash?

You can earn via entering surveys – plus some money from referring friends, (which I explain more about below).
Upon arrival, there is a list outlining all the surveys that you can complete in order to make your first £2.50 – which is quite helpful to get your started.
However, you may be put off when you see how long the list is.  I delved into the first mini survey – which took around 10 minutes and earnt 20p.
Every mini survey on the list would earn you 20p.
There are two types of survey – one is to make straight money from and the other is for competition entries.
Onepoll holds random prize draws/sweepstakes for money ranging between £100 and £1000.
In addition, you can also refer friends in order to make extra money, but there is a limit on that.
You can only refer 10 friends.  You get 50p for every friend that signs up.
If that member makes £20, you get £1 and if they make £40 – they give you £2.50.  While this is better than nothing, it's really nothing to get excited about.
You can also only refer them via completing a form, filling out email addresses.
Fed up earning peanuts with surveys?  Try something new.
Unfortunately you have to make £40 before you can request a withdrawal.
This is outrageously high in comparison to other competitors these days.
A majority of people signing up to Onepoll, will just not stay long enough to reach that threshold.
Most people who sign up to survey sites rarely take any action… many may take a survey or two and get bored and quit.
This is actually quite convenient for Onepoll, as it would mean they would have to pay out significantly less than other companies that offer a lower payout threshold.
They manage to get a vast amount of surveys completed, without paying anyone a penny.
OnePoll Negative Reviews:
You don't need to look far to catch a glimpse of multiple complaints against Onepoll.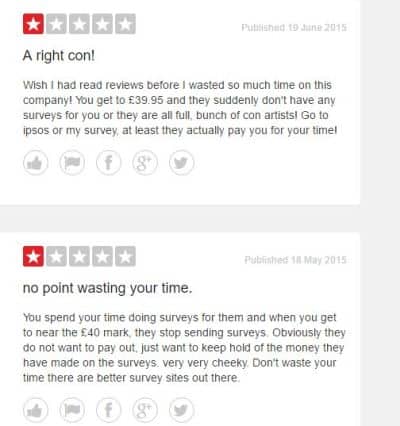 One common complaint that arose time and time again was that they leave you hanging once you're almost at £40.
Whereas there were once plenty of surveys to do normally, suddenly they all dry up once you're almost at pay-out time.
This is a criticism I've seen made regularly through various sites, so this isn't unique in that respect.
In addition, if you do manage to get your payment approved, you then wait up to 28 days to get it.
Why?  You can ask for withdrawal via Paypal, so why would this take 28 days?
Again, this is not uncommon with some survey sites but… also totally unnecessary.
That said, I've also heard from perfectly happy customers who have received their money in time with no issues whatsoever.
So, it's a bit of a mixed bag as far as people's experience goes!
If you're happy, (or not) with Onepoll – let me know in the comments! 
OnePoll overview – promotional Video:

According to their own promotional video, 91% of customers would recommend onepoll.  Do you agree?
PROS VS CONS
PROS
Easy to navigate and user friendly.
Simple steps to your first £2.50.
You can earn some money via recommending friends and family.
CONS
Ridiculously high payout threshold at £40 – they need to adjust this to match some of their highest competitors.
Not much going on, no variety.
Lots of negative reviews.
A long time to wait for payment, (up to 28 days).
Conclusion – is OnePoll A Scam Or Legit?
Onepoll is not a scam, it's a legitimate company online where you can earn a small amount of money by doing online surveys.
Many people have certainly been paid – even if it does take a long time.
Unfortunately, as is the case with many survey sites, they do also exhibit some scammy tactics.
For example, having a high payment threshold to avoid paying out to a majority of people who will sign up.  Hopefully they will change this soon to be able to compete with their competitors.
Also, stalling people from completing surveys when they are almost at target is a big red flag and needs to be addressed!
Doesn't this look like a tactic employed to try and get people to give up and forget about it?  Maybe a majority do!
Every time one person gives up, they're let off paying out £40.
Basically, it seems they try and make it as difficult as possible for you to actually get paid.
The worry is that you will spend vast amount of time and effort on these surveys, only to be let down at the last hurdle.
How would it feel to suddenly have your account blocked or have no surveys to complete when you're pennies from reaching their £40 threshold?
Ultimately, survey sites are very frustrating in general, they pay next to nothing for your time and effort and – at times – you will struggle to get any money at all.
Alternatives To Onepoll:
If you're still interested in signing up to survey related sites – there are a whole bunch with far lower pay out threshold.
Personally, I prefer sites that are what I class as the "all-rounders" which include other ways to make money online too – such as pay to search, cash offers, cashback, watching videos or playing games.
That way, you have a much higher chance of reaching threshold more quickly – because certain other tasks can pay more and having a variety of things to do, can simply be more interesting.
My favourite online survey-related site is Swagbucks, because they have a a wide variety of ways to make money, (not just surveys) including some effortless ways, such as using their search engine or cash back offers.  (it's free to sign up).
Recently, I also reviewed 20cogs, which is a site where you have to complete offers, but can come out with a lump some at the end… More than likely £200+
However, you will never make much from these type of sites.  At best, they are pocket money opportunities.
Watch out though, there are plenty of scam sites out there claiming you can make thousands from online survey sites – but this is completely untrue.
If you'd like to build towards earning more of a part-time, or even a full time income online – there are plenty of routes you could take, but they will all take effort.
I make the most online right now from affiliate marketing & I learnt about that over here.
They have a really good free 10-part course and a 7 day trial, so you can check out everything for free.  See how you like it!
Do you have any views on Onepoll – or survey sites in general?  Let me know in the comments below!
All the best… 🙂