What is Opinion City: Scam – Or Golden Opportunity?
I've written about a large number of survey related sites and I will just say now that there are plenty of these sites that are totally legit.  They just don't pay very much for your time.
However, out of the ever expanding number of paid survey sites online, has emerged another bread of site: these are the survey hub types, (and the type that Opinion city is most closely related to, albeit with a twist).
The survey hub type, is simply a portal which links you up to various other survey websites online and that's about it.
Apart from the legit survey sites and survey hubs, there are also blatant scams that will claim you can make hundreds, or even thousands of dollars per month by completing surveys online and will often ask you to pay to access their database.
Even if these survey sites DID pay well, (and they don't) you'd likely give up out of sheer boredom and frustration anyway.
So, unless you're a robot, taking these online surveys is a lot more hard work than you may imagine.
Not only are they tediously repetitive, but you'll also be lucky to actually answer a single survey all the way through.
That's because you're often chucked off before you get to finish, because you won't qualify for very particular criteria a particular company is looking for.
That means, a 10 minute survey – will turn into multiple times that length, because more often than not you'll have to start multiple surveys before you can complete a single one.
>> Fed up of earning peanuts online? Try this instead!
How Does Opinion City Work?
So, Opinion city isn't as deceptive as some programs… because they aren't charging you here to access a database.  But that doesn't make this a good option either and I will explain why below.
On some level, Opinion City are similar previous program I reviewed called survey sheep, or top paid surveys.  That is, it's a portal, within which you can access other survey related websites.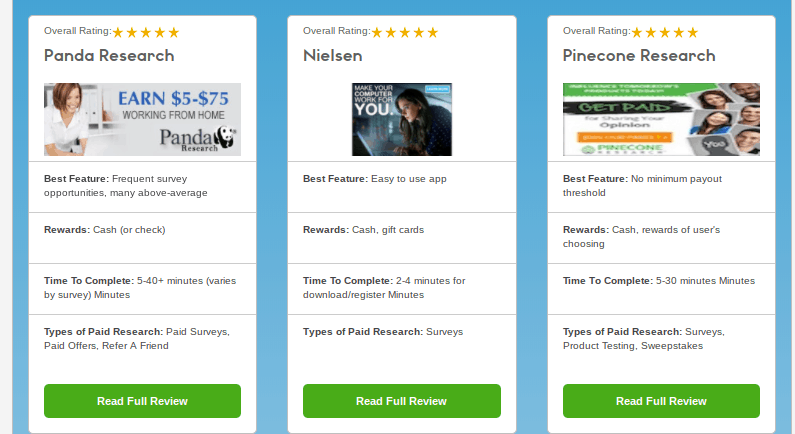 HOWEVER, whereas somewhere like survey sheep largely connects you to well-known survey sites.   Opinion city is also more than comfortable enough to link you up with far less legit opportunities as well and use dishonest tactics to lure you in.
Take a look at where it says there are limited slots available – for things like panda research!  This is completely untrue, there are unlimited spots available on these websites and anyone can sign up.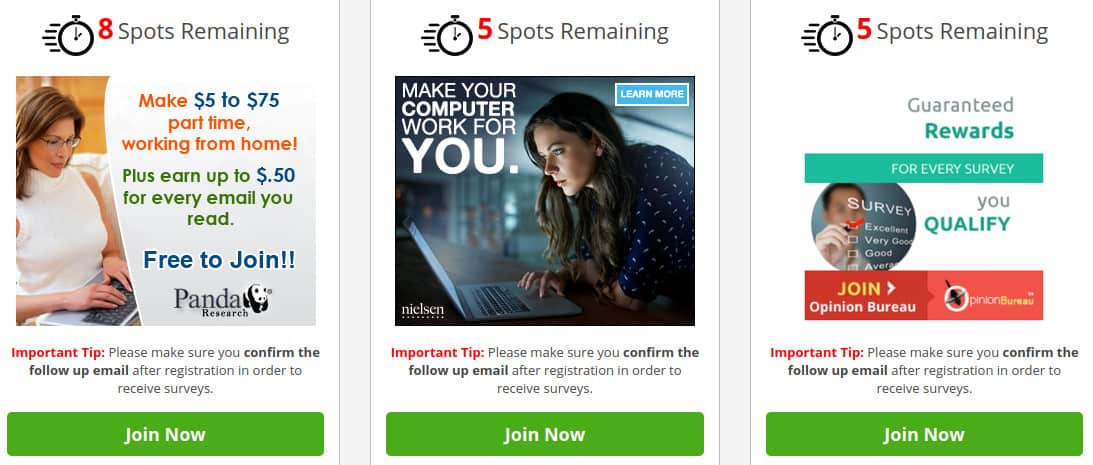 In their work from home section, they're also promoting blatant scams.  Some of which I have reviewed before, like automated daily income.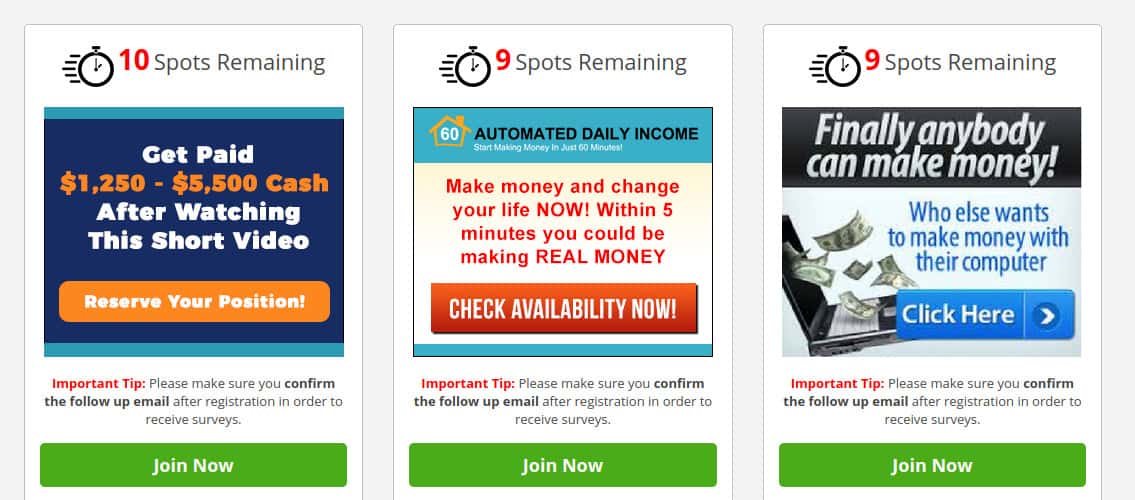 How Do Opinion City Profit?
How opinion city will benefit, is that they will have an affiliate relationship with the survey sites they're recommending, as well as any other services online.
That means, whenever you sign up to a survey site through their website, they will benefit in some way – whether that's by an affiliate commission outright, or a percentage of your earnings.
Most survey websites have some sort of reward program attached to them, where you can refer your own friends or family and earn a percentage of whatever they earn.
But blogs or websites can also access external affiliate programs, that will often pay out a certain amount per sign up.  This may only be a dollar or two per person, but this quickly will add up if they're successful getting sign ups.
Getting people to sign up to survey related websites is pretty easy to do, because they're free and it's even more easy to do if you give them unrealistic earning expectations.
However, a mass majority of people that sign up don't take any further action.  There are some that maybe complete a few surveys and only a small minortiy that continue to complete surveys regularly.
That is why, getting a straight up commission just for signing up, can be far more profitable than getting a percentage of earnings and another motivation why some sites will tell you completely unrealistic earning claims.
In reality, you will be lucky to make a bit of pocket money from survey sites.
On another level, they will also earn affiliate commissions from the scams they're sending you too.
Programs designed to suck as much money out of you as they can.  So, if you do sign up here – don't venture into the "work from home section!"
You Sign Up…  But You're Not Logged In!?
They ask for your name and address for you to access their opportunities on the site, but there is no evidence to suggest that you're logged in, or connected to this website in any way.
That suggests to me that they're fishing for your email address and this will likely be passed on to third parties, such as other internet marketers who will send you relentless get-rich-quick type programs into your inbox.
Whenever you sign up to sites like this, be sure to use a completely separate email account if you want to avoid a lot of spam.
When you return to this website, you have to put in your email address every time to see the full website and cannot login.
Is Opinion City A Scam?
While Opinion Panel isn't a scam in it's entirety, (it does direct you to some legitimate survey sites, where you can make a small amount of money, albeit pocket change)…
They also use dishonest sales tactics in order to pressure you into signing up, (limited spots available) and additionally have some opportunities on there that are blatant scams.
It's bad enough that survey portals are a complete waste of time anyway, (you can find any of these survey sites online with a quick google search and no need to go through them) but they also aren't legitimately rating them at all…   Did you notice, they give everything five star reviews!?
While I find a lot of these portal-type-sites a waste of time, this is one of the worst that I have seen.
Are All Survey Sites Scams?
No.  Survey sites are not all scams at all, but there are various sites and blogs out out there that may claim you can quit your regular job and earn lots of money just by completing online surveys at home – and that is not the case.
Some people actually enjoy completing online surveys and they don't mind that they're paid a measly amount to do it.
I've had friends who may spend hours do them and maybe make enough money over the month or two months, to go out for a meal or a day trip with their family and for them, that's worth the effort to do it.
While it's different to online surveys, I do enter a lot of online competitions/sweepstakes which can take hours each week- just filling out forms and it's very repetitive.
But it's something I do in the evening, at a time where I wouldn't be doing anything else anyway!
Some people may think it's not worth the effort, but I feel that it's worth my time because I end up winning things I would never normally buy.
I've been able to use wins towards family holidays, or won gift cards that I use towards Birthdays and Christmas – or just win luxuries like chocolate hampers or champagne, (that I wouldn't normally ever buy for myself).
But would I say to someone that they should quit their day job and just spend their days entering Sweepstakes and competitions online?  No way.  It's just a hobby for me.
The same will go for people doing online surveys, it's just something that some people do in their spare time – to make a bit of pocket money.
So, What Now?
If you're looking to bring in more of a part-time, or even full-time wage – then online surveys are not the way to go!
There are various ways you can make money online, but all of them do take a certain amount of work and time.
Personally, I make the most online right now from affiliate marketing.​ 
There are many aspects that make it appealing:  the start-up costs are next to nothing, you don't need to purchase any stock or have anywhere to store inventory, you don't have to deal with customer service, or even deal with exchanging money…
Plus, you can do it from anywhere on earth, as long as you have an internet connection.
If you have any experience with Opinion City or other survey related sites, why not leave a comment below?  I'd love to hear from you.
All the best,