Top Paid Surveys is the most recent survey-related website that I've come

across, so I thought I'd check it out for you guys.
Is Top Paid Surveys a scam?  I don't think so, but you could also make better use of your time with other sites.
Bare with me why I explain why I think this is the case!
Top Paid Surveys Review in brief:
Website: Toppaidsurveys.co.uk
Cost: Free
Earning Potential: Peanuts
Overall Score: 30/100 While I don't feel this is a scam, there are so many sites just like this one popping up all the time and their is nothing different or original about them!
They're just another portal into some of the main popular paid survey sites out there – and you can join those without the help from top paid surveys. They don't offer anything different that will bring customers back.
>>Tired of making peanuts online? Then this might interest you.
What Is Top Paid Surveys About? Do They Have A Unique Angle?
Top paid surveys is practically identical in nature to bunches of other survey sites I come across lately, in that it's like a portal, sending you off to a variety of different survey company sites.
They act much like a middleman, between other survey companies and new customers.
What jumped out to me as a red flag, was that they claim you can make to to £300 a month.
Now, scam related survey sites will tell you that you can make thousands – so, £300 is modest in comparison, but it's still also and over estimation.
If you make £300 a month from completing surveys via this site, please leave me a comment below and share your income snapshot…
Because generally, people make no where near this much with survey sites. That is just a plain fact.
The reason for this being, you earn next to nothing per survey you complete – normally it will be under a £1 and you only get paid if you're not chucked off the survey for not meeting their criteria, (which happens all the time).
Let's say you're lucky and you do make £1 per hour.
You work at doing surveys non stop for 5 hours every day, that's £5 each day. Do that 5 days a week and you're still only looking at £100 in that month.
For the most part though, you'd just burn out from doing surveys if you're trying to do them for hours a day.
They are intensely frustrating – largely due to the high rate of disqualification.
What's more, if you get bored doing the surveys and there are too many little inconsistencies in your answers, they will flat out ban you and survey sites will usually keep any of your money that's still in your account too.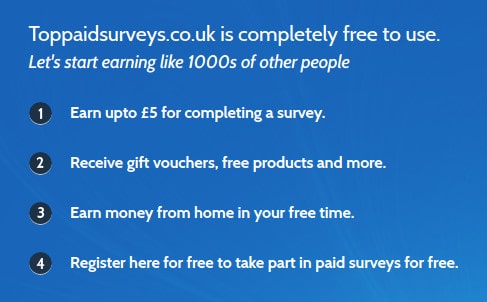 I Signed Up – My Experience:
As soon as you sign up, you're immediately sent to the main dashboard, where you have the option to sign up with different survey related websites.
There were ten in total, a majority of which I have already previously joined and reviewed before.
I took note of the others so that I can check them out later.
Unfortunately, I was then unable to complete the sign up process.  I should have been sent an email, but nothing came through via my main email, nor in spam.
I did contact their support team, but no response as yet.  Once I actually manage to complete the process – I will update this post.
Will Top Paid Surveys Scam You?  
No, I don't think so.  They'll merely connect you with other popular survey sites, that have surveys available.
You should be cautious when you sign up though, there's a tickbox you need to untick in order to avoid spam when you complete your name/address.
In my experience, I've had a lot of spam as a result of survey sites and I use a completely different email for any that I sign up to.
Ultimately, there must be hundreds of sites just like this one and they're very dull – because they have nothing additional to offer.
There are so many more appealing sites now, with a lot more going on.  So, don't see what would bring people back to a site like this.
Although, I imagine that bringing people back is not necessarily their prime aim.
That is because:  the only reason I found this site, was because I was researching something else in Google and they had an Ad in the top of Google.
So, this company is perhaps not relying much at all on good reviews, SEO, or word of mouth to be found.
But, paying for Ad space and hoping to catch people in the search who might be interested in joining survey sites.
They will either earn a flat out commission, just for you signing up to the other providers – or, they could also earn a percentage of anything that you earn through completing surveys.
In any case, they may only need you to visit them once to gain a commission and that will be worth it for them.
Related Post:  Are all survey sites scams?
Signing Up For Multiple Other Sites:
At Top Paid Surveys, they ask you to sign up with all the providers that they recommend, in order to make that attractive sounding £300 a month.
The real reason they want you to sign up for them all however, is that they'll be earning a commission.  The more sites you join through them, the better.
But, even if you spend your entire day doing surveys and act as though it's your full time job… even in that case, it's highly unlikely you'd make £300 a month.
On the plus side, I was a aware of a majority of the websites already and they're legit – but not without criticism.
Some of those on the list included:  Toluna, Global Test Network, Inbox pounds and Opinion Outpost.
Pros Vs Cons – Are They Worth Signing Up To?
PROS
A variety of gift cards offered for payment.
CONS
Nothing sets this site apart from some of its competitors.
They give you unrealistic earning expectations.
They just provide surveys, nothing additional – such as games, paid offers, or pay to search features.
They claim you can make up to £5 a survey.  I've never seen a survey pay out that's above £2, (more realistic is under £1 per survey).  It's highly unlikely you'll find a survey paying £5 and even less likely that you'll qualify to take it.
While Top Paid Surveys is not a scam, you'd be better off just seeking out some of the best online survey sites around and joining those.
My favourite survey related site is Swagbucks:  (you get a $5 sign up bonus here). 
It's one of the few that I still use now as a search engine.
Online Surveys – They're Not A Quick Fix!
Lots of people online come on looking for a quick fix, a quick and easy way to make a few bucks here and there.
Useful Post:  My Top Extra Income Sites!
Sometimes, people come on desperately trying to make some extra real money, often because they can't meet ends meet and they're desperate.
That's why I first came online too and originally started to make money from entering competitions.
Actually, this took me tonnes of work, vastly more than I ever imagined and there are also lots of scams in the competition/sweepstake industry too!!
However, eventually, I stopped looking for a quick fix and decided to just start learning the skills online required to start an online business.
One of the first things I learnt about was, how to set up a website and how to make profit from a website using affiliate marketing.
related post – what is affiliate marketing about?
One day, I hope to have generated enough income that I can just up and travel the world.
For now, I write this post from my local coffee shop….  but hey, it sure beats a regular job!
>>This training platform got me started online.
Do you have any experience with Top Paid Surveys?  How did you find it?
Let me know in the comments!
All the best,