Is Opinion Outpost A Scam?  Or Legit?
Hey all, I have checked out many, many, survey-related sites over the last couple of years and for the most part, I'm disappointed by them.
Is Opinion Outpost any different?  Or is just more of the same?
Opinion Outpost: Review In Brief: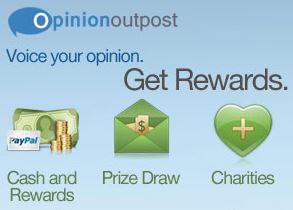 Product name: Opinion Outpost
Website: www.opinionoutpost.com
Price: Free sign up
Money making opportunity: pocket money
Verdict: Legit.  Opinion Outpost is not a scam.  They pay out to thousands of members and continue to do so.
But that doesn't mean that this website doesn't have it's fair share of problems too, which I will discuss these during my review.
Stick with me until the end, where I make some suggestions for some alternative ways you can make money online too.
Want More Paid Surveys? Check my no.1 here
What Is Opinon Outpost About?  
Opinion Outpost is a paid survey website, where you can be paid a small amount of money for completing surveys created by various companies.
These companies are looking to improve their services and gain information about their potential customers.
Opinion Outpost is just one site in sea of many similar sites out there on the web.
While it may sound easy to make money in exchange for a small amount of information, it's not quite as simple as that – as I will explain more further along in this review.
It was really simple to sign up with Opinion Outpost, although I did not get a confirmation email right away.
Once you've confirmed your account, you can get started entering surveys.
The initial survey I was offered, was 4 minutes long.
Great, not very long I thought, I decide to give it a go.
But unfortunately, after a couple of minutes of answering… I'm told that I do not qualify.
Frustrating.  But expected.
The second survey I go for said it would take 15 minutes, once in – suddenly this changes to saying it will take 25 minutes.
Would I get disqualified again…..?
Yep.  I was chucked out after a few questions.  I'm starting to feel fed up by this point.
So – THIRD TIME LUCKY?   The survey I'm offered claims to take 33 minutes and is for 25 points.
I decide to go for it.
Finally, I manage to get through a survey!
However, it took me 45 minutes, (not 33).
It also felt like a lot longer because it was incredibly dull.  It felt like it was never going to end!
However, Since I'd managed to complete one, I decided to try my luck with another.
The next survey claimed to take 3 minutes for 5 points.
Once again, 2 minutes in the survey, I was told that I did not qualify.
So, out of 4 surveys, I was only accepted on to one and probably took around 10 minutes or so being thrown out of surveys alone and then 45 minutes taking one survey.
So, it took around an hour to accumulate my 25 points.
Therefore, how much are the points worth and was it worth it?
What Are Opinion Outpost Points Worth?
Survey's available tend to range between 5-30 points in value and obviously, the higher point value surveys that you can get for the minimum time is best.
In the US, you need 100 points to withdraw $10 via paypal, which is a fairly low payout threshold.
You can also get a $5 amazon voucher for 50 points – which is pretty good!
This is a low payout threshold, which thankfully many survey websites are now adopting, (I've seen some in the past with a $50 payout threshold!!).
Other options include credit for itunes or entries into their quarterly sweepstakes for $10,000 – or £5,000 in the UK.
So, for roughly one hours work on Opinion outpost, (around 45 minutes answering 10 minutes spent being thrown out) I made $2.50.
I would need to work for roughly two hours more, (if a similar pattern occurred) in order to make enough to get a $5 Amazon voucher.
That's significantly better than many survey-related sites I've checked out.
Of course, if you're looking to make more significant money online, then $5 for two hours work is really not worth your time in my opinion.
But if you're simply looking to fill a bit of time making easy-ish money and saving up a little cash for rewards, you could give it a go.
The Biggest Problem With Online Surveys?
Aside from the low earning potential, the most frustrating problem with online surveys that I have found is constantly not qualifying for surveys.
This is where you get thrown off a survey for not qualifying – after already answering a bunch of questions.
One positive aspect about Opinion Outpost is, although I was chucked out three quarters of the time, the time I took doing the survey prior to being chucked out was generally a couple of minutes.
This is quite different to my experience with Global Test Market, where I was taking surveys for considerably longer prior to being thrown off.
This problem of failing to qualify, is one of the most prevalent complaints for survey sites today and one that I really feel they need to address.
Some have tried to solve this by offering extra sweepstake entries…but with the incredibly slim chance of winning these, it's really no consolation.
Some companies are getting better an offering points every time you don't qualify for a survey.
Ipsos I-say have offered extra points if you're disqualified and I think even if it is a small amount, this is a much better alternative.
How Many Surveys Can You Enter?
It seems that you're generally emailed 2-3 surveys per day, you can also then enter via the main dashboard but be cautious doing so…
This is because, if you enter surveys via the dashboard, they don't tell you the how much you will earn for it, nor the time it takes to complete the survey.
Presumably this is some kind of glitch and will be corrected in the future, but that's what I found at the time of writing.
what's your experience with Opinion Outpost?  Leave me a comment below!
Pros Vs Cons Of Opinion Outpost.
PROS
Simple and quick to join.
Straightforward website, quick to understand and start.
You can join from the age of 13.  It's a way for young teens to make a little extra pocket money.
If you get disqualified, it seems to happen more quickly than other sites.  This is a good thing, as often you may be answering questions for a big chunk of time, before being thrown off.
CONS
While you may get disqualified more quickly than some sites, the rate of which you can be is still high.
If you don't try and at least qualify for a survey within 3 months, your account can be suspended.
Very low earning potential, this is the case with all survey sites.
Can be dull and tiresome.
You must be in the UK, Canada, or the US to be able to sign up.
Opinion Outpost Complaints From Members!
Any business like this, that has been running for a long time, is likely to have plenty of negative feedback.
This company is no different.  I took a look at the complaints and a majority were a version of the same issue:
People claim to have their accounts wrongfully terminated, just as they're about the cash out.
It's worth noting that survey sites have very strict policies and will chuck out anyone that they suspect is trying to game the system – this will include your answers being inconsistent.
(image source – trustpilot.com)
People may jump to quickly call Opinion Outpost a scam because their account is terminated, but we have to bear in mind that they will have their reasons for doing so.
Because on the flip side, thousands of people are paid and have no problem with being paid out at all.
Obviously, it's possible that Opinion Outpost do make mistakes when they terminate accounts, but they do have systems in place to detect inconsistencies in answers and half the time we may not realise we're doing it!
For example; surveys tend to ask us similar questions in a variety of ways – it's a way of them checking that we're not just randomly answering questions.
What I'd suggest is to not save up money in your account, but to make sure you cash out when you reach the payout threshold, if you're worried about losing your earnings.
With something like Swagbucks, I personally save up my earnings for some time.
But this is a site that has always paid me, I did initially take out smaller payments when I got started.
Other complaints include:
Too long a wait time to receive payment, (it shouldn't take long to receive a payment via paypal should it!
Surveys now being longer for less money.
Customer service not responding to issues, (by contrast, some have said customer service has been helpful!  So, it's a mixed bag.
Accounts being frozen without explanation.
Answering questions for a long time, prior to being disqualified, (this wasn't my personal experience – as disqualification happened quite quickly for me.  But I imagine this must vary!
Conclusion:  Is Opinion Outpost A Scam?  Or Legit?
Opinion Outpost is definitely legit in my opinion, it's not a scam and if you're really keen to earn a little tiny amount extra, then you could do worse!
Go and check it out and see how it works for you.
Alternative Suggestions:
Personally, I prefer sites that have a bit more going for them and are more fun to use.
I suggest you check out Swagbucks – which you can use in addition to entering surveys, as you can earn points by just using their search engine and it's no effort.
For something totally different, you may want to check out paid-to-test website sites such as User-Testing, which pay $10 for a 15-20min test.  Much more profitable and more fun!
I'm always on the lookout to review legitimate online opportunities, that can help you earn you make some extra money online, save money – or even make a full-time income.
For a selection of ideas; check out my 40+ ways to make money online.
Many people don't realise that they can make more than just a little extra change online.  But you can make a much more substantial income online, if you're willing to put the time and effort into it long term.
I try an diversify my income, by partaking in some of the lower income opportunities, such as paid to test websites and the larger ones online too, such as via affiliate marketing.
At the moment, most of my online income comes from affiliate marketing, but with blogging online, you earn money in a whole variety of ways.
This is where I first got started for free!
I hope you found this review useful, let me know you're experience with online surveys and with Opinion Outpost.
Also, if you have any questions at all, don't hesitate to ask – just leave me a comment below!