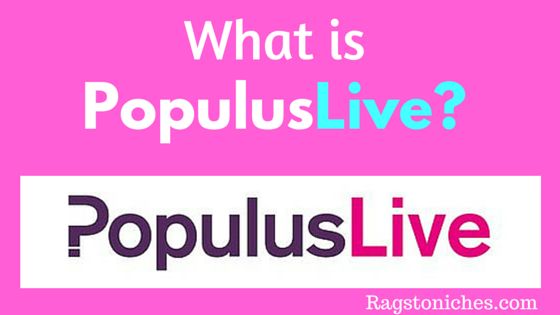 What is PopulusLive?  Legit Survey Website?
website: www.populuslive.com
Pay: Pocket Money.
Rewards: cheque payment only, minimum withdrawal £50.
Impression: Reasonably good site, plenty of positive feedback.  However, there is a high payment threshold and due to a lack of surveys, you'll need to sign up with other providers in order to boost your earnings with online surveys.
PopulusLive is a survey site that works on the idea that you get paid roughly £1 per five minutes of survey taking – or what they have decided you should get through in five minutes.
This is a unique difference in comparison to many survey sites, who normally work on a straight points or cash system per survey – rather than time spent.
The amount you get normally can vary greatly on  a survey site, so the fact there is some continuity here is also good.
In addition to this, £1 for 5 minutes of survey taking – as opposed to 15, 20 or 30+ minutes of your time, also seems more reasonable.
Rewards:
PopulusLive has a simple system in place.  £1= 1 point, so you always know exactly where you are with it.


You will need 50 points to redeem – which, of course, is £50.
While this does seem like a super high threshold, (many competitors have bought their own thresholds right down to £10 and some even less) – getting roughly £1 of 5 minutes spent is a lot better than many survey sites.
PopulusLive pay by cheque only – so there is no cash or gift card options.  The cheques are rewarded once a month.
So, if you reach the £50 mark by June, the cheque will be sent out at the beginning of July.
The problem is, it will still take you a long time to build up enough points to withdraw – because there is a lack of surveys.
Some people have claimed they actually receive more surveys from PopulusLive, by signing up via Vivatic.
Joining Vivatic you can sign up to various different survey's through their partners – which could be from any number of different survey providers.
That said, I didn't see much going on over there when I reviewed it last, (you can see my review here).
In any case, a lack of surveys with Populus live one fairly common complaint.  So, signing up to more than one site will ensure you won't be just waiting on them.
Screening Out Of Surveys?
Something which will increase your time spent on these surveys will be screening out.
Being screened out of a survey for not fulfilling the correct criteria is very common, (often after you've already answered many questions).
As far as reports go with PopulusLive, the screen out rate appears lower than many other sites.
This is a real plus, because it really wastes so much time and can be highly frustrating.
If you're screened out of any surveys however, you're awarded an entry into their prize draw.
The prize draw is for £250 and is run each month.
While a prize draw entry is not cash, at least it's an effort of some sort of compensation.
Surveys At PopulusLive:
When I logged into PopulusLive for the first time, I expected there to be a list of surveys I could complete.
This isn't the case – on the actual site, there is little more than an FAQ, contact us page, testimonials and my account section.
There was no explanation of where to start or when I'd be getting my first survey, which was a bit disappointing initially.
After looking about the FAQ somewhat, it became clear that I would have to wait for surveys to come to me, via email.
So, if you're expecting to sign up and immediately receive a flood of surveys into your inbox – this does not happen.
What Do People Say Online?
Interesting surveys.
Quick and fun to do.
Less screening out than other sites.
Professional and appealing layout of surveys.
Cheques paid in good time – without having to send any reminders!
Overall, I'm impressed by the feedback for Populus Live.
I have to say, it is incredibly rare for a survey site to not come up against some really serious complaints…  But PopulusLive appear to be one of the few that are conducting themselves well, (at the time of writing!).
On the whole, people are happy with the service that's being provided.
Pros Vs Cons
Pros
Short surveys.
Reasonable pay in comparison to other sites.
Less screening out than some sites.
Interesting surveys.
Monthly prize draws – entries made for any screen outs you face.
Cons
Lack of surveys in comparison to some sites.
£50 payout threshold, which is very high.
Only payout by cheque – no PayPal/bank transfer or giftcard options.
PopulusLive – It's Legit, But Is It Worth Your Time?
As survey sites go, PopulusLive is maintaining a good reputation.
It's so common for people to complain of slack payments, being kicked out close to target, or not being paid at all – whereas here, you do get paid when they say you will.
If you've reached your target, all cheques are sent out at the same time every month.
If you want to give it a go… Sign up here.
Look, you definitely won't make a fortune signing up for this, but you never will with survey sites.
If you're looking for a way to start making an income online, there are various options available.
You may want to check out some of these posts:
What about you… have you been doing surveys long?  What has been your experience?
Leave me a comment below and I will get back to you!
All the best…:)