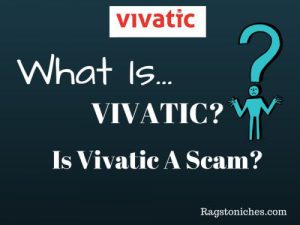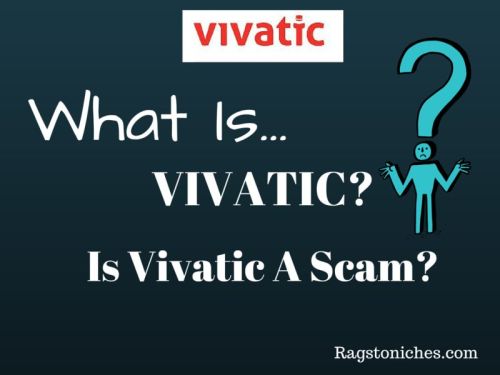 If you found this post, it's probable that you have been searching for ways to make money online.
Online surveys are one of the first things people look at, mainly because literally millions of people do them – despite the low earning potential.
I have checked out a vast amount of survey/reward sites to figure of if their were some diamonds in the rough.
So,  What Is Vivatic:  Is Vivatic A Scam, Or Legit?
As of yet, while I've found that some sites have more potential than others, the earning potential from surveys alone does not vary too much.
Vivatic is one of these sites that has more than just surveys on offer.
With some such sites, income potential is increased because they have things such as: referral programs, cash offers and cash back, (for example) and these factors can mean you can make more money.
Some also pay slightly more per survey than others.
As far as referring people however, is not as easy as it may appear, (unless you have a massive social circle or knowledge of affiliate marketing).
And cash offers also have their downfalls, (cash offers are when a company may pay you to do certain things – like sign up for a free trial or join a website).
Cash offers can open you up to SPAM and you need to keep tabs on what you're joining/when you need to cancel free trials and so on.
Most sites also tend to have the same cash offers, so once you've signed up to the ones that look interesting, opportunities dry up.

How do you earn with Vivatic?
Vivatic is another site much like Swagbucks or Cashcrate that goes above the general opportunities of your typical survey site.
The ways you can earn include:
Writing articles/blog posts, (you need to qualify first however, by completing a bunch of "micro tasks).
If you're pleased that writing is on the list, don't sign up just yet.  You actually can't start writing right away.

You need to qualify by completing micro tasks.  That may seem ok, but whilst researching this company – people have claimed these micro tasks are not "micro" at all and take considerable time.
In addition, when I went looking for "micro tasks" to complete, there didn't seem to be any available!
If you're a keen writer and hoping to make money quickly, you'd be far better off going and setting yourself up on Fiverr or Odesk than trying to make money here.
When I arrived at Vivatic…
It wasn't clear where to start.  It'd be nice to have some information telling you what you have to do.
To be frank, the website itself is not pretty.  It's very basic looking and doesn't feel user friendly.
While that would be fine if you can make money, (who cares what it looks like then!) – there is nothing new here and nothing to entice me to pick THIS site over its competitors.
Over at the side bar, it gives you some info about how to go about making £20….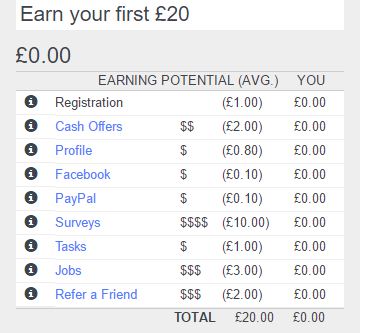 I decide to take a look at cash offers, because that's how you can usually make the most from these sites.
However, just glancing down the list…
I realise that I've signed up to a majority of them before on cashcrate or inboxpounds.
Vivatic Cash Offers…
Once you've seen one cash offer site, it appears you've seen them all.
Since you can only sign up for these offers once, if you've already taken part before – that's it.
I am not a fan of cash offers anyway, you often need to give out your credit card info and personal information – which, when you're doing it multiple times over, is not ideal!
So, I check out the profile section, as it says you can make 80p from completing that.
This was a very lonnng journey to earn 80p.  There were multiple questions to complete and – bizarrely – some of the same were asked more than once.
I guess they're trying to catch you out – in case you're just clicking any old answer.
Vivatic Surveys:
The surveys seem a bit better paid than some.
For example, I saw some £1 surveys which claimed to be for 12 minutes, (however, when I tried to join I didn't qualify, what a surprise).
Take note – whenever a survey seems too good to be true, such as a high value for a short amount of time, I always get chucked off!
See if it happens to you.
An additional issue is, none of their surveys are directly through them.
As a result, you're directed every time to a new site, such as Toluna.
This is quite frustrating and means there is more time wasted before potentially getting chucked off for not qualifying.
Daily Polls And Offers:
Going to check out the daily polls… what did they have there?
So, not only do you have to do 10 polls to get a 10p… but there are no polls!  There is no poll today at all.
There is really not much going on here!
Referral Program:
Even the referral program is incredibly underwhelming.
You earn £2 per referral – BUT only once your referral has made their first £10.
Having checked this place out, I highly doubt that anyone you manage to refer will stick around here long enough to make £10.
(That is, if you can get anyone to bother in the first place).
PROS VS CONS
PROS
Some surveys seem higher paying – but hard to say when you're relentlessly chucked off.
potential to earn more money – if you can see through the micro tasks.
CONS
Generally unappealing in comparison to competitors.
A real lack of much going on.
Surveys are with other companies, which can make the whole process slower.
Nothing new here that you can't get from other – better – sites.
Surveys difficult to qualify for, (same with all survey sites!).
Minimal earning potential.
Conclusion – Is Vivatic A Scam, Or Legit?
While I don't think Vivatic is a scam, I do think it's a waste a time.
Generally, survey sites are a waste of time overall – but at least with some of them, just visiting the websites is more of an enjoyable experience.
This really had NO enjoyable aspect to it!  The site seemed neglected and empty to me.
Check out some of the alternative options below, or check my review tab under "pocket money."
Swagbucks 

– All around fun site, includes paid search, cash offers , cashback, surveys and more.
Cashcrate 

– Largely a cash offer site, with some surveys, paid search and other feature.
Qmee – Now has surveys, but you can also earn by downloading their toolbar, which alerts you to certain offers.  If you click the offer, you get paid a small amount.
User Testing Not a survey site, but much better!  You can get paid for testing websites, $10 a time.  A much higher earner than surveys, when you can get them.
However, if you want to make a regular steady income online, survey sites won't do the trick.
If you want to make money in the long term online…
I have have one top program that I recommend and I've been a member there for several years now!
It's the best training you can get online if you'd like to build a legitimate online income, based on your own interests and passions.
The best part is, you can actually check it out  completely for free.
You will quickly figure out if it's for you.
I hope you found this Vivatic review useful.  Do you have experience at Vivatic?
Let me know in the comments!
All the best… 🙂