What Is Unique Rewards:  A Scam Or Legit?
Unique rewards is another survey related site that I term and "all-rounder."
That's because, they don't just have surveys, but additional ways to earn such as by cash offers, clicking through to Ads/websites and reading emails.
You may also know of them as a GPT site, (get-paid-to).
They've been going for a decent chunk of time now, since 2003!  You're eligible to sign up if you're in the US, Canada or the UK.
It's quite common for survey sites to offer an incentive to sign up and Unique Rewards are offering $5.00 upon sign up currently – although you do need $20.00 to withdraw!
For a smaller cashout of $5.00, I recommend Swagbucks.
I don't think Unique Rewards is a scam, but it's not a site that I'd recommend right now. I'll elaborate more as I go on!
*in dec 2017, there were also some complaints of people not being paid.  Have you had any issues with Unique Rewards?  Let me know in the comments below!
Can You Make Money With These Sites?
While you can make a small amount with survey related websites – (and many companies WILL be upfront about the minimal amount you will earn..)
I feel it's misleading when a company like this tries to claim you can make anything more substantial though.
What's the impression you get from the video below?
The message the video gives to me is: that even if you're fat, lazy and have no motivation…
you can still make money from home sitting on your butt and, as they put it, "survive and thrive."
How?  They claim, by simply joining Unique Rewards!
They say that Fat Bob can earn money now –  by simply sharing his opinion, surfing the web, reading emails and so on…
For me, this is not a realistic or accurate picture at all.  
Bob will not "survive and thrive," just by joining unique rewards and completing their surveys and other tasks.
Sure, you can make a bit of extra money on the side from these sites, how much depends on how much time you commit to it.
But you won't be able to quit your day job  by joining sites like this.
How Can You Make Money With Unique Rewards?
I was a little confused here initially with Unique Rewards, as the surveys seem to be mixed in with the cash offers, rather than having their own separate section.
I went to "daily surveys," expecting to take some surveys right there, but instead I had to link through to different survey companies and sign up with them.
This is common with these sites though, they link you out to various different companies, which can be frustrating – because you have to keep giving out your details.
If you're signing up with Unique Rewards expecting to make cash directly from this platform, that's not quite how it works.
You will need to connect to other websites too, in order to actually take their surveys.
I checked out the the "offer wall" section, where there were some surveys available….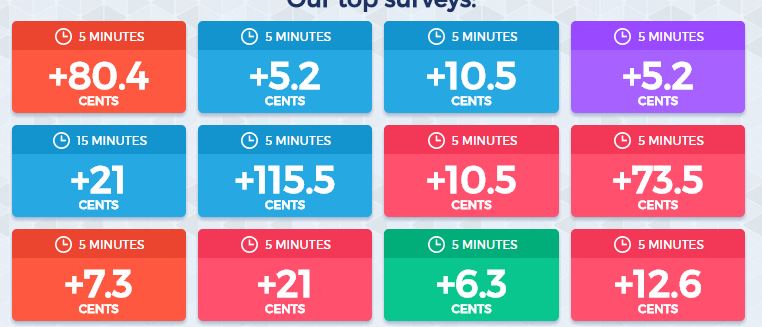 When I tried to complete a small survey, (for just a 1.5 cents!) I answered questions for a couple of minutes only to be told this…
The next survey I attempted, said I would earn just over 5 cents, for 5 minutes.
Actually, the survey took me just two minutes and I did actually manage to complete it this time!
While these are far from high paying surveys, at least they are quick.
So, I thought I'd try another.
This time it said I'd earn over 73 cents for 5 minutes.  But, I didn't qualify.
I tried another for 80 cents, I didn't qualify.
I tried another,  for 10 cents and I managed to get through it.  
However, it claimed to take 5 minutes and it took me 10 minutes.
I believe it could have taken considerably longer too, but I rushed through.

So, in around 25 minutes, (including the time it took to do surveys I'd been chucked off) I hadn't even made 16 cents.
I'd been thrown off 3 out of 5 surveys – and those ones seemed to be the higher paying ones too.
Was that worth my time?  No, for me personally, it's not worth my effort.  However, you may feel differently.
I think this demonstrates though, that taking online surveys is no path to wealth – it's not something you can quit your dayjob for!
Something you need to know about online surveys:
Taking surveys will be one of the most popular ways people choose to try and make money online, because you don't need to hand over any credit card info and they're simple to do.
The key issues here are:  That you are not paid much at all for your time and you'll also have trouble qualifying for the surveys.
This isn't just an issue with Unique Rewards, but a problem with ALL surveys in general.
To learn to make more than pocket change – get started here.
Paid offers are one of the highest paying ways you can earn via sites like this, but they aren't without their downfalls.
Generally, a cash offer will mean you need to take an action – such as signing up to a website, joining a newsletter, downloading an app, taking a free trial, playing games, joining other survey sites.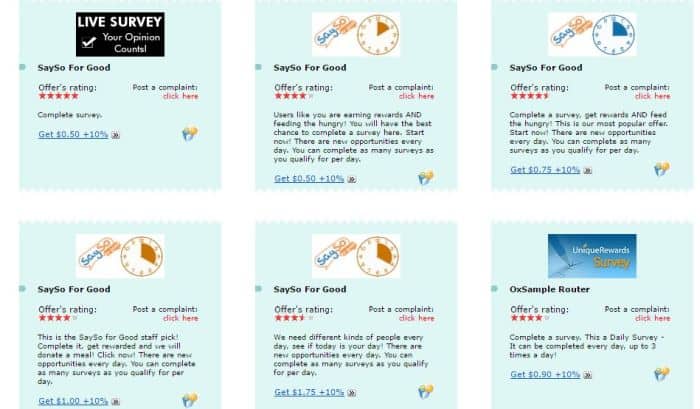 Some of these offers won't be free, (there is a filter to only check out free offers though).
But for some, you may need to pay something  and in some cases, you might have to give out your credit card information.
For example, if you sign up to a free trial, they will normally ask for payment information and you'll be charged at the end of the trial period unless you cancel.
The problem is, many people forget to cancel these things, so you need to be organised about it.
Also, if you're giving out your personal details, such as your email, you can be open to spam – so, I suggest using an email specifically for cash offers if you want to participate.
With this there are Ads or websites you need to click through to for 30 seconds.
This would be easy money, if it was any good.
But unfortunately, you only earn $0.01 per Ad you click on and you need to wait until the website loads up.
Similarly, you can earn around $0.01 for watching videos too…. that's a whole lot of videos you'd need to watch to make this worthwhile.
Personally, there were only three videos available to me when I joined anyway.
The payment is minimal, you could always just play the videos in a separate video, but again this feels like quite a waste of energy considering the reward.
You can also listen to the radio to earn with unique rewards.
In this case, you need to listen for half an hour.  Then a captcha will appear and you will earn $0.03 if you're in the USA.
But you'll only earn $0.01 in the UK or Canada.  Hmmm…   half an hour for $0.01?!
Referring Others To Unique Rewards.
So, possibly the most profitable way of earning from this website is by referring others to sign up.
You get $1 when a referral completes their first cash offer and you receive $5.00 when they become an "active member."
To become an active member though, they need to have reached the $20 level.
A majority of people that sign up will give up prior to making $20.
Most people tire of these sites very quickly, once they realise how minimal the payout is, versus the time and effort spent.
However, you will also earn 10% of their earnings for the lifetime of their membership.
Since most people become inactive quickly on these websites, you would need hundreds of referrals to make anything much at all.
Similarly to inbox pounds or inbox dollars, you gain extra perks once you reach their cashing out threshold, you become a gold member and can earn higher commissions.
However, I personally reached that with Inbox Pounds and can't say I've noticed any change.
Signing Up To Unique Rewards
The video above goes over exactly how you can sign up to Unique Rewards.
You may want to check it out yourself and see how quickly you can reach the $20:  sign up here and claim your first $5.
It may take you sometime without partaking in the cash offers though.
Because I know these sites are generally a waste of time, I only use them in ways now that won't waste my time…
For example, getting cash back or surfing the web – this does not take any extra effort on my part!
---
What Is Unique Rewards: A Scam Or Legit?
I believe Unique rewards is a legitimate site of its kind, but I don't rate it enough to recommend it.
For me, the surveys seemed to be for much lower amounts than other sites, (and the ones that were a bit more, I wouldn't qualify for).
In general, it just felt a bit flat, the website looked cheaply created and the navigation was not smooth.
Ultimately, it just isn't as good as other similar sites – and it felt somewhat Spammy to me!
What's your experience with Unique Rewards?  Whether good, bad or ugly – I'd love to know!
Leave me a comment below.
Beyond Survey Sites?  What Can You Do?
Making more substantial money online is also possible, but trying to make it via survey sites is a waste of time and won't benefit you long term.
What will benefit you is creating your own online business – and you don't need to be a technical whizz to do that.
I always recommend people new online consider learning about affiliate marketing, as it has a low-cost of entry and is straight forward to understand.
This is where you can learn about that – and start for free.
All the best…