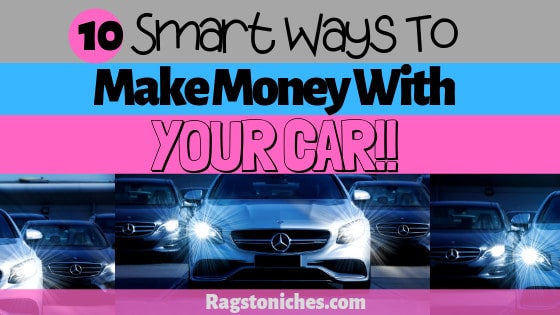 If you need another income stream or another side hustle, your car is all you need to build another stream of profitable income.
Actually, owning reliable transportation is even enough to open yourself up to multiple income streams.
The internet in general and the emergence of ridesharing apps has now made it easier than ever to earn money, simply by owning a car that's in good condition.
Using your car to transport people, food, and goods are all great ways to generate money.
There are now several ridesharing apps and delivery apps to choose from in this current market, so your options for work are pretty much unlimited to get started.
This list will help minimize your search by giving you the top 10 side gigs involving your car!
I've searched the web and found these jobs to be the best in this current market.
Want to know how I made my first 10k+ profit as a newbie online? I started learning here.
1. Package Delivery:
Amazon has a delivery work program called AmazonFlex.
Through this program you can deliver Amazon packages with your car in your own spare time and make some extra money.
You can expect to be paid between $18-$25 per hour working for AmazonFlex.
Also, this job allows you to be your own boss and choose the hours you work. As far as the work goes, it is pretty easy to do.
You pick up the packages and find the addresses using the android app. Once you drop off the package, scan the bar code and then travel to the next location.
Generally, this side hustle has pretty good reviews, but there has some been some mixed feedback, which you can read about here.
2. Grocery Delivery:
You can sign up for Instacart, (US and Canada only right now) and start delivering groceries for people in your own time.
Instacart gives users two types of jobs to choose from, which are in store shopper or full service shopper.
For in store shoppers, your job is to shop for the groceries, but you don't have to deliver them.
This option won't even require you to use your car.
For full service shoppers, you're required to shop for items and delivery them to the designated location and this is where needing a car comes in!
You will need a flexible schedule for either of these options, so just choose the job that works best for your needs.
3. Food Delivery:
If you're interested in delivering food, there are multiple options available for you.
UberEATS, Postmates, and DoorDash all provide food delivery work now.
You should consider car mileage and your schedule before taking this job.
If you don't mind traveling long distances and dealing with a variety of different people on a daily basis, this type of work could be perfect for you.
In addition, all the above mentioned platforms allow you to deliver food via bicycle or scooter, so you don't even need to own a car to utilize this option.
Moreover, DoorDash is one of the fastest rising delivery services around right now and offer a lot of opportunities.
4. Transport People:
One of the most effective ways to make money using your car is by simply transporting people from point A to point B.
Uber and Lyft are the top two companies for this particular service.
Uber and Lyft are game changing services because they make daily commute convenient and affordable.
For people who don't own cars, Uber and Lyft are common modes for transportation, which makes the earning potential limitless in this type of job.
If you don't mind traveling long distances and having strangers in your car, download the Uber or Lyft app and start earning as soon as possible.
5. Advertise On Your Car:
For people who frequently drive their cars all around town and beyond, this gig can be lucrative.
Plastering your vehicle with advertisements before you go for a drive is a great way to ear some extra cash without doing much work…
Well, as long as you don't mind being in a driving advertisement!
Wrapify.com and FreeCarMedia.com are websites that will connect you with companies that need advertisers and want to promote on your particular driving route.
It is also important to keep in mind that you should note any extraordinarily long commutes you take with your car on a daily basis.
This will make you more likely to be picked by the company for advertising, because obviously they're going to want someone that drives around a lot…
Vs someone who largely keeps their car parked in their driveway, or just uses it to do groceries!
Once you're accepted, you can also choose between a full car wrap or rear window decal.
The full car wraps have higher earning potential than the rear window decals.
You can make up to $400 a month with a full car wrap, while a rear window decal can generate up to $50 a month!
Overall, the basic qualifications include being 18 or older, good driving record, and good credit score… So, there are not many barriers to entry!
6. Hauling:
If you own a truck and don't mind lifting heavy items, using your vehicle to haul stuff could be a lucrative side gig.
One way you could do this, is to join Task Rabbit and start hauling items for people.
This job will usually consist of helping someone move to another place or taking some stuff to a dumpster.
The best part about this is that you handpick your clients and hours, so this job won't interfere with your other responsibilities.
The most popular categories are hauling and delivery. You can't go wrong with either option.
7. Babysitting… With A Car?
You may be wondering why Babysitting is on the list… well, hold on a second!
If you're good with kids, you could potentially become a nanny or babysitter.
A lot of babysitting and nanny jobs will require you to transport kids to school, practice, daycare, camp, or home…. that's a given.
However HopSkipDrive takes this to another level and is a driving service that transports kids age 6 and up.
At the moment, this service is limited to California and Colorado areas.
In addition, since this job involves children, the requirements are naturally going to be very strict.
First, you must be at least 23 years old.
Second, you must have a clean driving record.
Third, you must go through an extensive background check that includes being fingerprinted and interviewed in person.
Fourth, you need five years of experience in childcare.
Fifth, your car can't be older than 2008.
If you can meet all the stringent requirements, your earning potential can be as much as $30 per hour.
So, this isn't something you can just walk into. But there are other similar opportunities popping up.
You could also just set this up yourself, if you have kids…..
Know many parents in the school parents that could use your help?
You could charge a certain amount per child per day and use your car to take a bunch of kids to school and charge less than another service would cost.
Of course, to do this, you would need to have a sizable vehicle and know people well enough that they would trust you with the task!
8. Senior Transit:
There are a lot of elderly people that need help to get around and do their day to day tasks, but are not physically able to drive.
Some use ridesharing services using their phones, but not all seniors are tech savvy, so they need a little bit more help.
ElderCare.com connects you with jobs that involve transporting elder people.
If you think you'd find it rewarding working with the elderly, use your car to transport them to their desired destinations!
9. Safe Driving:
Did you know you can make money simply by being a safe driver?
Sounds crazy… But some insurance companies like Allstate will pay you $50 for every six months you go without an accident!
In addition, some insurance companies will give you discounts for driving safely.
State Farm discounts customers up to 50% for driving safe.
All you have to do is download the State Farm smartphone app to track your driving.
This app records how fast you go and your other driving tendencies to determine how safe you drive.
Overall, simply driving safely on the road can translate to more money in your pockets!!
10. Rent Your Car:
A lot of times when you put money into houses or cars you get nothing in return if the assets go unused.
Renting a car can help put your unused assets to work by generating income.
Turo is a service that allows you to rent your car and make money.
The requirements for Turo include the care having a clean title, being no older than 2005, and have under 130,000 miles on it.
Getaround allows you to rent your car, while it would be otherwise be parked somewhere.
This helps you avoid parking tickets and earn some extra car when you're not even driving. Getaround will cover insurance and vet renters.
In addition, they will install a device inside your car that will allow people to get in without a key.
You could earn thousands of dollars a year doing this, but your earning potential is really dependent on how nice your car is.
Getaround will pay you 60% of your money monthly and use 40% for rental fees.
HyreCar is a service that allows you to rent out your vehicle to ride sharing drivers.
Your earning potential for this gig is up to $1,100 a month and your car may be going to Uber drivers and other Car Sharing related businesses.
Ultimately, the amount of money you make is dependent on the quality of the vehicle, where you're located, and how much you use the service.
If you don't want to drive other people around in your car, renting out your car to an Uber or Lyft driver is a great way to make money too, as an alternative.
Conclusion – Can You Make Money With Your Car? Sure!
If you own a reliable car, you're in a good position to earn some income on the side driving people around for a few hours per week.
Anybody that owns a car and likes driving are well on their to making hundreds of dollars each month thanks to ridesharing apps like Uber or Lyft.
Also, simply owning a car can get you jobs that don't even involve you driving, so even if you don't like driving long distances with your car you can still earn a nice chunk of change.
Another thing you need to keep in mind is that the value of your car will decrease over time, so to offset this inevitability you should utilize your vehicle earn extra money.
Making More Money – Without A Car!
There are plenty of ways that you can make money with your car, if that's what you'd like to do!
I prefer to work where I'm most comfortable…. Which is at home!
This just made me think about what a luxury it is to be able to just sit with my laptop in bed and do my own side hustle… which is essentially running a website.
A majority of the money I make currently is from affiliate marketing and paid advertising.
I learnt how I could build an income over time, after I decided to take this training.
If you're wondering how you could start an online business, you can learn more with the the free training here.
I hope you enjoyed this post……… are you going to make money with your car? Let me know in the comments!
Pin Me For Later!