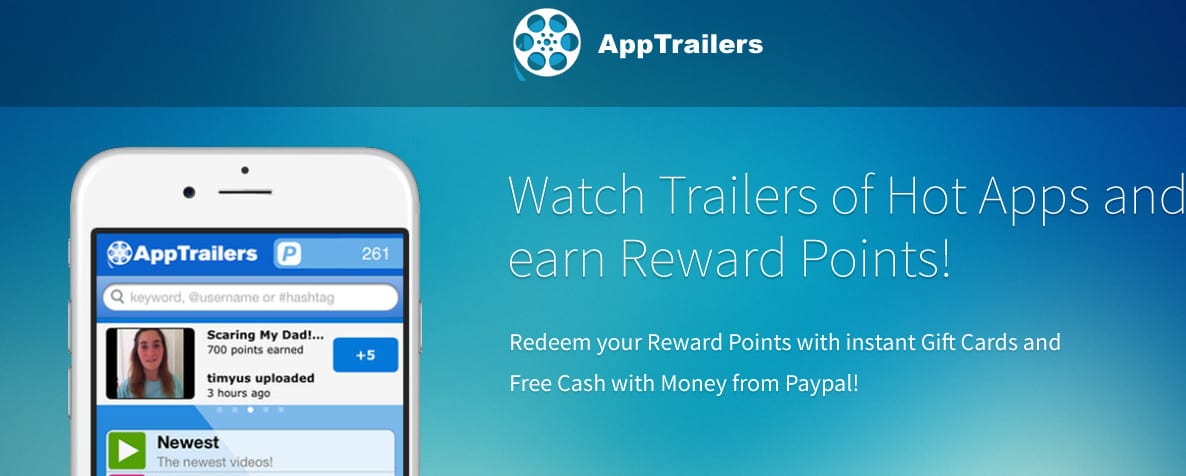 App Trailers Review: Legit App, Or Scam!?
My phone is pretty much attached to me much of the time, maybe you're the same. So, it's no wonder that App creators have tried to develop apps that could potentially make us money – and make them money in return.
With our phones and tablets now being used more than our PC's to consume information and entertainment, the app market is huge and expanding all the time.
Since we're spending so much time on our phones and paying a lot of money for the privilege, it would be good to have a way to earn some of that money back too.
Unfortunately, there aren't any apps out there yet that can help you quit your 9-5 job… but I will let you know if I ever find one!
In any case, I have started reviewing some apps that can potentially make you money – you can check out 14 of them here.
But what about App Trailer? Is It legit… Can you make money with this app?
Review In Brief:
Company Website: www.apptrailers.com
Money Making Opportunity: peanuts
Cost: Free to download app.
Overall Rating: I don't recommend it to make money…. you may enjoy some of the videos & trivia games. This App did use to have good feedback, but this seems to have gone downhill in recent months. If you'd like to share your experience with App Trailers – please leave a comment below!
What Is App Trailers About?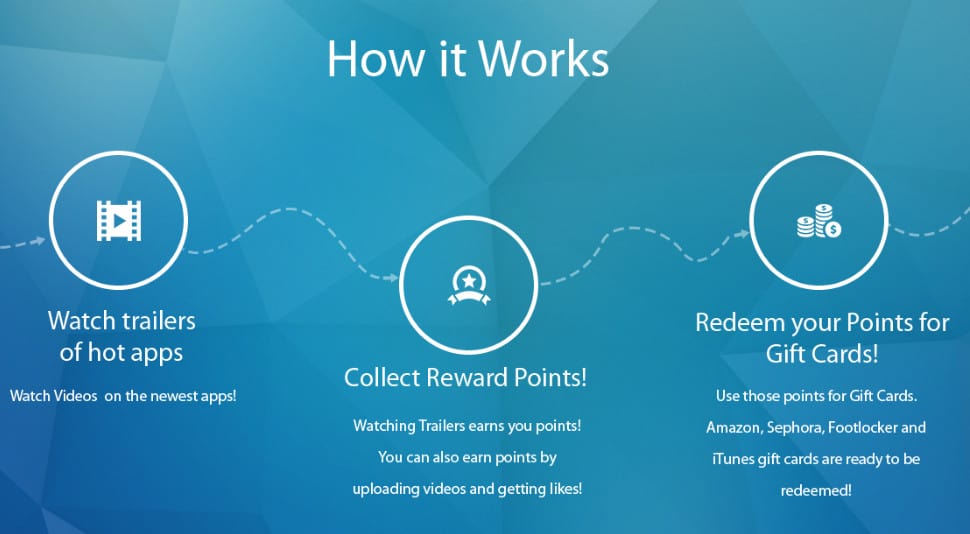 App Trailers is a simple app that was created all the way back into 2010.
The idea behind it, is that you can earn points for doing things like, watch a variety of short videos, play games/trivia.
Originally though, the primary aim seemed to be that you could watch App trailers and get rewarded for it – if you liked the app, you could download it via them.
However, I only realized this after visiting their main website, because there isn't much info available on the app itself.
You can currently download App Trailers via Google Play and App Store for iPhone.
You can easily sign up using your email, or connecting via Facebook. You can then get started immediately.
Getting Started With App Trailers:
Once I downloaded the app and logged in, I was quite confused. I was looking for some sort of direction, or an FAQ, but the app was pretty basic.
I had to go through the different sections to see what they were. I have read that this app has changed and was better in the past?!  I can't comment on that having downloaded it recently.
There were only three options along the bottom, (where I'd expect to find an FAQ).
The sections available were:
Home, (which just returns you to the main dashboard).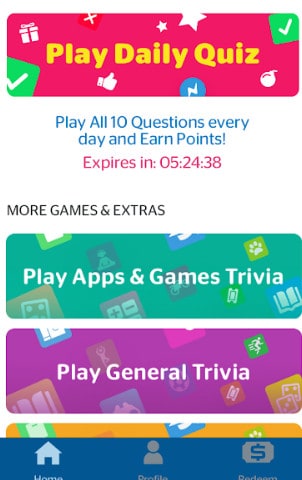 Redeem – where you have to actually go to another website, (perk.com) to redeem the points you've made.

Profile – This section shows your history. You can invite friends and create a referral team. However, when I looked at how much you could get to refer, it said I could earn up to $0 per teammate!!! $0!?!?  
There is also a settings section in the profile – which has things like the terms of use & privacy policy.
I wanted to find out what points were actually worth. How many points would I need to redeem these points for cash or a gift card?
Via the app, there is no company info can be found and no contact info. No customer service for app trailers itself, which doesn't look very good.
How Many Points Have I Made?
When I checked out the videos, there were lots to choose from. But no explanation regarding how many points you could make for watching them.
I started watching rapid reviews. Film reviews that are done in just 60 seconds. I like movies and I like movie reviews… I also like movie trailers, so this was actually pretty enjoyable, (no matter how many points I made).
I just started watching one after another. However, after each video, there was nothing to tell me how many points had been made.
This was the second time I'd been on the App – the previous time I'd been doing trivia questions and had, (somehow) accumulated 52 points.
No matter how many videos I watched, the number stayed the same. I wondered if they might register if I did something else.
So, I did some trivia questions and was told I made 5 points. However, they still didn't show up.
I continued with the Trivia and got another 5 points, (they said). I would have thought the number of points you got had something to do with the number of questions you get right…. but it doesn't!
I got 5 points no matter how many I got right or wrong.
Still no points had registered though.  Later when I returned to the App, it seemed I had been rewarded for the Trivia, but not the videos.
Try More Games Tab!? 
I presumed this tab would take me to a list of other games I could play.
However, it just took me to an Ad for another app I'd have to download.
There wasn't a choice – there was no explanation or any incentive, it was just there.
Having been to their website, I believe I'm meant to view this App trailer in under 30 seconds… However, the app doesn't disappear.
There was also no way to actually get out of it. I couldn't close the page or scroll back – so, I had to come out of the app  altogether and leave it for a while before I was able to get back in. 😮
I thought this would run a series of app trailers that I could sit through, but every time it was just stuck on one and there was not option to get out, apart from going to download it from the appstore.
Where Do You Redeem Your points For Gift-Cards/Cash?
You're told to go to perk.com to exchange your points for gift-cards and I was surprised to see that Perk is a rewards site as well. Over there you can watch videos, complete paid offers and enter sweepstakes.
So, I guess it's a good aspect that you can also earn points there and your points will be combined.
I could also see my history from app trailers in my notifications on Perk. However, it only showed that I had made points from answering trivia questions – there were no points for videos.
Which makes me wonder, are they rewarding points for videos!? Or has that stopped? I heard you make about a cent each video, but I seem to have been awarded zero.
Let me know in the comments if you've got rewarded for videos and how much.
How Much Can You Earn?
How many points you need seems to vary depending on your location.
From what I could see on Perk, I'd need 26,000 points to redeem a £15 Amazon voucher.
If you're in the USA, I've read that you would need 500 points to make 50 cents.
Either way, you will need a lot of points to make anything at all.
PROS VS CONS
PROS
Tonnes of videos, some of the videos were entertaining.
CONS
Money wise, you hardly earn anything.
No info about the company or FAQ.
I can't see how much the points are actually worth, without going to another website, (where you redeem them).
Prior to watching a video, or doing a quiz… you don't see how many points you can make.
Is App Trailers Legit?
This app has had plenty of good feedback online, but I noticed that recently there have been a lot more negative comments and the positive feedback seems to be in decline.
Including people saying that their points haven't been tracked – some people are saying this is since a recent update to the app, so perhaps it will change.
In any case, there are people that have been paid via this app and have been able to redeem rewards. So, while I don't believe it to be a scam, there are some issues that they need to improve.
One of the main issues is, they don't have enough info on the app itself. They don't notify you how many points you'll get for an activity and there is no FAQ.
Also, why is it now saying you'll get $0 for referring anyone!? Odd.
There isn't much to like about this app, (in my experience so far…) but I did enjoy some of the videos.
Particularly the movie reviews in 60 seconds. Actually, it reminded me of some films I need to watch.  🙂
If you've had any experience with App Trailers, I'd love to hear from you! Leave me a comment below!
Other posts you may like:
Beyond Mini Money Making Opportunities:
App Trailers may be OK for wasting a bit of time, or watching some amusing videos… But it isn't a real way to make any kind of money!
Having your own blog or website, provides you the opportunity to grow a business over time that can generate you an income through various different means.
It's not something you can grow overnight, but it is a legitimate way to build an income online.
If you have no idea how to make money from a website, or even how to start one – check out where I started, (I had no idea what I was doing either!)
All the best,