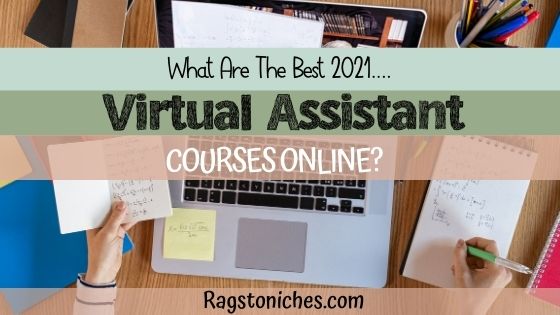 Are there legitimate virtual assistant job opportunities?
Do I need to train to be a virtual assistant?
These and more are some of the questions that most people looking for jobs are grappling with.
Well, virtual assistant jobs are legit and have provided many people with real work-from-home opportunities.
With more and more people starting their small businesses, they have become increasingly supportive of a flexible work schedule.
Thus the demand for virtual assistant services keeps growing, as more people realise the merits of outsourcing their administrative tasks, such as social media, scheduling, and other managerial tasks. 
The beauty of becoming a virtual assistant is that you don't have to limit yourself to local employers only – you can offer your virtual assistants services to businesses worldwide. 
VA training is vital to upgrade your already existing skills, acquire new ones, understand how to package your skillset to clients, and learn what to expect during onboarding. This piece will highlight some of the best VA courses to enroll in 2021 and why you need to train to be a virtual assistant.
But first, let's understand who's a virtual assistant and the services they offer.
Want A Freebie? Go Get This 275+ Services You Can Offer As A VA TODAY!
What is a Virtual Assistant?
A virtual assistant is a self-employed individual who offers professional administrative, creative, technical assistance remotely.
They can provide business, office or personal assistance from their home or office. 
In other words, a virtual assistant may be termed as an independent contractor who offers expert services from a remote location.
In addition, working as a virtual assistant means that you do your job without being physically in your client's office.
Services Offered by Virtual Assistants
What are virtual assistant services? There are different ways to make money as a virtual assistant.
You can offer a wide variety of services to small business owners, ecommerce stores owners, and large corporations. 
Below are a few examples of the most popular and highest demanded work from home virtual assistant services that you can offer.
1 – Blog Management
It takes more than posting content to run a blog. The bigger a blog gets, the more work is required behind the scenes. 
Such responsibilities include the following:
Applying meta and alt tags
Cross-checking links
Editing posts
Posting and formatting images
Managing affiliate relationships
Organising and categorising past posts
Paying freelancers
Optimising blog posts
Scheduling posts
Updating plug-ins
All this work can be time-consuming despite being essential tasks when running a successful blog.
Besides, large blogs come with numerous other jobs, and virtual assistants working as a team can support such a blogger
2 – Customer Services
Big organisations outsource their customer care services, meaning there's tremendous demand for anyone who wishes to work as a VA. 
However, a virtual assistant's services are not only limited to big companies, but you may need customer care services support as a small business owner. 
Some customer service tasks include responding to comments, troubleshooting, processing orders, managing payments amongst others.
3 – Social Media Management
Working as a VA in social media management includes being responsible for the content in multiple social media platforms such as Twitter, Pinterest, Facebook, and Instagram.
Also, there is an increase in demand for virtual assistants who are well conversant on LinkedIn, Pinterest, Snapchat, TikTok, and more. 
Though each platform is different from each other, some of the responsibility of a social media VA includes the following:
Managing or moderating communities like Facebook communities
Posting status updates, photos, pins, etc.
Responding to comments
Running ads
Updating profiles
4 – Managing Emails
Dealing with emails is amongst the most time-consuming things for any business owner.
For example, corresponding with clients or responding to emails may consume considerable time.
Business owners can outsource these responsibilities to a VA.
As a virtual assistant, your primary responsibility can be responding to simple requests, confirming appointments, renewing subscriptions, and inquiries.
5 – Financial Services
As a virtual assistant, your work includes taking care of basic bookkeeping responsibilities that can't necessarily be turned over to an account.
Moreover, your job entails receiving payment, managing the payroll, creating invoices, and recording all transactions.
Additionally, understanding bookkeeping software such as FreshBooks, QuickBooks, and waves becomes helpful in your job as a VA.
What Are Some Of The Best Virtual Assistant Training Courses?!
Keeping your skills relevant is crucial to your success as a virtual assistant.
A strong foundation of skills that matches your client's specific needs makes you stand out in an increasingly competitive space.
Getting some high quality virtual assistant training will give you the skills and knowledge you need to start landing your first paid roles.
Nothing is going to be a quick fix, you need to put some time, effort and perseverance in landing your first jobs and sticking with the training – but you can do this!
Some of the best virtual assistant training 2021 courses are designed to help you develop crucial skills and educate you on how you can confidently launch your VA business.
Furthermore, different virtual assistant courses are accompanied by a community where you can ask questions and get support as you are getting started.
Having credible mentors and pals in the field saves you time and money and can also provide you with valuable connections!
Some of the best virtual assistant courses you need to learn to become a successful VA include:
In May of 2014, Gina Horkey started offering virtual assistant services as a side hustle.
Eventually, she quit her job and started in Freelance writing which evolved into VA work…. Within 8 months she had quit her regular 9-5 job and hasn't looked back.
Gina developed this course to teach others how to start their VA business from scratch and make a living from it.
The course provides a proven step-by-step system that helps you start your VA business from zero.
She trains you how to use the skills that you already possess and learn a few ones to skyrocket your income.
With only $199 per month or $1,194 per year, you access a 3-tiered system for starting, building as well as scaling your VA business.
Also, you get access to VA foundation courses with 12 modules and 85 plus lessons.
This course offers five different skills courses and five specialisation tracks.
You access the FullyBookedVa community with live weekly office hours and access to Horkey Handbook team, support and resources.
After course completion, you receive a VA certification and your own proprietary client leads. 
Unsure if VA work is definitely for you? Check out this bargain mini course instead and find out!
The $10K VA course educates you on starting a VA business from zero and scaling it upwards to earn $10,000 or more per month.
Additionally, training to be a virtual assistant with this course covers all the business skills you need to be an online VA.
For example; it includes info about how to price your services fairly, how to pitch and find clients, creating offers, and how to create a VA agency to grow your business.
90 Day VA is a 12 weeks' virtual assistant training program that helps you learn more about VA skills and scale your VA business. Likewise, the course includes access to private virtual assistant job listings and monthly live group calls. You need $497 to join this program and learn how to start your VA business.
The bootcamp is a 12 weeks' program by Amanda Kolby that helps you start your online VA business from scratch.
The course includes bonus masterclasses, weekly live coaching sessions, business-building templates, and a strong community of similar-minded business people.
The coaching program costs $2,500, a straight up one lump sum investment. You can't always join this course, but you can get on the waiting list.
Why you Should Train to Be a Virtual Assistant
There are numerous reasons why you should train and get a job as a virtual assistant.
It can be particularly useful if you're looking for location independence. For example; if you're looking to live the laptop lifestyle and travel the globe.
It could also be good for you if you simply don't want to go out to work and want to spend more time with your family.
Some of the common reasons why you might like to train as a VA are…..
Various jobs need you to leave your house to provide part or all your services. However, you can establish a virtual assistant practice and work from home all the time. 
Additionally, training as a VA helps you provide only those services that need you to work online, through email, or by fax.
Some virtual assistant work from home opportunities may include copywriting, research, bookkeeping, word processing, and email marketing and more…
You require less money to start a virtual assistant practice than many other traditional businesses.
While you may put up a little bit for training and advice initially, you can make this investment back quite quickly.
Other features you may need, such as a website, are not costly investments these days and so, getting started can be cheap!
VA work comes with different Options
There are different ways you can offer virtual assistant work and even specialise in certain areas.
This means there is plenty of scope to expand your services as well and you're also able to work with the type of people you choose.
You might want to become an expert in a certain field, which could give you an advantage over others when it comes to pitching for jobs.
The demand for virtual assistants is increasing every day.
Therefore, training as a VA allows you to work and earn money in a field that is not stagnant and continuing to grow at pace.
Upcoming business persons and other professionals' benefits from outsourcing marketing and administrative tasks to virtual assistants instead of hiring in-house employees.
This makes the field lucrative and promising.
You choose your own rates of pay
When working for someone else, you receive your pay based on what you agreed with your employer or what your boss decides.
However, once you train as a VA, you can set your rates. 
You can choose to charge higher or lower rates depending on the type of services you are offering.
For example, you can decide to charge $30 per hour for legal research services, but charge $20 for writing a blog post for the same customer.
Working from home can create stronger family bonds
Working as a virtual assistant gives you a chance to work from home fully as you bond with family and raise your children.
Except in cases where you are expected to make or take calls from your clients, training as a VA permits you to set your working hours and deliver services anywhere that has a decent internet connection.
Besides, you can opt to work either during the night when the kids are sleeping or during the day before they get back from school.
Conclusion
Virtual assistant job opportunities are one of the best online opportunities available today.
When you train to be a virtual assistant, you acquire skills that can help you work from anywhere.
While you could get started without any knowledge, investing in some form of training can give you the confidence, skills and strategy you need to land good work opportunities.
Just be weary of any training that sounds too good to be true – any business takes time, effort and perseverance over time and isn't just something you will achieve over night.
Other Ways To Make Money Online?
I started looking for ways to make money online YEARS ago … But it took a lot of trial and error before I started to make money.
Here are some side hustles I tried along the way….
The turning point for me, was joining this community back in 2015 – where I learnt the basics in building a website, keyword research and SEO.
Without learning some basic skills, I never would have had the confidence to pursue different online businesses.
Do you have much experience making money online? Let me know in the comments!
Pin For Later!