If you're thinking about homeschooling, there are ways you could make extra money from home that could help.
As a mother of two boys and one who is on the autism spectrum, homeschooling has certainly been something I have been considering for the future.
Something that has given me the flexibility to further consider this, is that I am making money from home and my husband also supports our family working outside the home.
While it would be a challenge to try and fit in both homeschooling and working from home, I do believe that it could be completely possible and the benefits of having my children home could really outweigh the negatives.
Often money can often be the biggest barrier when it comes to homeschooling, or at least the perceived one.
Actually, there are lots of parents homeschooling their children on a low income and there are ways you save money too..
For example, no uniforms I to pay for, you can eat pretty frugally at lunch time and you can take a holiday whenever you want – no more needing to fit it into the school breaks!
As we all know, taking our vacations and holidays outside the school breaks can save hundreds.
Nevertheless, other costs can build up and if one parent is giving up work completely, that is going to present a challenge depending on your income.
If you could generate an income from home, wouldn't that make all the difference!
Some parents that homeschool do manage to hold down a part time job, but then often will need to find extra funding for childcare as well.
Many people looking into homeschooling wrongly believe that you need to stick to the same rigidity and hours of regular school.
But you can actually be far more flexible about it.
When you think about one-on-one tuition, the amount learning your child can achieve per session, far outweighs what they'd learn in a busy classroom.
I certainly remember myself switching off at school and I did not take in very much valuable information at all.
I actually left traditional school at 13 and was in a small tutorial college, with lessons of around five people a class.
The difference in what I managed to learn in a short space of time was undeniable – so, having one-on-one time directly teaching your children will mean you can cover more in less time.
How Can You Use "Homeschooling," to Make Money?
There are a whole bunch of ways that you could use the very topic of homeschooling itself, to bring in some extra money.
I will outline a few options now and then, at the very end of this post, I will add some additional links that may be helpful to you.
Providing learning materials, possible ebook creation.
Homeschooling is on the increase and people are looking for new learning resources all the time.
If you could do your research and create some homemade learning materials, you could sell them online, (such as ebay) or at local fairs.
If you were feeling a bit more adventurous, you may consider writing an ebook.
Amazon has now made self-publishing easy and there's still a shortage of good information out there when it comes to homeschooling.
You could create an ebook as a go-to guide for homeschooling, including everything someone may want to know.
If you have a particular sub set of specialist knowledge, such as if your child has special needs, then you will have an additional unique perspective to draw on and provide advice to others.
If you wanted to branch away from homeschooling, you could create your own kids books online – Amazon even have a kids picture book creator now to make that even easier.
Getting Crafty & Creative!
If you're a creative or crafty type, there's a huge number of people now doing well by selling homemade items on Etsy.
One of my close friends taught herself how to create jewellery from scratch, she now has her own business. One place she sells online, is via Etsy.
You can also sell at local craft fairs, or get your own stall in a local market.
Again, you could link this into homeschooling as well – such as by creating learning aids.
Something that could be popular is personalised learning time tables or reward charts.
(example of reward chart on Etsy in photo below…)
Obviously, not everyone will enjoy making things – but Etsy does also provide some items that don't rely heavily on your artistic side, so it's worth doing some research if you're interested.
Starting A Homeschooling Blog!
Blogging is a realistic option, whether you want it to be about homeschooling or not.
The very first homeschooling related blog I found, appeared to have almost 200,000 page views in the last 30 days – that's a lot of traffic!
From what I see from some of the blogs in this area, there is certainly potential there to earn money there.
you can check out a selection of homeschool blogs here.
Of course, building up to that many visitors would take a significant amount of time.
Generating can be slow going and it would take a long term commitment.
You may find blogging about homeschooling really worthwhile though, (and in turn worthwhile to others).
You'd be able to document your journey and share your experiences with others who are on the same path.
You can make your blog a source of great information and learning materials for other parents – full of free information, but you could also use it as a platform to promote other products.
For example, could create printables that other parents could download from your site, (as below).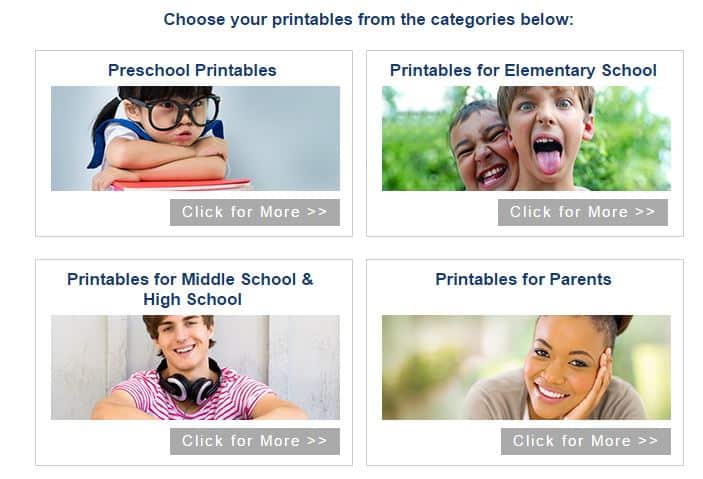 You could also advertise your ebook via your website.
There are many other ways you could earn from your blog, some of the most popular including paid advertising, (such as adsense) and also, affiliate marketing.
As your blog grows, you will often be approached by other companies that would like you to review their products, or they may want to pay you a fee to put an Ad on your site.
Setting up a blog is something that can be done in a matter of seconds these days and no design experience is required to get started.
You can learn here – step-by-step.
Prior to selling your own products though, it's wise you build up an audience first and a relationship with your readers, as people don't tend to buy from people that they know nothing about.
Additionally, homeschooling websites in particular seem to offer most things for free, so it may be difficult to make those first sales.
Your best bet would likely be to provide plenty of freebies initially and build up your audience before you launch your own product.
Additionally, you can still earn via affiliate marketing, by recommending and promoting other peoples products, or via advertising.
Using Ads however is not an easy way to make money, because you need a tonne of traffic, (thousands of visits a day) to make anything substantial.
Affiliate marketing has more scope and freedom to it, because you can promote whatever you like.
For example, if you joined the amazon affiliate program, you could review or mention any products that you use on there, (you earn a commission when someone purchases via a link on your site).
What's more, there are a huge range of ever expanding affiliate programs that could easily relate to homeschooling… it's not just the obvious.
You could promote absolutely anything that you could relate to homeschooling, including where you may go on trips together, any materials you can think could be relevant.
But How Do You Start A Blog?
If you've never started a blog or website before, you'll likely have a million and one questions relating to every aspect.
The best thing you can do is get some training to help you step-by-step get you started and give you all the info you need.
While I've been talking specifically about homeschooling, you could create a blog on anything that you like.
Anything that really interests you, could be a potential niche for your blog.
It's definitely not fast money… I took a few months working on my first website before I made my very first sale.
But hat can really vary and will depend on many factors, including how much content you create and how competitive your niche is.
When I started though, I had zero technical knowledge, I had no idea how to set up a website and I didn't know what affiliate marketing was.
So, if you're at all confused – I've been there!
* I first learnt all about affiliate marketing here.
Hove you already started homeschooling, or is it just something you're thinking about?
Let me know in the comments.
Below, I've linked to some other pages that may be of help to you
All the best…

Some of the posts below may also be useful to you!
PIN ME 🙂