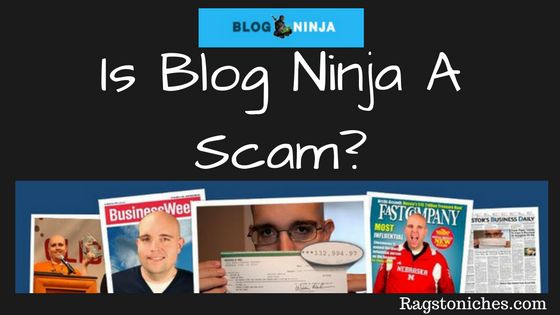 Is Blog Ninja A Scam, Or Legit Free Training?
Blog Ninja used to be known as the,  "Shoemoney Network" and I reviewed that back in February 2016, (you can find that review here).
While this program doesn't seem to get much attention these days, I thought it only fair to update my original review.
Back then, it had a bit of a gimmick going that it would pay you to follow the steps of the program and you could make your first few dollars online.
However, you also had to sign up for a three year hosting deal with Bluehost as soon as your stepped through the door, which was a pretty lame aspect to it.
Well, now the payments are gone and so is the compulsory need to join Bluehost.  The training is also different – but has it improved much more?
---
Blog Ninja Review In Brief
Product:  Blog Ninja, (Previously known as: the Shoemoney Network)
Creator: Jeremy Schoemaker.
Price: Free sign up, but you require your own website/ hosting and an email marketing service early on in the course.
Overall Rating: 50/100
Review In Brief: I'm tempted to give this a lower score really because the training leaves out so much information, but I'm giving it 50/100 because the training that is on Blog Ninja is sound, (for what it does include) and it's delivered in a clear way.
There is also a bunch on social media marketing that is decent and the extra bonus material is also interesting.  As a complete newbie though, you're far better off starting somewhere that doesn't miss out on vital training information.
What Is Blog Ninja?
When Blog Ninja was known as the Shoemoney Network, it was a gimmicky way to make your first several dollars online, by following the simple steps of the program.
Now though, Blog Ninja is just a bunch of free training to help get you started with internet marketing –  without the gimmick attached and the training has also changed.
The key aspects to training include:
Setting up a WordPress website, getting a domain name and hosting.
Setting up some plugins/setting up your WordPress theme.
Basic WordPress skills, such as how to create a page/post.
Getting set up with an email marketing service.
Setting up an affiliate account with Amazon.
After you're a qualified Ninja, further Ninja levels – including setting up google webmaster tools/analytics, legal info, copywriting skills and pinterest marketing.

The training is split into levels that you need to complete in order to achieve your next "belt."  From the "white belt" beginner level, to the "black belt," and then progressing on to a few "Ninja" levels.
I do like how the levels are laid out in this way, because it's progressive and quite fun.
The frustrating part for some will be that there is no way of checking out all the training at once and picking and choosing where to look – you need to complete each level, before advancing on to the next stage – as the further stages are locked.
Having completed every level myself personally, I can tell you confidently that this course is primarily for complete newbies online, with no experience.
While there is some material later on in the Ninja levels, that people with some experience already could learn from, you can only get there by going through the novice levels first.
So, if you already have any knowledge about WordPress, setting up an email list, the Amazon affiliate program and setting up social media profiles – there won't be much here for you.
There are a number of big issues that I have with Blog Ninja and I will outline these below.
1/ Jumping right into owning your own Domain and Hosting.
People signing up to Blog Ninja are probably just curious  about internet marketing and want to see what it's all about.
But immediately in the initial levels, you're told you need to buy your own domain name and commit to a hosting package, before you will have any idea what this is about – let alone if you want to commit to it long term.

A majority of people who ever start with internet marketing will never really get started, a majority do not take the action required – that's just a reality.
So, the best thing you can do, is at least give them the chance to see if it's something they really want to commit to – before sending them off to pay for their own website and hosting.
Yes, having your own website will be necessary to progress ultimately – but let them get a bit of  insight into affiliate marketing and what will really be involved before they commit to anything long term.
While you no longer have to specifically go with Bluehost anymore, Jeremy provides a free domain name for anyone that does and also gives step by step advice – so, chances are, many people who don't have any experience will just take his advice.
When really, they could have started for free, with a free site and not had to worry about the next stage until they were really sure it's what they wanted.
2/ Lack Of Advice Choosing A Niche/ Domain Name
Choosing a niche and a domain name are two pretty important decisions – considering they're something you're going to be stuck with for some time to come!
Yet, there is no real guidance on this matter at all.  It's understandable he doesn't want you to get too stuck on this and just get started, but it's also unhelpful to completely brush over this.
3/ Where Is The SEO Training?  Keyword Research Anyone!?
Blog Ninja will not teach you the basics in SEO and do not seem to mention keyword research – which is pretty alarming.
Making sure your site and your posts are optimized for SEO, (search engine optimization) and developing your understanding of this, could make the difference between your pages and posts being very visible in the search engines – or not being visible at all.
If you write a post with SEO in mind, your aim is always for your post to  eventually appear as high up in the search engine as possible for a keyword you've targeted, (one place your keyword phrase will be, is in the title of your post for example).
Schoemaker largely focuses on social media marketing to generate traffic to your website and build your email list – but while social media is a great way to generate additional traffic, its not the best idea to solely rely on it.
There are exceptions – there are plenty of sites that are not very "google friendly," and rely entirely on social media for traffic – but they are also very "social media" friendly and create content that's extremely shareable.
I imagine Schoemaker feels that you shouldn't rely on Google for traffic, because Google often changes its algorithm and whole businesses have been wiped off the face of the earth because they 100% relied on Google for their traffic.
But that's also no reason to ignore it completely and there are ways to limit that chance of happening, (by attempting to work alongside the rules of Google, rather than taking shortcuts, for example).
By not paying any attention to SEO, you're potentially losing millions of visitors to your website over time.
4/ Lack Of Support
Support is via a contact page and for any additional help, you'd have to go to their designated Facebook page.
For people brand new online, you will most likely face a number of technical issues and a great deal of questions.
If support is fairly minimal here and there aren't many experienced people you can go to for help via their Facebook page, then you could really struggle.
---
Those are the key issues that I really have with this program and in my mind and reason enough that I wouldn't recommend this program to people just starting out.
The Bonus Material At Blog Ninja
What I do like most about this program is actually the bonus material and this you can access without completing any of the course, so that could be worth checking out.
The video on "Weapons of marketing," also has some interesting insights and may be an eye opener to those with little experience online marketing.
Plus, the interviews are interesting and worth a watch too.
PROS VS CONS
PROS
"Free training," of sorts – but you do have to have your own website to complete the training.
The training provided is clear and step-by-step with some helpful videos.
Some of the bonus material is worth a watch.
Some decent training on social media marketing.
CONS
No sooner as you've set up your site you're joining Google Adsense… you need thousands of visitors a day before you make any reasonable money with Google Adsense.
You either need to purchase a hosting package, or you already need your own website set up to progress through the training.
The training is only suitable for people with no experience online, yet lacks the training really required to be successful.
The training is purely in video form – there are no write ups underneath, so you'd need to take notes or take steps as you're watching.
Conclusion: Is Blog Ninja A Scam?
Blog Ninja is not a scam, but it is incomplete for anyone really serious about making money in the long term.
If you want to make money online, you at least want to set off on the right foot – for starters, you may want to learn a bit more about what is involved before you start purchasing a domain name and committing to a hosting package.
Also, for anyone that is looking to start an online business, learning some of the basics in SEO is not difficult and, in the long term, can eventually lead to you having thousands of visitors to your site every month – for free.
Ultimately, there is some reasonable training here but there are a bunch of problems with it that bring it down.
If you want to start learning for free, I recommend you check this out first – because you don't have to immediately purchase a domain, there's a vast amount of support, they don't neglect SEO and it is suitable if you're brand new online.
Have you had any experience with Blog Ninja?  Let me know in the comments!
All the best… 🙂

Looking For A Newbie Friendly Zone?  See Below.