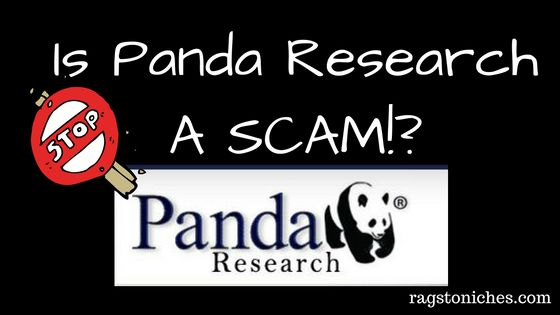 Recently, I've been signing up to a bunch of survey related sites to check out if it's possible to make money with them – because, despite the desperately low rewards, many people still want to use them!
There are also plenty of survey – scam sites to avoid altogether.
 So, is Panda research a scam?
Let's dig into my Panda Research review.
What is Panda Research?
Panda research is available to US residents only at this time and you must be over 18 years of age to sign up, it's been in business since 2005.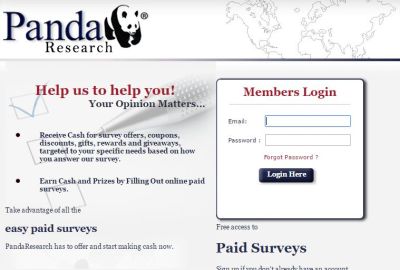 You can sign up for free and complete surveys or cash offers for cash rewards, that can be paid out in via payPal when you reach a certain threshold.
Many sites have have a reasonably low payout threshold now, (between $10-$20) but Panda Research has a minimum pay out of $50!
This is incredibly high, in my opinion and they need to reduce that if they have any chance of competing with competitors like Swagbucks.
It would take you a long time to reach $50 – and Panda research will be benefiting from this fact, because most people will not do enough to reach this threshold.
Once people realise how long it takes to make this sort of cash, they just give up – plain and simple.
By sites giving people a cash out option at a low threshold, it provides much more of an incentive to continue.
Most people will just sign up and complete a few surveys, get bored with it and never return!
Then panda research will never need to pay them, so it will work well for them to have this high payout threshold in place.
Although, in the long term, it will damage them because less people will join and less people will stay.
Useful Post: My Top Extra Income Sites!
How Do You Make Money?
You can make money answering surveys, (approx 10-15 minutes per survey), completing cash offers, (or GPT – get paid to offers) and can also earn money through referring others to Panda research.
Using cash offers is one one of the best paying ways you can make money on this platform.
This is where a company pays you engage with their business in some way – such as join their website, or take up  trial offer.
Sometimes you have to pay to sign up for an offer – but will often get more than that back.  For example, you may have to deposit $10 but you get back $20.
Signing up to a few cash offers is no big deal, but it's not a good way to make money if you're doing them relentlessly.  This is because…
you're opening yourself up to a lot of SPAM by regularly giving out your details.
You often have to give out personal details or credit card information.
You risk getting charged on your credit card if you don't cancel your free trial in time, (or even if you do in some cases!).
So, to if you're intending to make a regular income signing up for paid offers, this is not something I'd recommend.
But if they have an offer on that you feel like signing up to – or there's something you'd be signing up to anyway, then what's the harm.  Just ensure to check the T&C's!
Another way that you can make money on their site is via their referral program.
This means, that if you can get anyone else to sign up to Panda Research, (friend/relative or otherwise) you can earn 10% of their offer earnings.
This relates to them completing cash offers only, not regular surveys.
As referral programs go, another site, (which is similar to this in terms of incorporating both cash offers and surveys) has a significantly better referral program.  Click here for my cashcrate review. 
Panda Research Complaints
While Panda Research presents itself like a survey site; much like I-Say or Global Test Network, it's really more of a paid offer site.
Perhaps they market themselves this way because they think they'll get more sign ups – but a lot of hardcore survey takers do not like this "paid-offer" aspect and it isn't appealing to lot of people.
Most people sign up with the intention of taking surveys and then they get something very different, (despite the fact that completing paid offers is more profitable, understandably many people don't like them).
Additionally, a large number of complaints claim that panda research don't pay out and, especially considering the super high payout threshold, this is unacceptable.
Panda Research need to address this issue promptly, there is no excuse for people not receiving their rewards.
That said, tonnes more are still paid in due course and there seems no reason why some people are not.  This is generally a very complaint across the board with survey sites.
For a majority – poor customer service and slow payment are commonly found within survey sites.
The $50 threshold is naturally another complaint – and they really need to fall in line with their competitors and bring this threshold down if they want to continue attracting and keeping customers.
Is Panda Research A Scam?
While they certainly seem slack in some areas, they've been running for many years and have plenty of satisfied members, so they are not a scam.
However, the fact that they market themselves as a survey site and a considerable amount of their business does not involve surveys, shows a certain amount of dishonesty in my view.
I don't recommend using survey sites OR paid offer sites if you want to make decent money online – but there are other related sites that I would recommend above this one.
My favourite survey-related site is Swagbucks  so, check those out if you're interested in this sort of thing.
An Alternative To Survey Sites….
While it's possible to make small amounts via many survey sites. It is not a good way to make money online long term.
The rewards are very small for the amount of time and effort that you need to put in.
One of the best ways to earn money from survey sites, is actually by referring others to those that have a referral program & many do.
However, to make a reasonable amount from that, you need hundreds of referrals.  Not just the odd family and friend sign up.
That's where affiliate marketing comes in – with affiliate marketing you can really make money from anything that interests you.
As long as someone is looking for it, you can be the middle man and earn a profit for introducing people to something they need or want.
If you have been looking for a long-term legitimate way to make an income online, there is only one program at the top of my list (I'm a member myself).
It's an online community where you can learn how to build an online business from scratch and you can even get started for free.
What is your experience with online survey sites to date?  Do you have any favourites – or do you just think it's a waste of time?
Leave me a comment below!
All the best…. 🙂
&nbsp